How do you bring sustainability into your work?
I always use vintage or recycled materials whenever I can. I have been involved in several recycling projects including "Heald", an abstract sculptural piece made using discarded heald wires from a Bradford woollen mill. Heald went on to feature in an International Wool Week exhibition.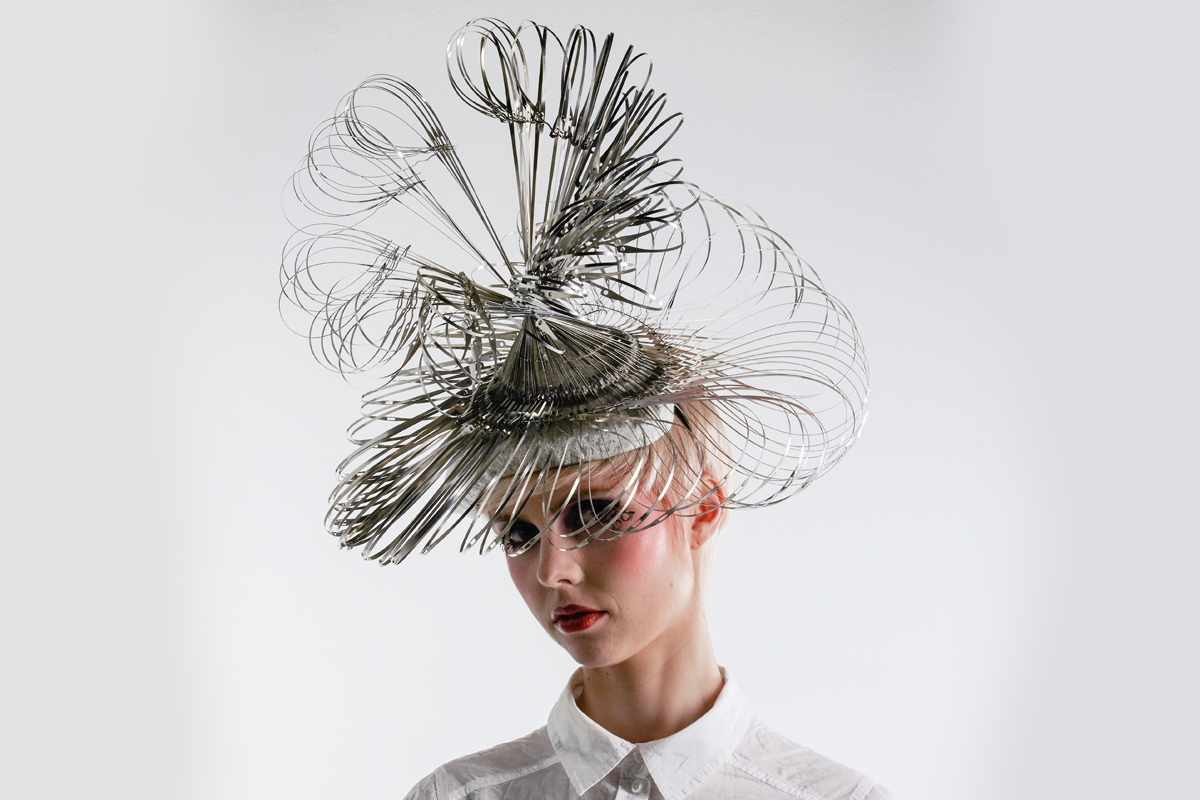 "Le Recyclage" utilised a felted lambswool sweater bought from Oxfam, the design was inspired by recycling symbols. It was part of a Make-Do-and-Mend university brief and was the poster piece in an exhibition at Hat Works, the Stockport Hat Museum.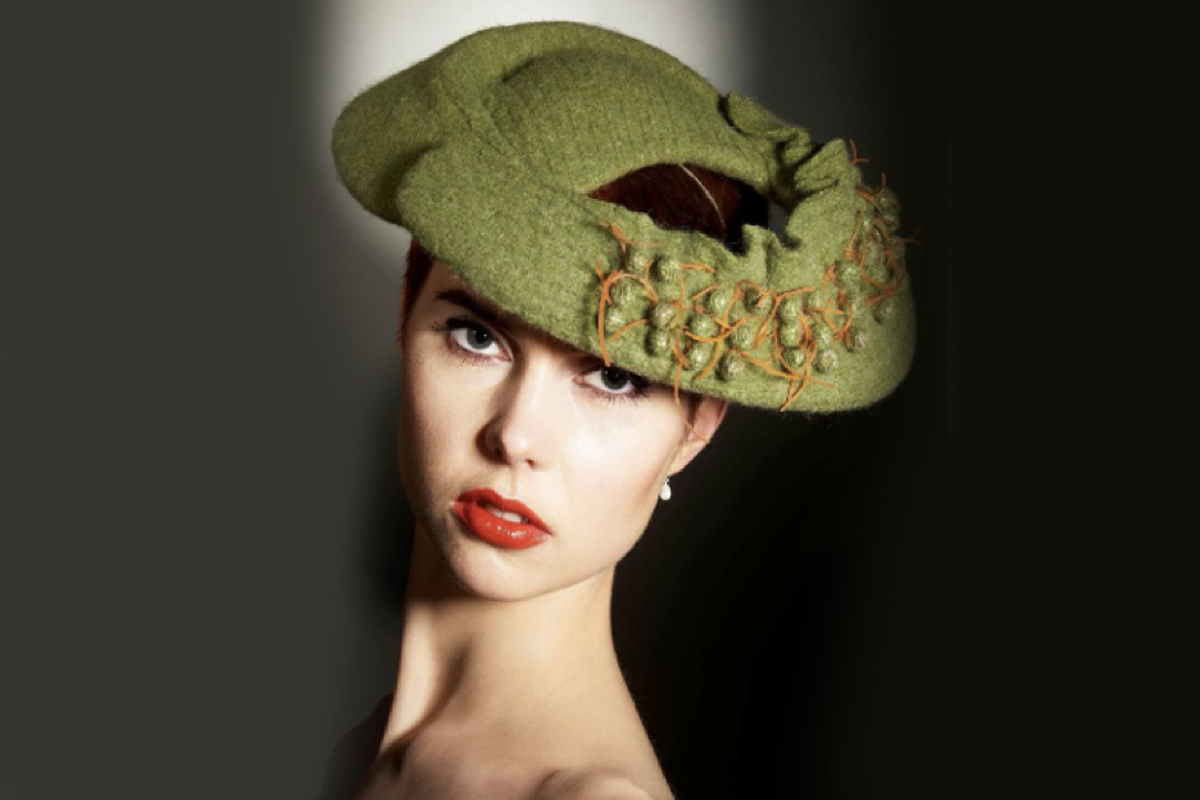 What are your career highlights?
Every new commission is a highlight, but recently I was selected by the UK Crafts Council to develop a fund-raising millinery kit and online workshop for the patrons of St Georges Society New York. The SGSNY is one of the oldest charities in the USA and it was a privilege to work with them and develop this project for their patrons.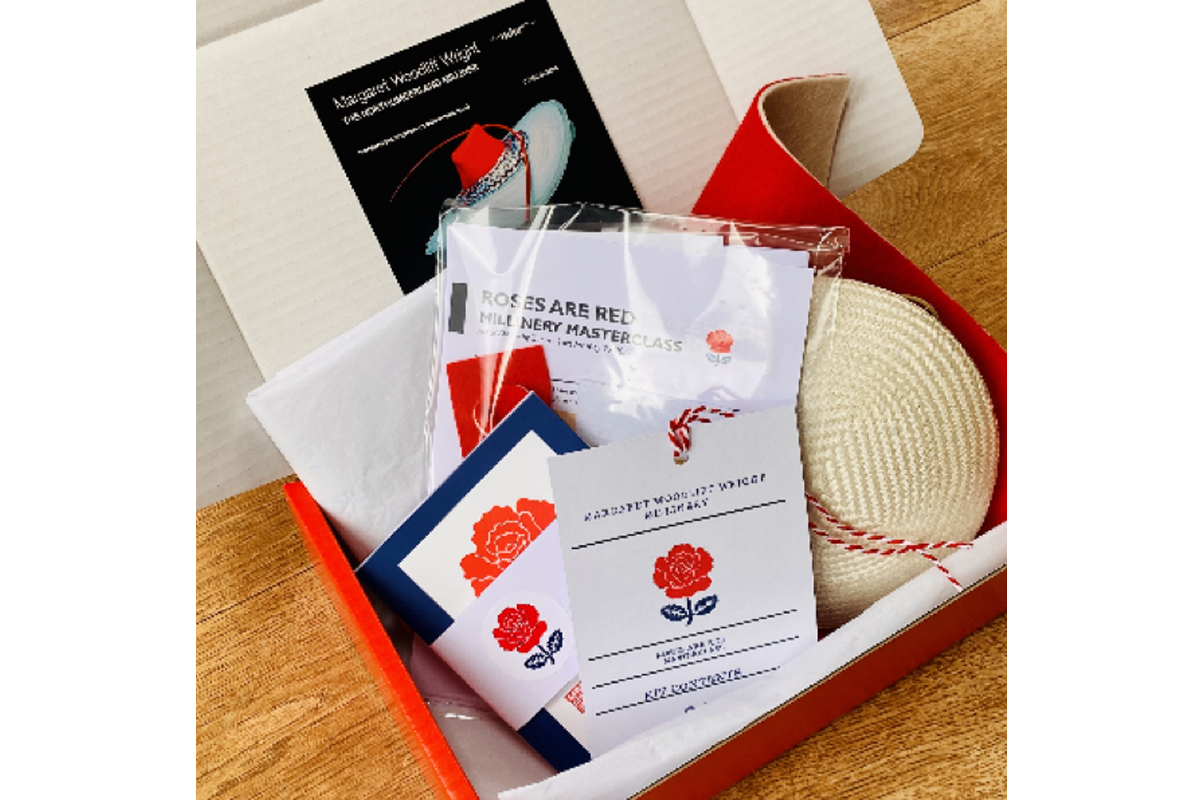 I am also proud that my recent charity fundraiser for Ukraine raised almost £1000 when I donated the sales from my merino wool felt lapel brooches in sunflower colours to DEC (Disaster Emergency Committee).
For more, click here to read more about my Ukraine fundraiser in my Blog post.
Exhibition and competition pieces showcase complex millinery skills. One exhibition piece is Maelstrom, which was created for an online competition, Timeless. This piece was inspired by the Scottish whirlpool Corryvreckan, and utilised recycled products too in its creation.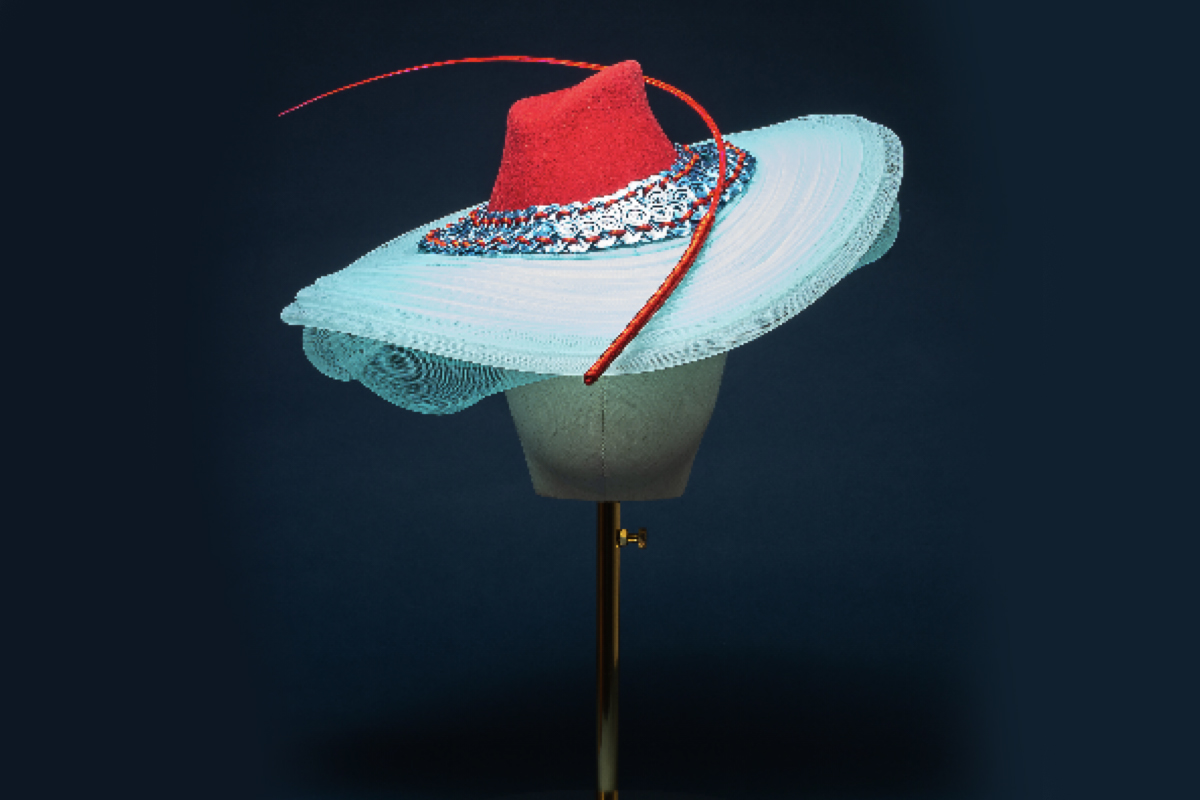 And, most recently, my collaboration with Lucy Winskell.
How did your collaboration with Lucy Winskell OBE, the new Lord Lieutenant of Tyne and Wear, come about?
Lucy was looking for a milliner based in the North East for a very specific commission and chose me after looking at the designs on my website. When she contacted me to talk about her hat, I had no inkling of the exciting new role she was about to embark upon!
I did some research into the millinery styles worn by others in similar high-profile positions. After taking account of details such as Lucy's height, colouring, head size, and possible dress codes for the events she will be involved with, I presented her with some possible options. We agreed on a sketched version, and it was all systems go!
The hat that I finished recently for Lucy, that she will wear at official occasions, is a formal black peach bloom brimmed hat with a sloping crown, finished with a peach bloom and velvet hatband, and a handmade plum coloured silk lining. These were all key design aspects that we discussed as the commission developed. The hat really suits her, and I am pleased to say that Lucy is delighted with the result!
Our next project together will be Lucy's summer straw hat, again for her role as Lord Lieutenant and I'm planning to use a vintage ivory straw. It will be blocked at Northumbria University, where Lucy is currently Pro Vice-Chancellor, on one of the vintage hat blocks there.