As we have been enjoying such amazingly dry and warm weather in Northumberland through most of August, I thought it might be fun to spotlight a few things I have been involved with over the last few weeks. Despite enjoying obsessional millinery, there is life on the other side!
I find our local environment very inspiring at all times of the year. Still, with the long warm summer days, Northumberland becomes a very special place, with a great variety of landscapes and vistas to enjoy. Simon and I made a trip to Low Hauxley, one of the local nature reserves. We were impressed by the developments there since our last visit, pre-Covid, of course.
The Northumberland Nature Reserve manages the site. It is great to spend an afternoon with lots of thoughtfully positioned bird hides. It also has a stunning cafe with incredible panoramic views from every window and fantastic home bakes.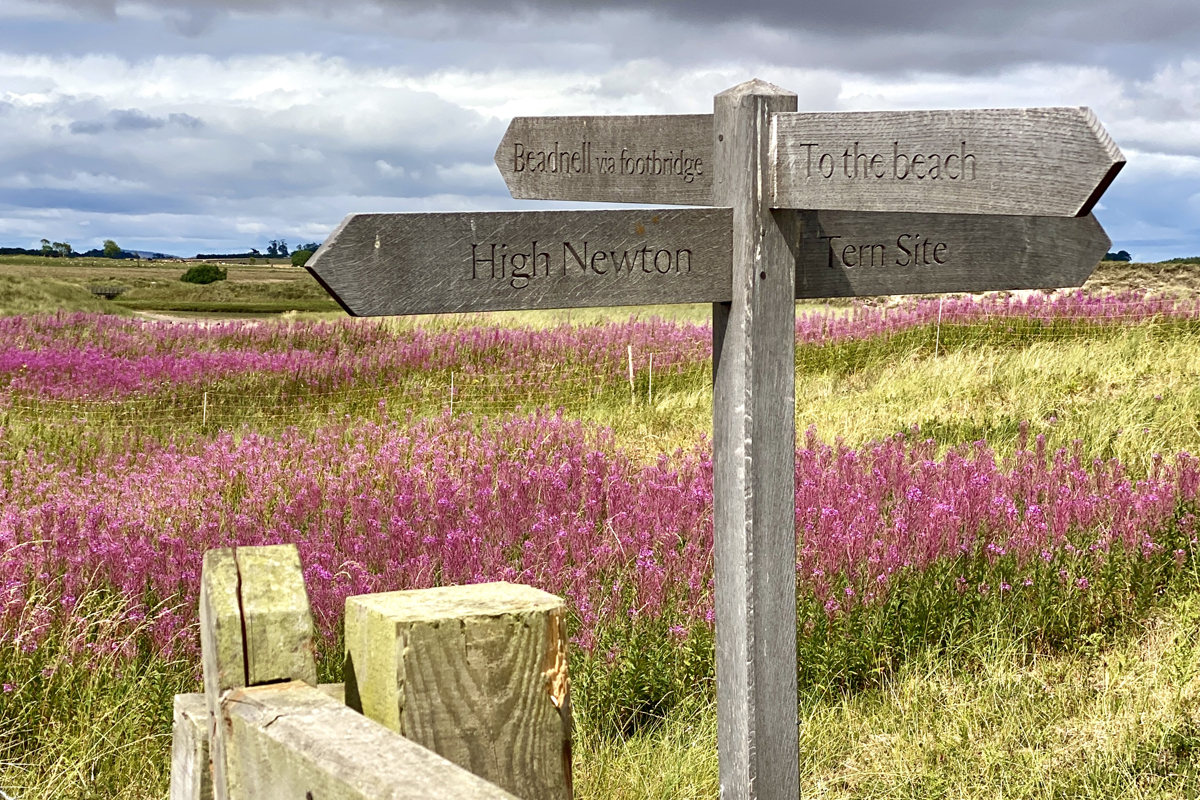 We are lucky enough to live close to the east coast, which is only a five-minute drive away. We popped down during August to have a last look at the activity on the Little Tern and Arctic Tern nesting sites down at the Long Nanny, located between Low Newton and Beadnell. The chicks have been protected during the breeding season by the National Trust wardens and volunteers up and down at their various nesting sites on the coastline here. To get to this particular site, there is a lovely walk through the dunes at Newton Links, with a helpful finger post indicating the tern site. I love the contrasting colours and textures pictured here.
If you are a regular reader of my Studio News, you'll know that I have been busy with local craft fairs in the last few weeks. After setting up at the Arts Festival at Alnmouth early in August, we drove to Amble to The Old Boathouse for an early supper. This was the stunning view from their veranda of the early evening light on the sea. The fishing tackle was neatly stacked nearby as we returned to the car after our delicious dinner.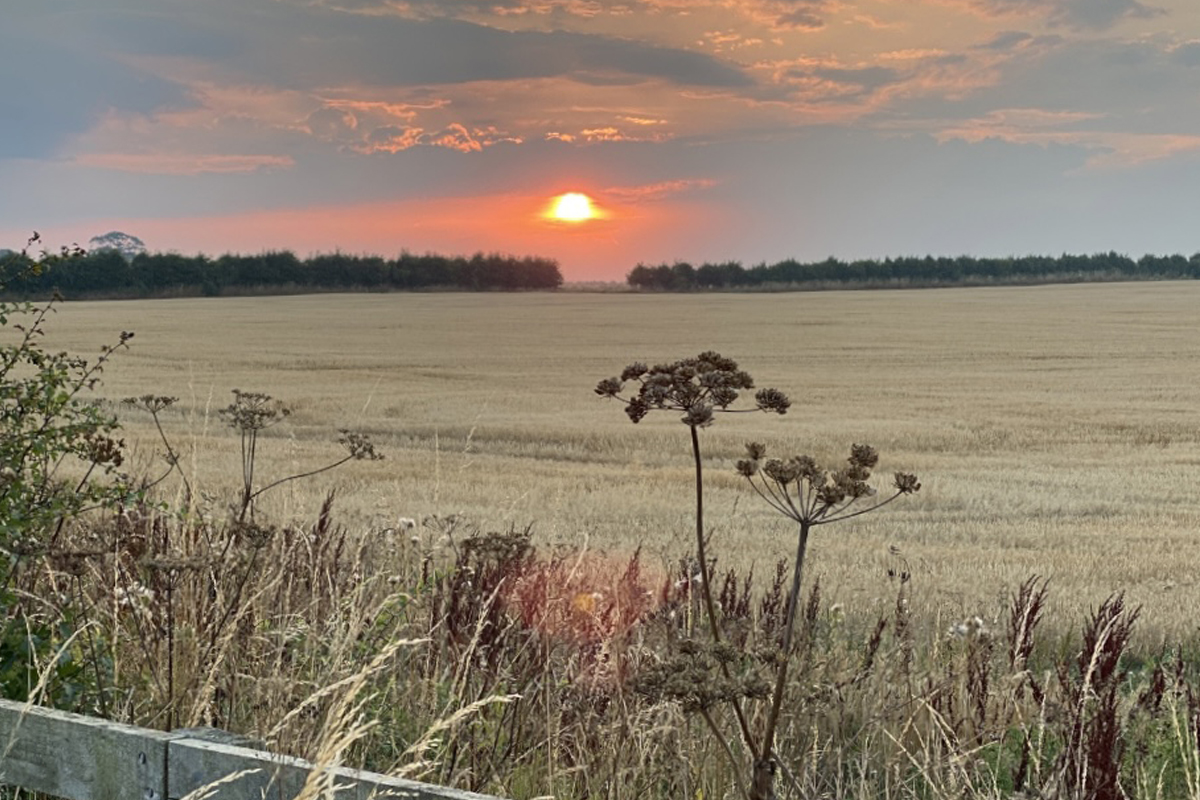 And on our drive home from Amble, we paused to take a swift image of this ethereal sunset. I loved how the tree line gap framed the sinking sun.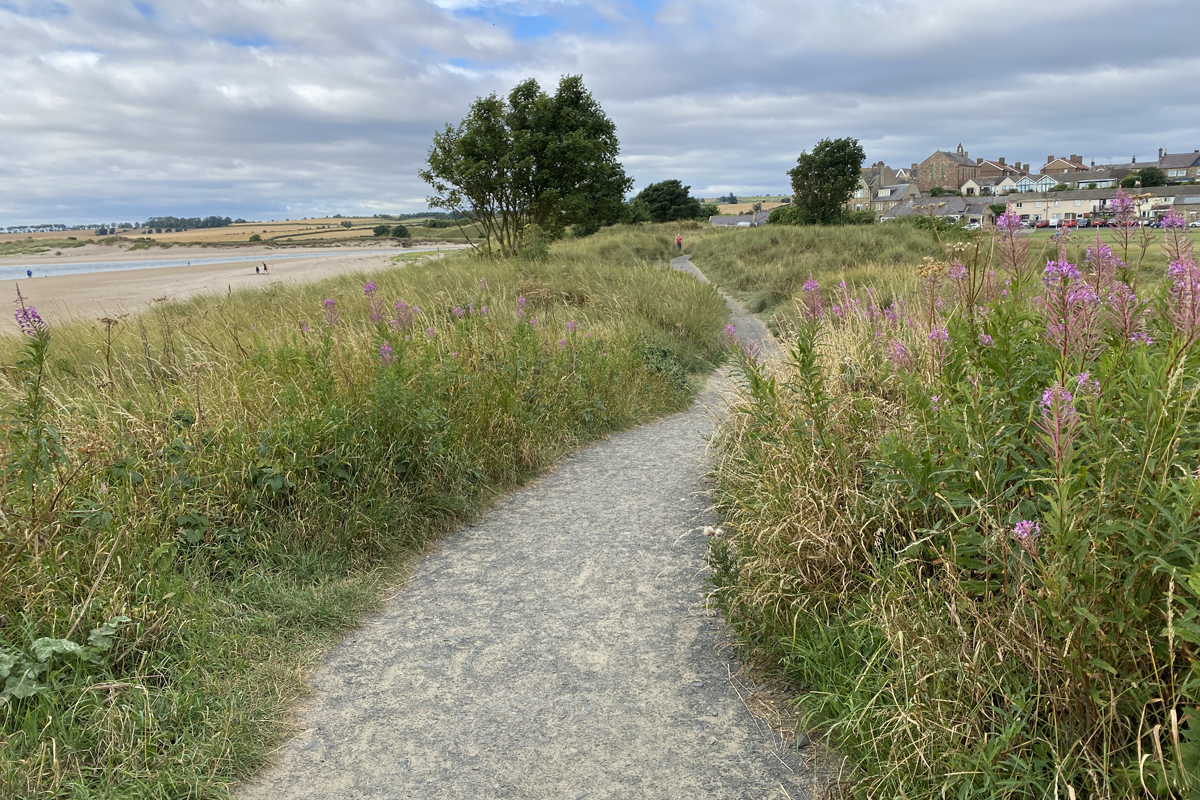 The next day it was an early start to finish the set up at The Hindmarsh Hall at Alnmouth, and what a great start to the day. There was time to take a quick walk on the beach, followed by a lovely stroll along the path lined with rose bay willow herb through the dunes between the beach and the golf course before finishing the set-up and greeting early visitors to my stand at the Arts Festival.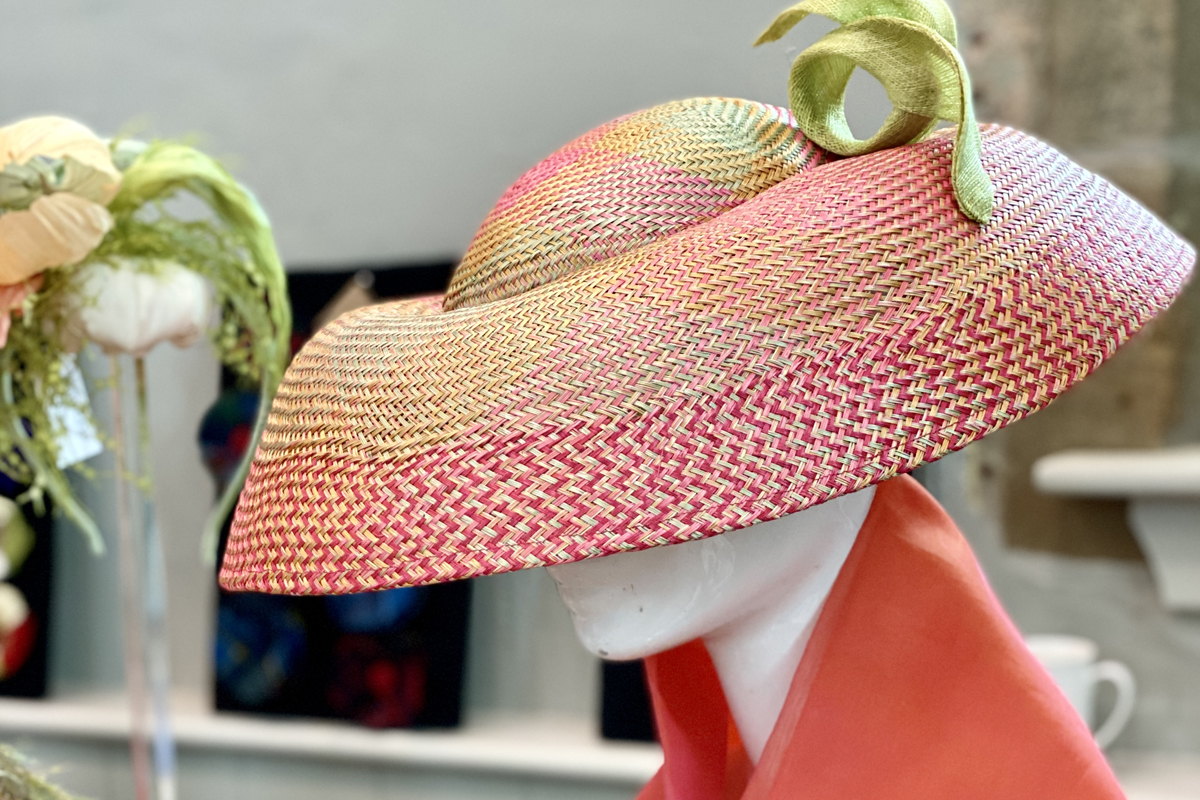 It was lovely to talk to all the visitors to the Arts Festival. Lots of locals and visitors alike came to 'meet the makers', and I launched some new millinery pieces and accessories. I even had a new model – nicknamed Lady Penelope!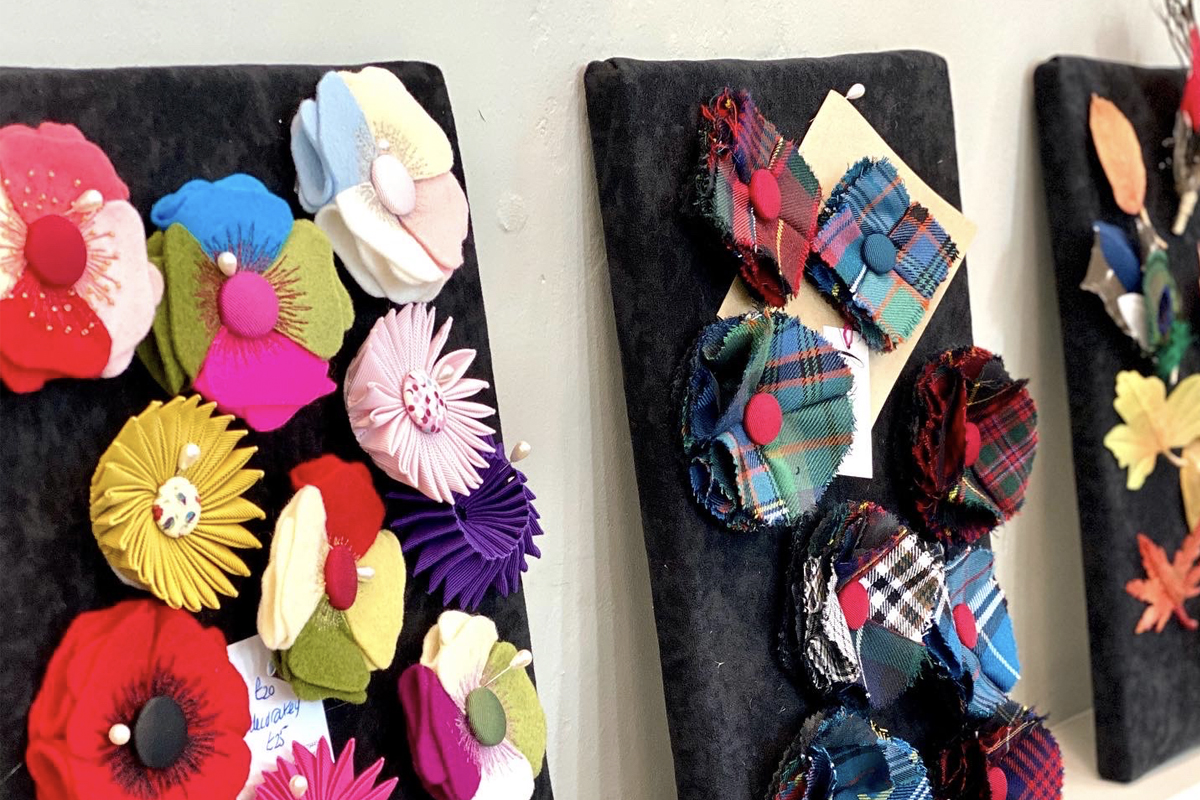 As you can tell from these images, I love to use colour in my work, both in couture hats and headpieces, as well as the accessory, ranges that I make, using similar techniques.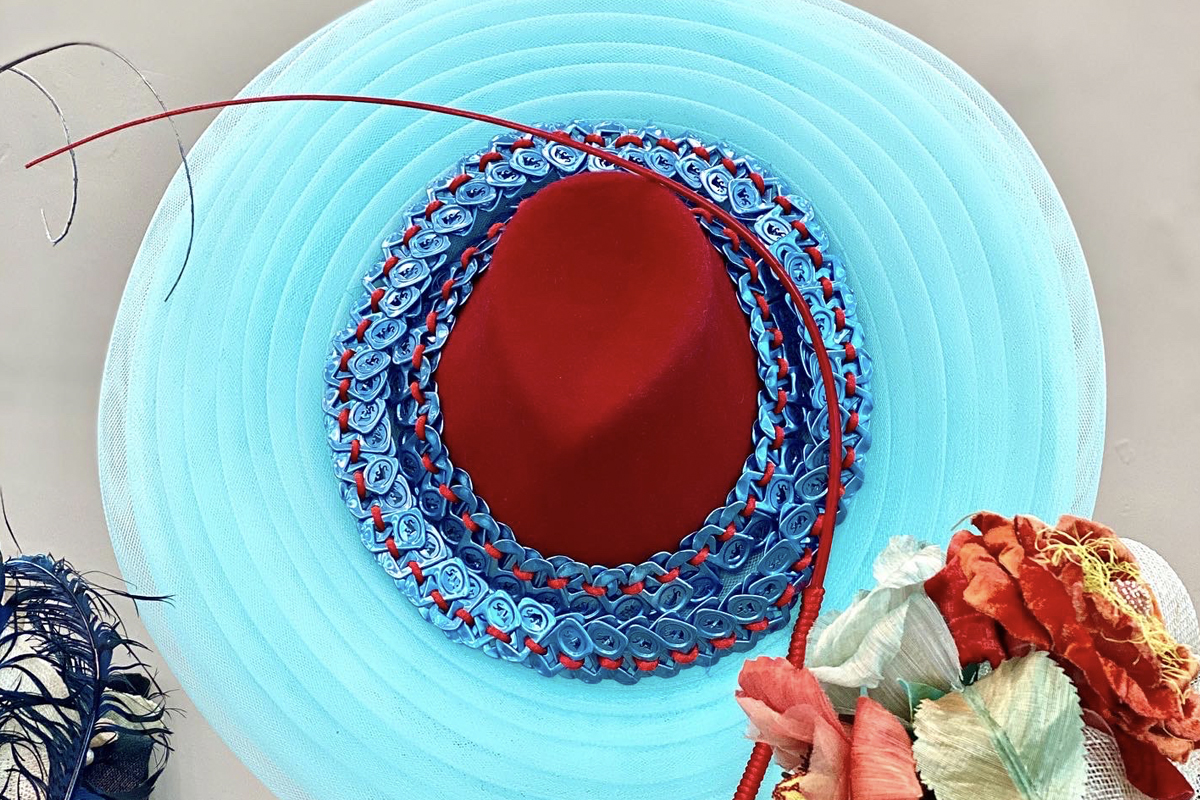 I was delighted, too, that there was a lot of interest at the Arts Festival in the editorial piece that appeared in the July edition of the Sanderson Young Collections magazine (which was serialised in Studio News a few weeks ago), so I also showed some of my exhibition pieces, which had featured in the Collections magazine article.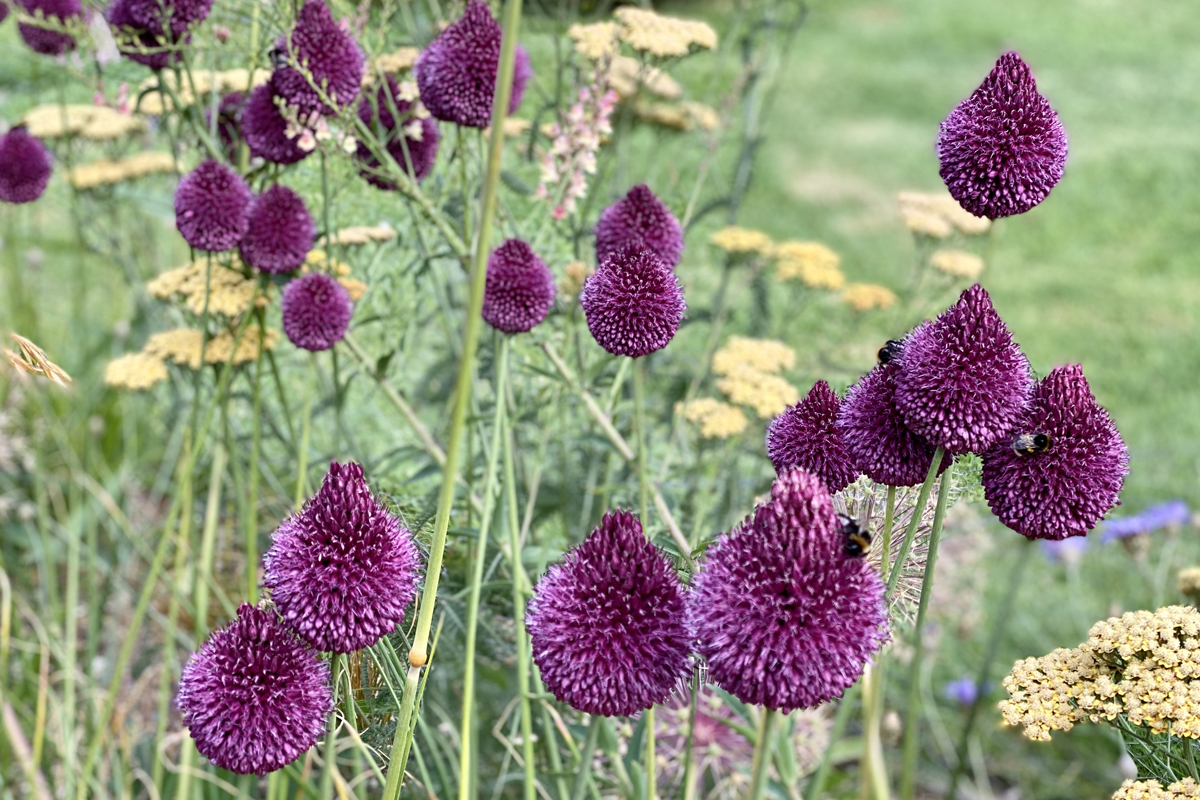 In our new terrace gardens designed by the inspirational Natasha McEwan – amongst other stunning plants, for the first time this summer, we have enjoyed three varieties of alliums, all planted by Natasha.
This small pompom variety (Allium sphaerocephalon) has been the last to flower. Apart from the stunning egg-shaped claret flowers, I particularly love that the bees adore them too! Plants such as these often stimulate new millinery designs. You can see more of Natasha's work in the Sensory Garden at Howick Hall and on open days at Fallodon Hall.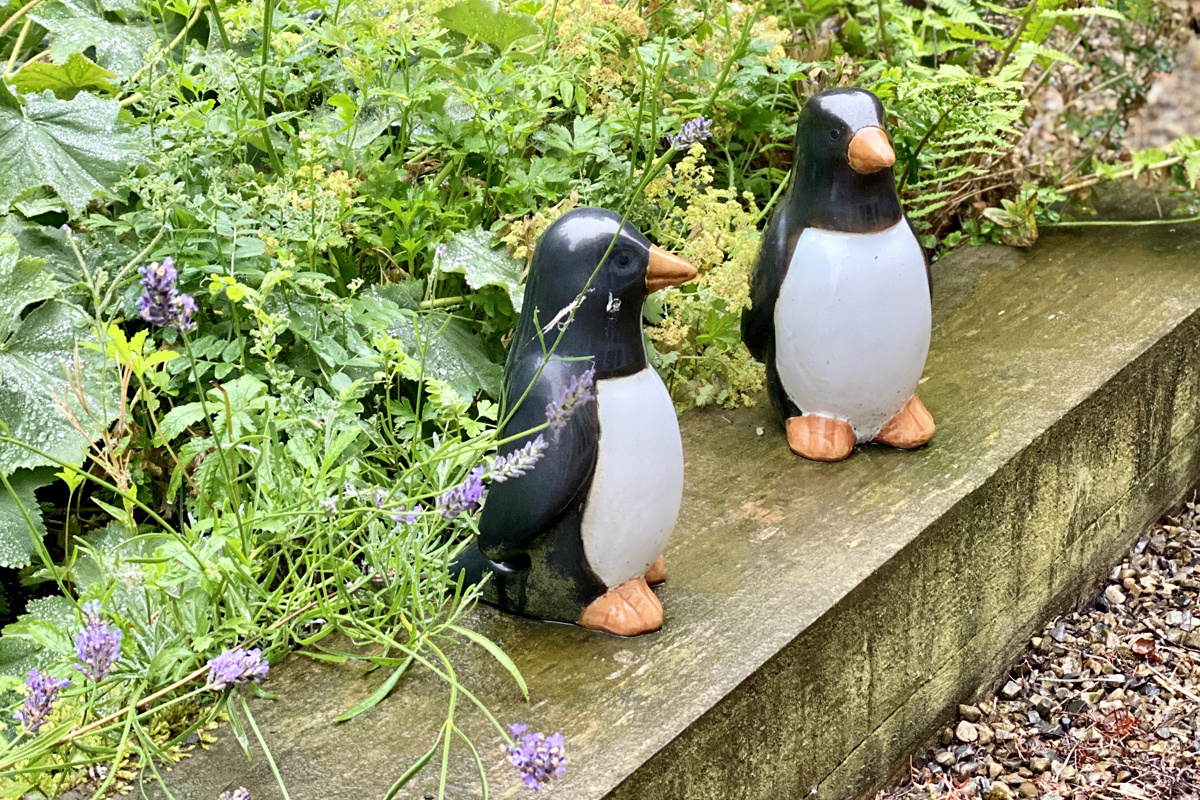 Meanwhile, despite Simon's best endeavours in the courtyard garden, it's currently a riot of untidiness and delightful textures. But our pet penguins don't seem to be too offended.
We were delighted to sit and watch a hedgehog giving them the once over from the kitchen table. We are thinking of giving the penguins names – Laurel and Hardy springs to mind! Any thoughts?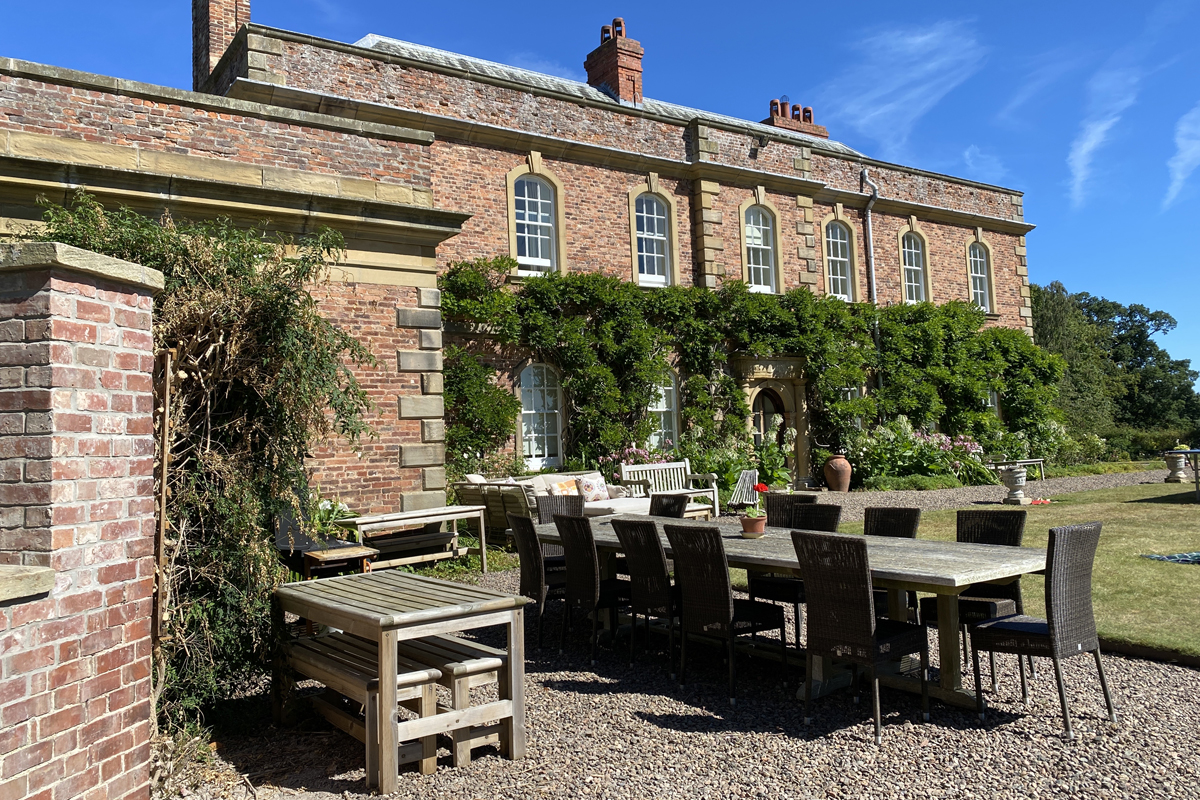 We've also been lucky enough to attend some music evenings locally at the magical Fallodon Hall, where not only do you sit in the historic stable yard to listen to the music, but during the break, everyone can picnic in the historical grounds, normally only open to the public annually in aid of the Red Cross and the National Gardens Scheme. Do check out the music promoter's website for upcoming events this autumn – JR Musicana – and note the tagline – music, beer and seagulls!
National Garden Scheme – Fallodon Hall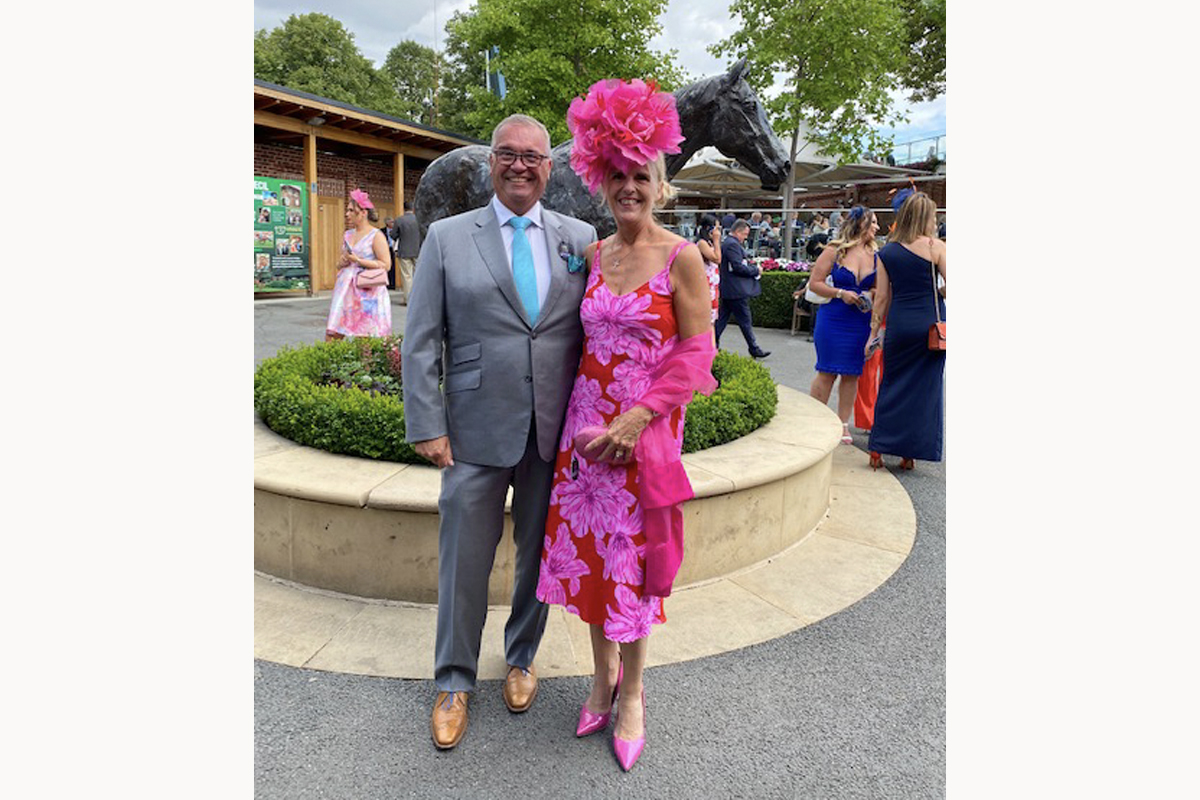 I can't ignore that; of course, I did manage to sneak in a few millinery
commissions between these activities, so I thought you might like to see this happy image. Not only did my client wear her new headpiece to a long-anticipated wedding in July, but she and her husband also won Runner Up as the Best Dress Couple at this year's Ebor Ladies Day at Yorks Races!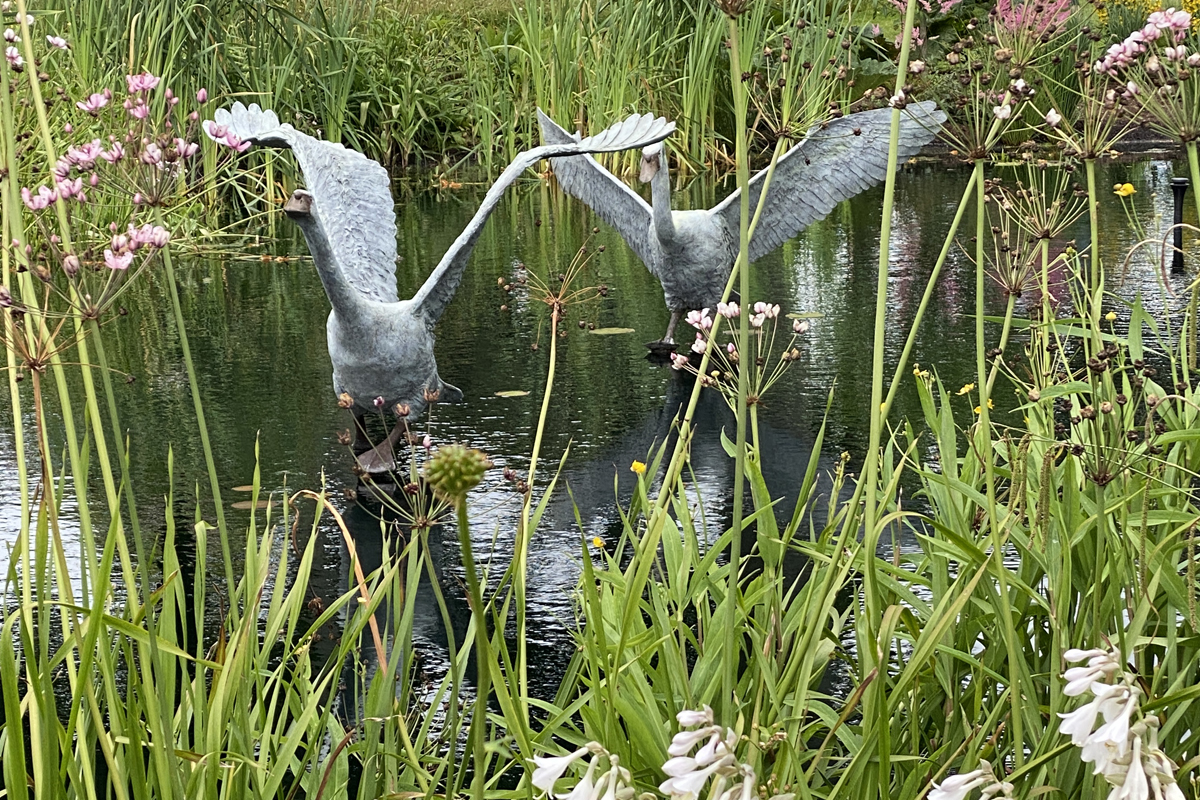 And finally – to round off this selection of things that have kept us busy through August, right back to where we started with another image of birds flying!
This time it's a sculpture of a pair of swans just in the early stages of flight, spotted during a visit to another charity open gardens afternoon at Shortridge Hall, Warkworth, in aid of Hospice Care Northumberland. See you in September!