As Advent moves onwards towards Epiphany and 2023 beckons inexorably, I thought it might be fun to take a look at what's been happening recently on the millinery front!
Christmas came to all the major attractions in North Northumberland in mid-November – seen here are two features from The Alnwick Garden Light Trail.
Find out more about Alnwick Garden here.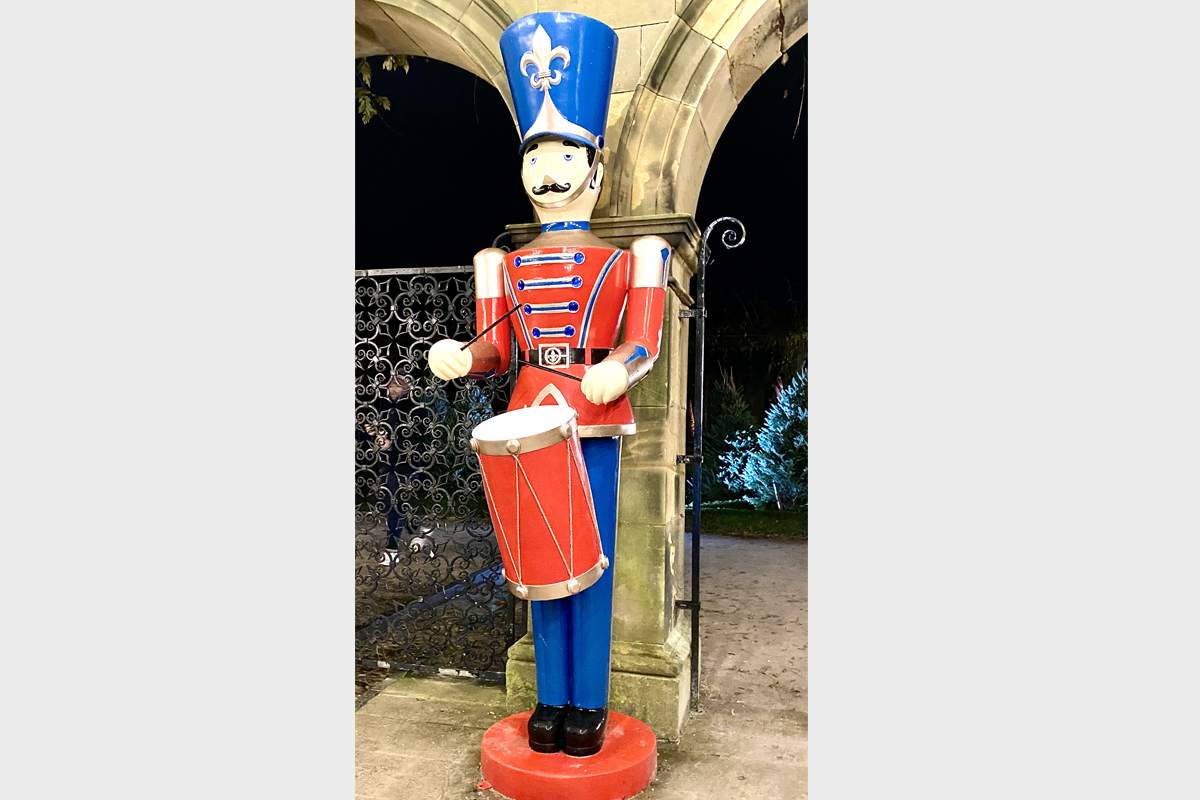 Meanwhile, interest in millinery has continued unabated. There's been lots of millinery activity here at the home of The Northumberland Milliner over the past weeks. This might be surprising for some who think of millinery as a spring and summer-orientated craft.
I have been busy making commissions alongside attending many craft fairs and events. Here's a lovely image from a recent wedding commission featuring a beautiful bride and her stunningly elegant mother – pictured here at *Doxford Barns* by local photographer Phil Smith.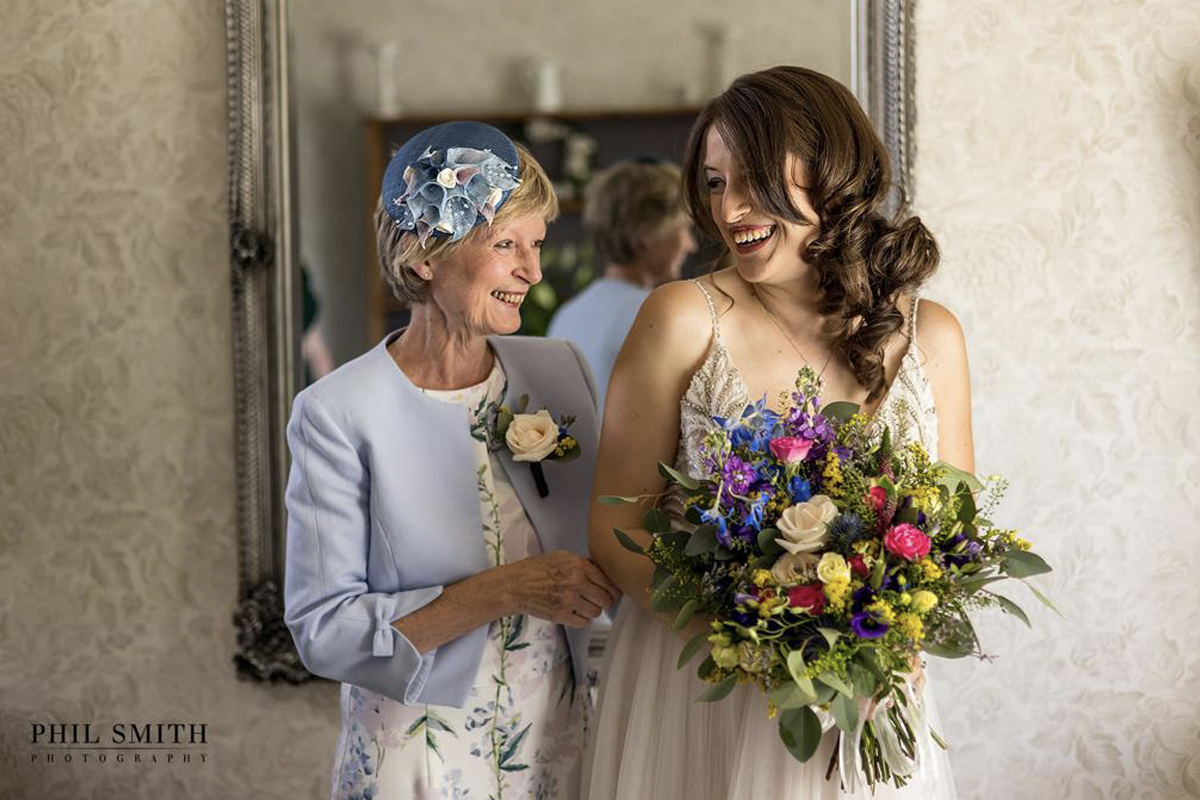 The run-up period to Advent has never been busier – I have been posting regularly with the events I've been attending so thought I would include a few more images of other events and occasions I have been involved in recently.
In October I was at The Hindmarsh Hall, Alnmouth – a wonderful place to show and one of the bonuses is that every day starts with a beachside walk!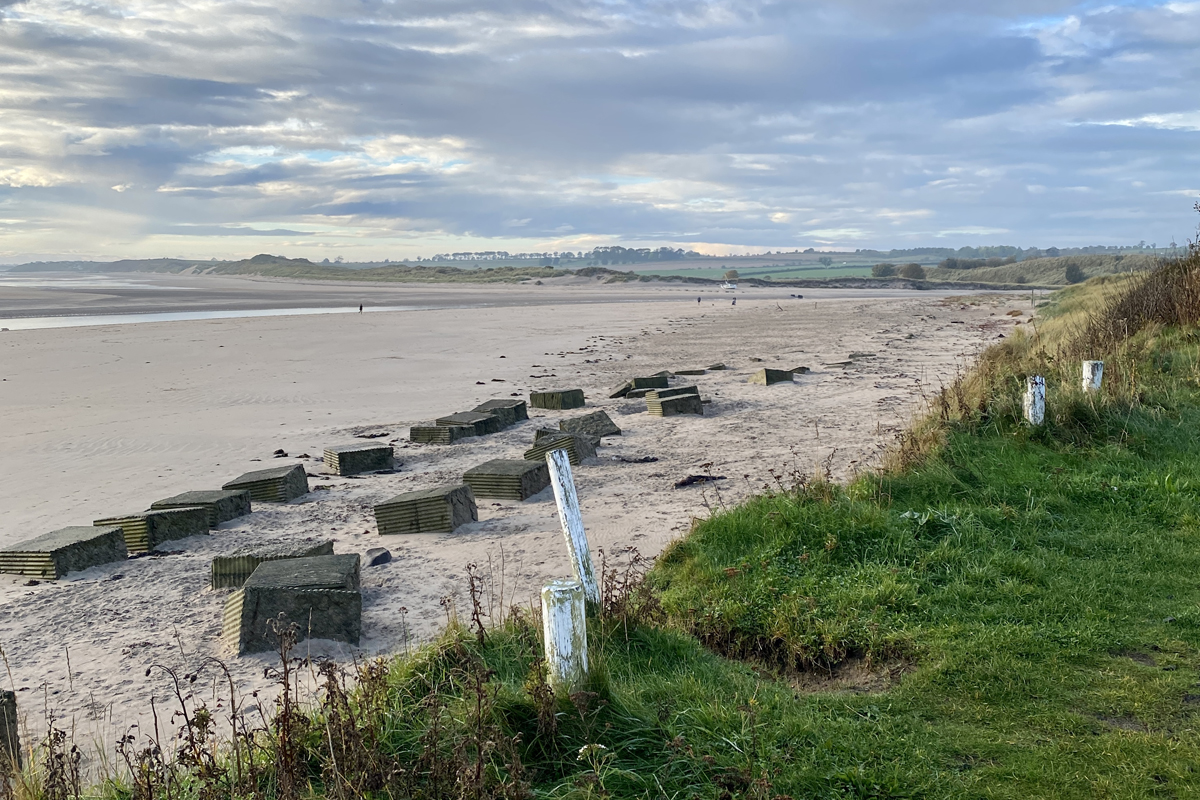 At the Hindmarsh Hall, Alnmouth, I showed a selection of fedoras, small winter hats in tweed and leather, and cocktail pieces. Fedoras and trilbies with handmade feather trims make a great feature and are perpetually well received.
As the weather became colder, I picked out a number of seasonal coloured hats and headpieces to take to fairs. This selection is part of the collection I showed at The Garden Rooms Tennants, in Leyburn, in October. And once the fair season really got into gear, I made sure that my selection heavily featured felt hats as well as cocktail pieces including Lady Penelope wearing 'Greta'. 
Of course, I could not do all this without help, and whilst I have been busy making, Simon has been helping me as I have been frantically packing the car, unloading the car, erecting stands, and so on. Undoubtedly I love the fun bit – talking to and enthusing people about my millinery passion – then repeating the takedown process!
The Christmas Market at Ford and Etal was a busy event, too. The train was running at Heatherslaw, and there were many craft stands in the Lady Waterford Hall and Etal Village, not to mention Father Christmas holding court in the Victorian Garden.
Then as the end of November was almost upon us. Gradually Christmas was coming into view came into view, picking up the offcuts from recent projects I made some Christmas Tree decorations finished with hand embroidery to add to my craft market selection.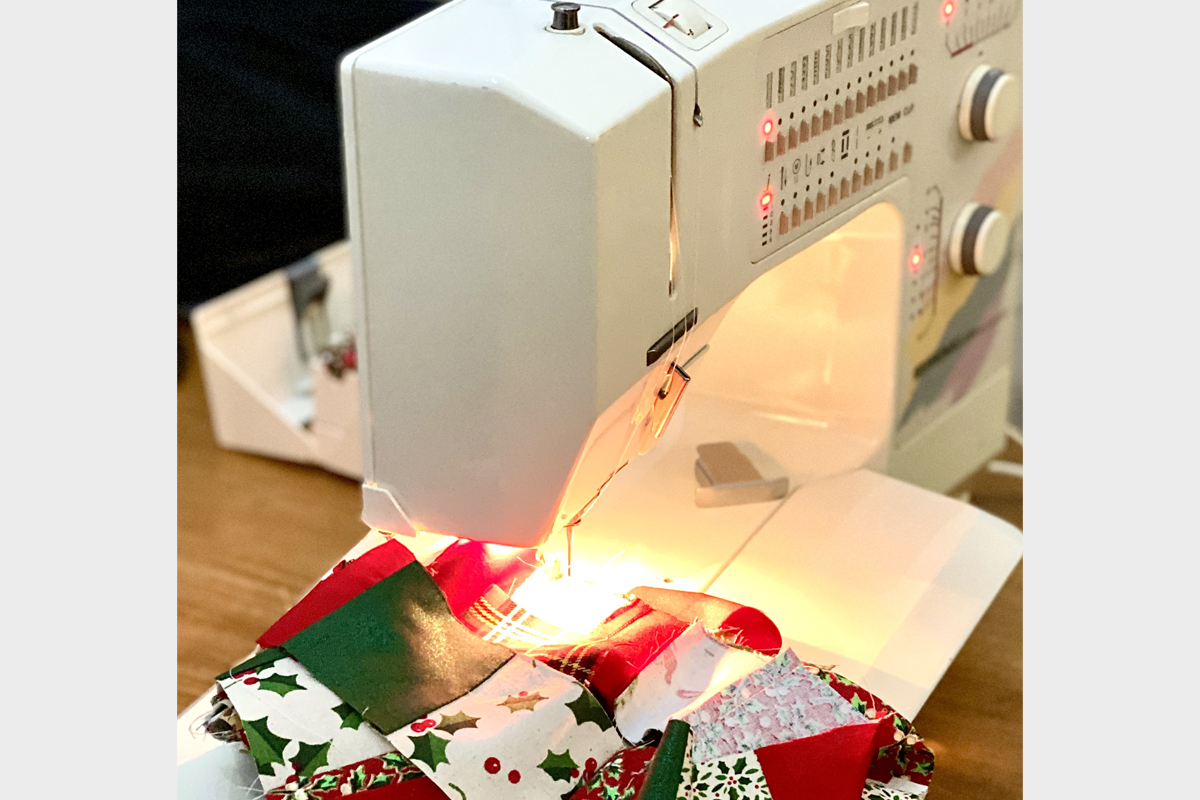 In fact, this was perfect timing as all of a sudden, the Advent period started with a bang – well, to be more precise, a fantastic opportunity – a showcase of gift items at No 10 Downing Street.
I sell my smaller millinery accessories on a dedicated handmade craft platform – The British Craft House – and this year, it was a real surprise to be able to participate in the Christmas Fair at No 10 Downing Street. The platform's founder, Dottie Bonar, received an invitation to show at the fair, an annual Downing Street event. Dottie then put a call out for donations from her platform's sellers for items to display on TBCH stand. She was overwhelmed by the response.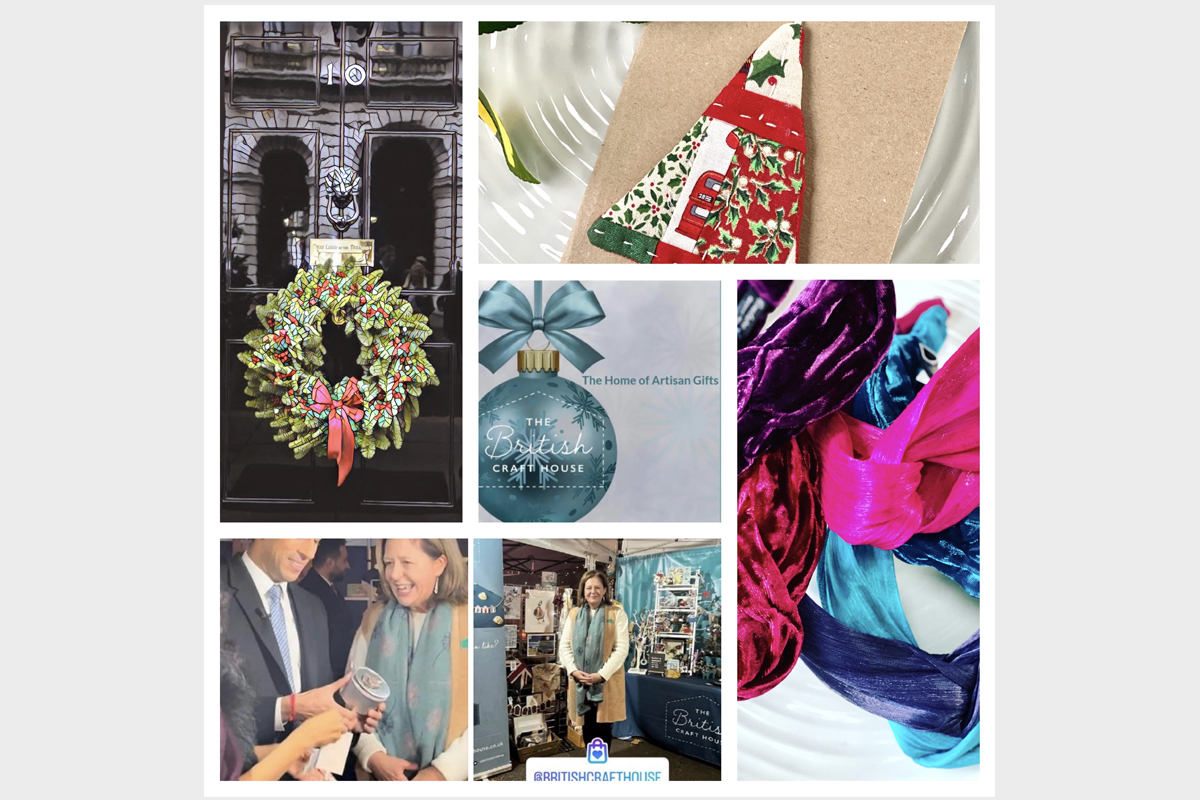 The stand at No 10 looked great – bursting with Christmas gift ideas! Not only was this a great PR boost to the platform itself, but as one might expect, the Prime Minster visited TBCH marquee. For the event, I sent one of my very popular silk abaca turban headbands, and a few of the cute 'boho' inspired quilted Christmas Tree decorations mentioned above.
Subsequently, all the gift items sent for the No. 10 event by The British Craft House artisans were raffled in aid of Action for Children. I am delighted to say that the raffle raised almost £3000 for the charity.
If you would like more information about this annual event at No 10, here's a link to this year's official press release.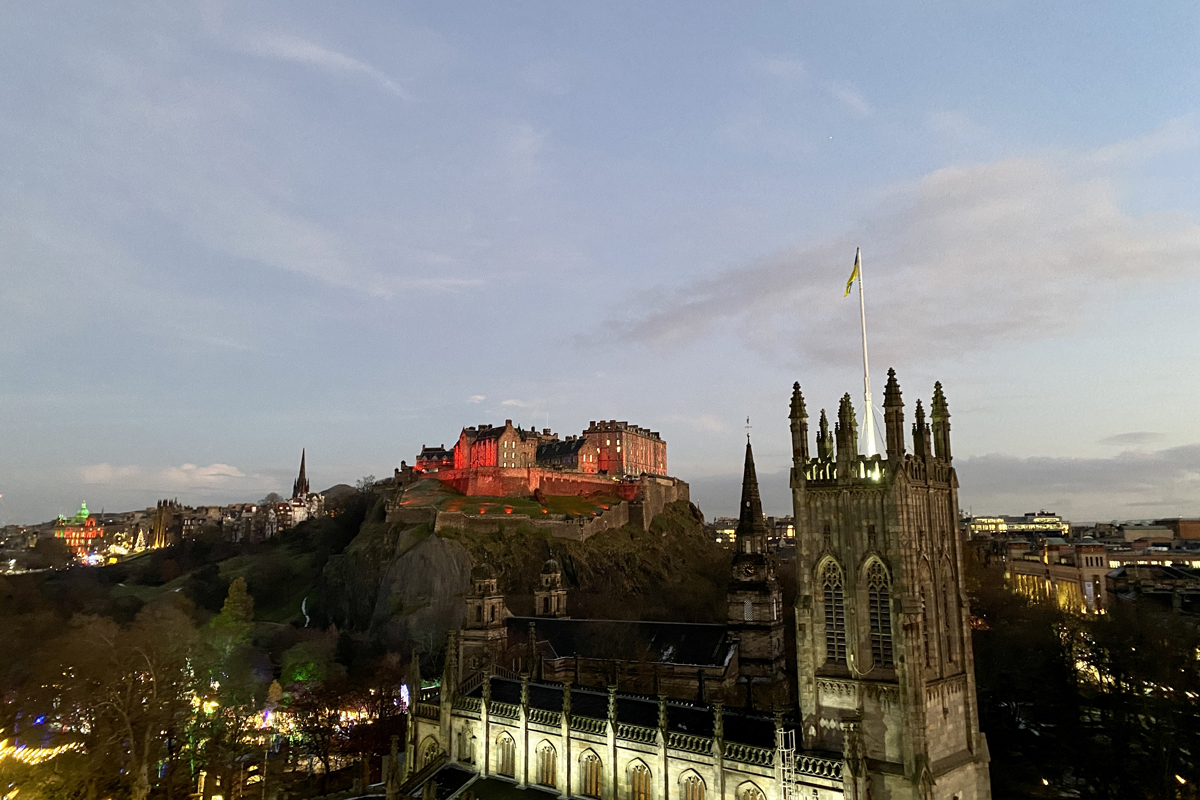 There's been lots more in between too. A few weeks later we spent several days in Edinburgh, coinciding with a fair in Colinton, which allowed us to sample the new rooftop bar at The Johnnie Walker Experience on Princes Street!
Find out more about The Johnnie Walker Experience here.
This brings us up to date almost and to the stunning inaugural fair at Merchiston Castle School.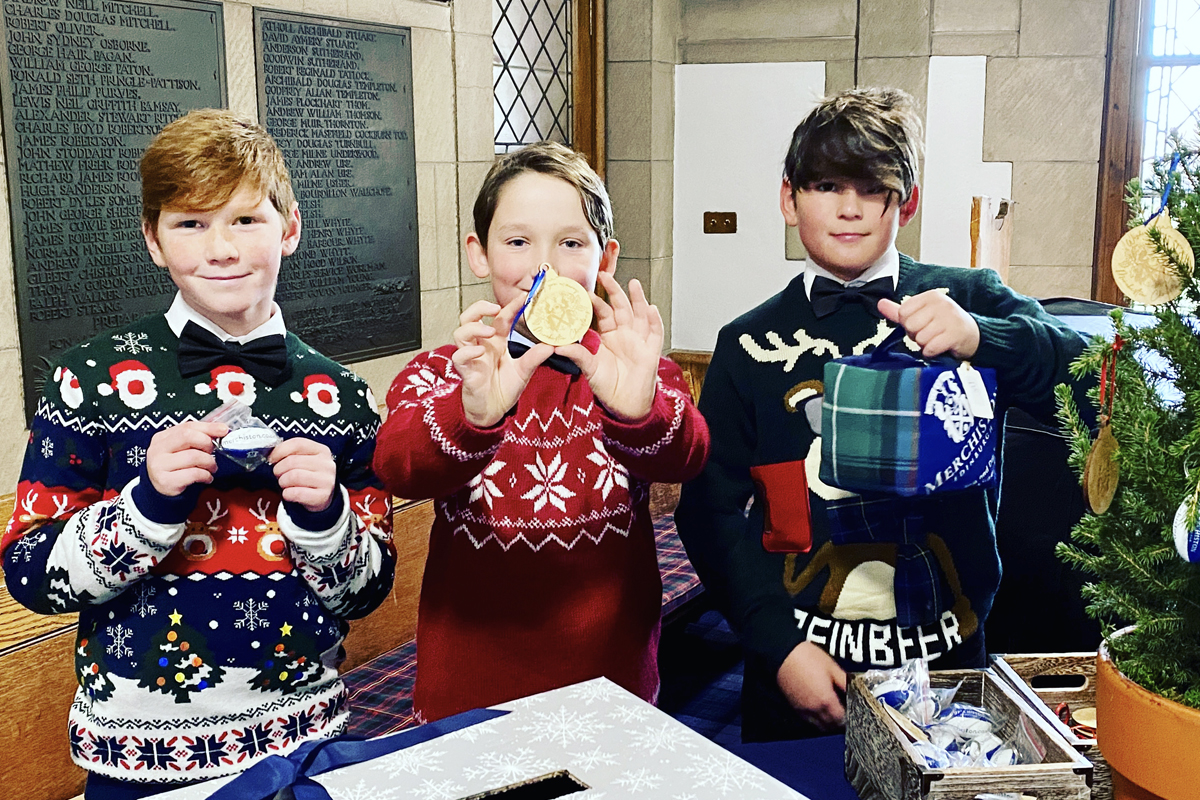 The school was beautifully dressed for Christmas, and on arrival, visitors were greeted by three of the junior school boys proudly dressed in their Christmas sweaters. Like Christmas elves, they were busy selling tickets for the Christmas raffle – part of a fundraiser being run by the school on behalf of their charity partner, the Braidburn School, Oxgangs.
Tartan and cocktail products featured highly – and were purchased both for Christmas celebrations and Burns Night! And pictured here is one of my fellow stallholders wearing a cocktail piece featuring sequins and a silk abaca bow.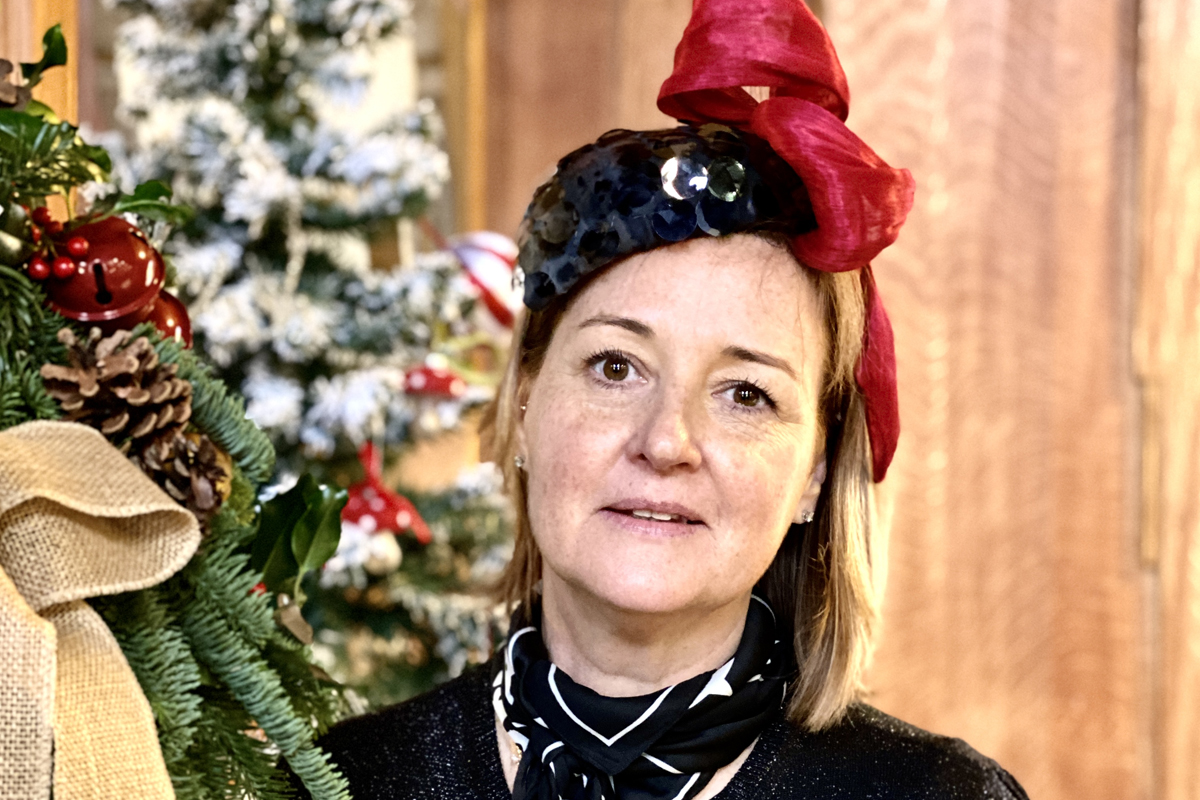 What can you follow this with – well, the school pipe band playing Christmas carols, of course – which seems wholly appropriate!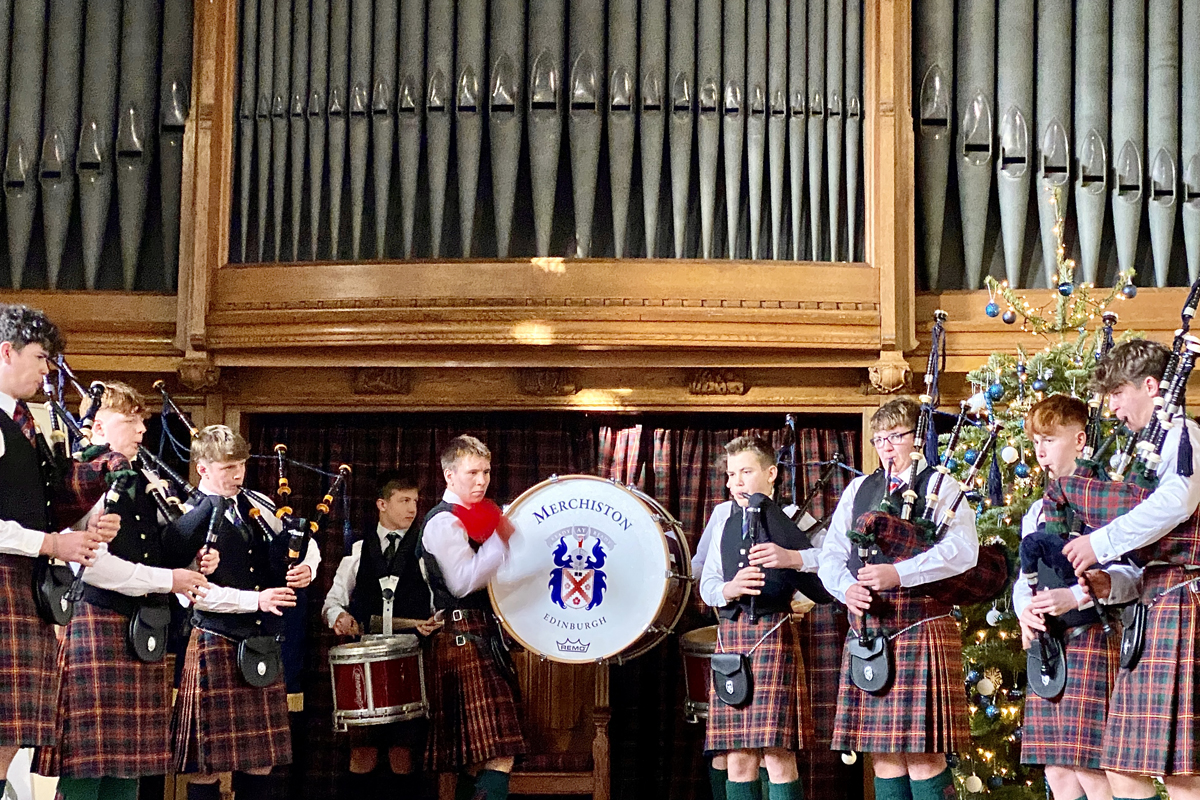 To round off our short break in Edinburgh, we enjoyed a lovely seasonal lunch and tour of Marchmont House, Duns, where I am delighted to have been asked to show next year at their May 'Meet the Makers' Fair.
Find out more about Marchmont House here.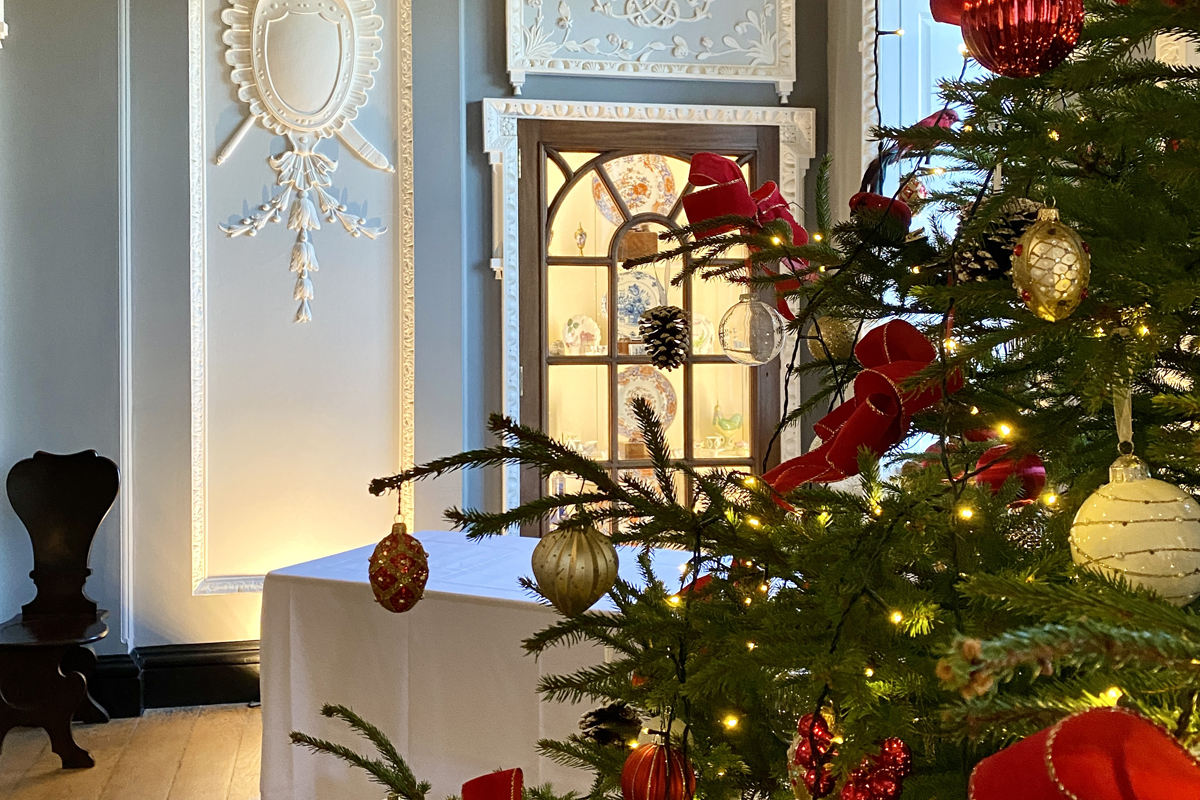 Currently in development is another new design – perfect for a winter wedding or Valentine's Day gift – three hand-pleated velvet and Petersham MacIntosh-inspired roses set on a dark grey wool felt base.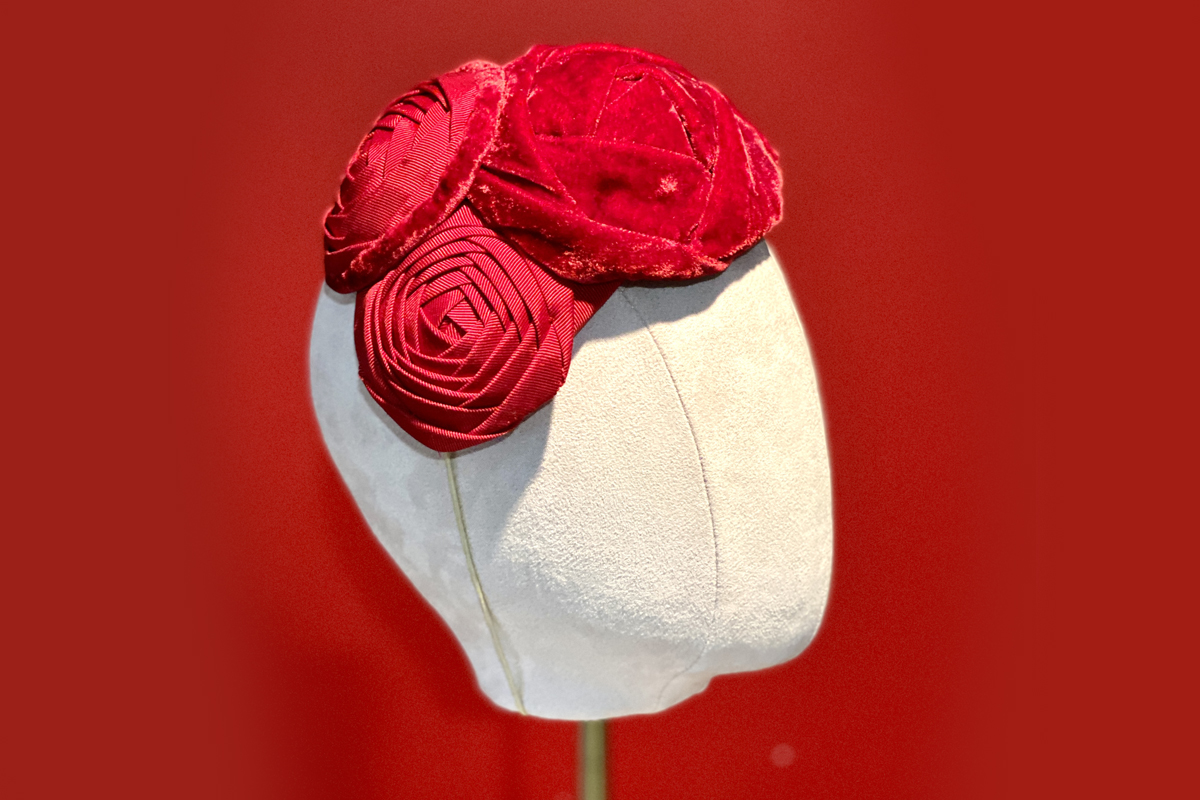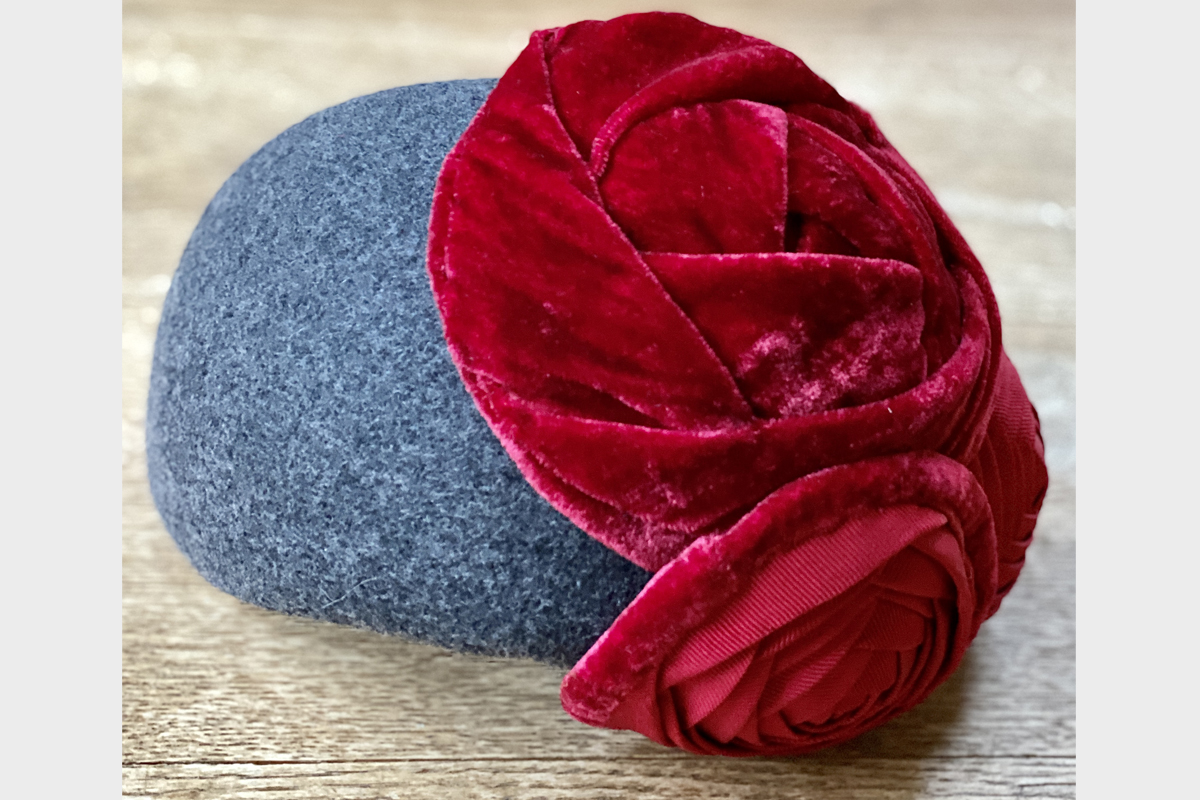 All that remains is for me to wish you a Very Happy Christmas and New Year.
I will leave you with this stunning image as my local Christmas card – frost on a sunny December day at Low Newton, where we attended yet another delightful Christmas Fair at The Ship Inn.