If, like me, you were taught to knit by your grandmother, most would know that when you learn to knit, your first tentative stitch is the basic plain knit stitch.
What's fascinating, however, is that taking the example of the basic plain stitch and using it to craft a simple knitted sampler, which, with the addition of couture-inspired techniques, this simple sample piece can be elevated to create a headpiece straight out of a model millinery style book.
So, in this case, particularly, this quotation is a truism. "Neurodiversity is not about changing people. It's about changing society's perception of people." – Nick Walker, author and activist.
With Daphne, a young adult diagnosed with autism as a small child, I have recently been involved in an exciting millinery collaboration that successfully utilises Daphne's latest crafting fascination – knitting.
This post takes inspiration from the first tentative steps you take when learning to knit to draw an analogy between knitting and the gradual making of a networked, supportive community. Also, it looks at how anyone, regardless of their functionality, can, by being helped, both sensitively and meaningfully enhance their own life experience.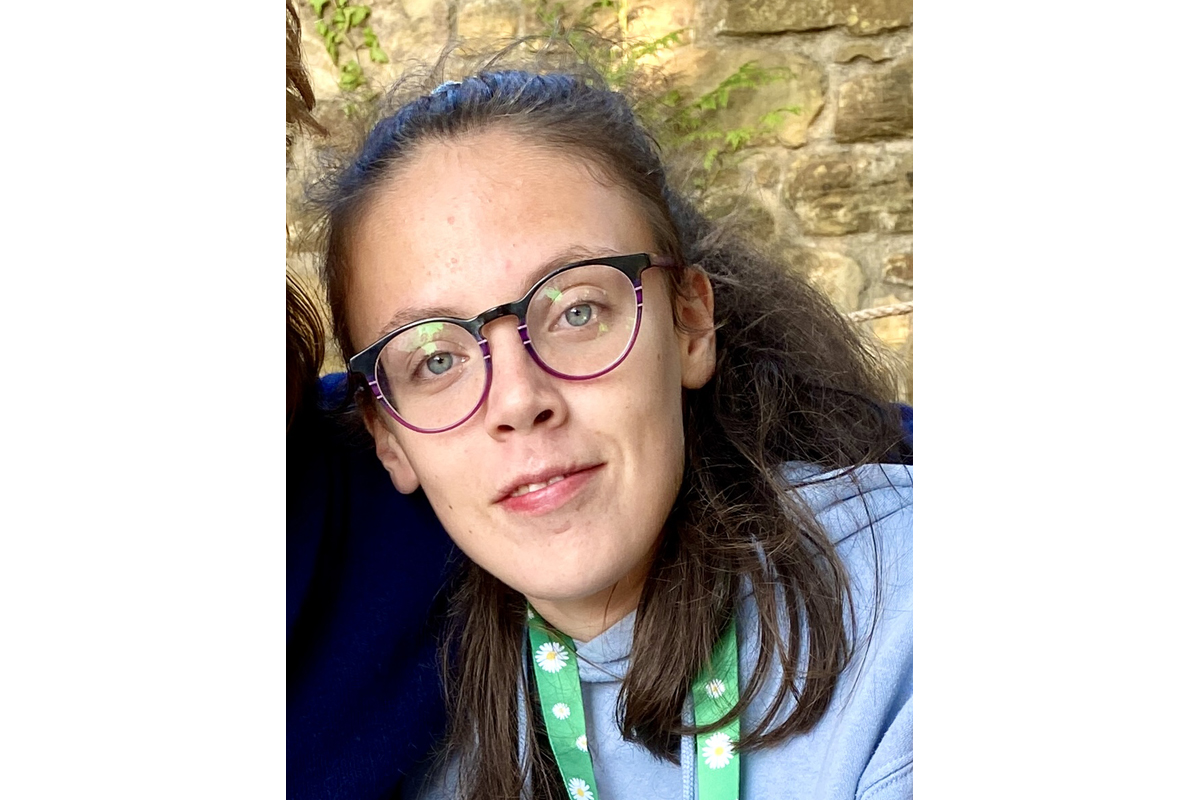 "The most interesting people you'll find are ones that don't fit into your average cardboard box. They'll make what they need. They'll make their own boxes." Daphne, now on the edge of adulthood, enjoys life to the full and is living proof of the relevance of this quotation from Dr. Temple Grandin.
With support, she is an active member of society, fully involved in farming life, and attending school. Most recently, she has been one of the first participants in a new format of the Duke of Edinburgh Bronze award scheme, specially devised to support those with neurodiversity. She also loves animals – especially dogs! Her dog Rosie has benefitted from the huge range of twisted fabric dog toys Daphne has learnt to make.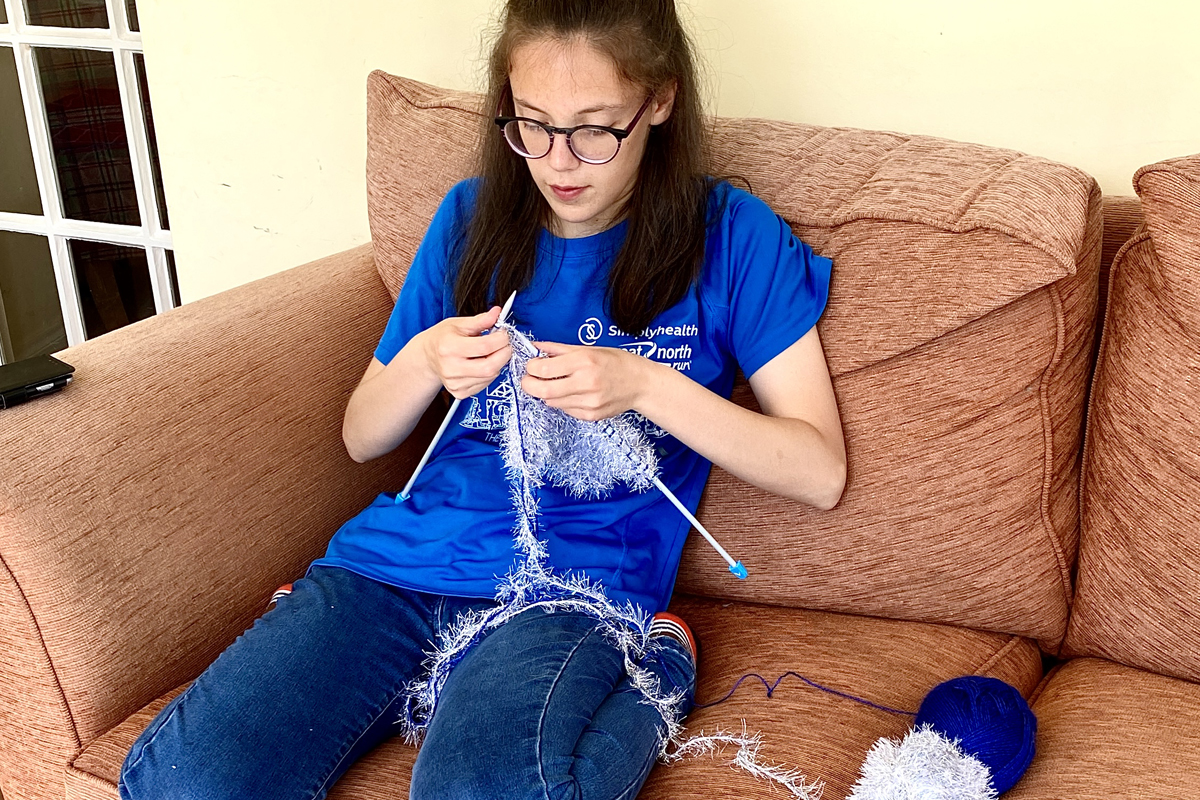 "It is not our differences that divide us. It is our inability to recognise, accept, and celebrate those differences." – Audre Lorde.
Several months ago, Daphne, who is very creative, discovered a new passion – knitting. Her early projects included a Dr. Who style scarf – it literally went on for ages – which she knitted for her father. Over the last months, she has refined her techniques and has the confidence to move on to double-stranded knitting.
Having enjoyed many crafting sessions with Daphne, who always takes part enthusiastically, I was delighted on a recent visit when she revealed her latest knitting project. Daphne used her newly acquired "double-stranded knitting" skill to make a delightful sample piece featuring a cocktail-style yarn. The resulting sample was textural and frankly stunning. So I asked Daphne if she would consider knitting a sample piece for me too, which I thought had possibilities as a fundraising vehicle for the North Northumberland branch of the National Autism Society with which we are both involved.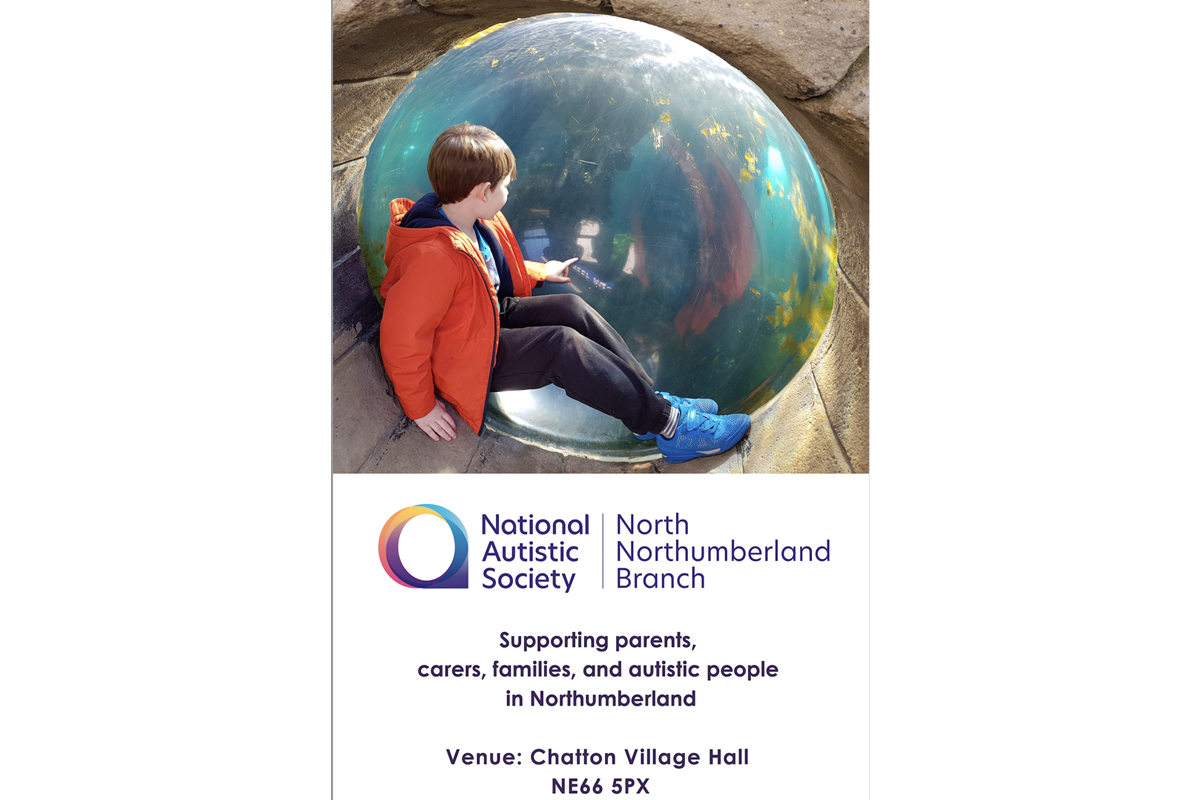 Jonathan Mooney, author and activist, said, "We do not need to cure neurodiversity. We need to embrace it."
In sparsely populated rural North Northumberland, we have been actively involved in embracing neurodiversity for almost ten years due to an innovative approach embarked upon by Helen Sutherland, mother of Daphne. Helen, realising that there was little support available for families touched by this condition in Northumberland, along with a small group of supporters, founded the North Northumberland branch of the National Autism Society (NAS) in 2015.
Having spent a number of years navigating the various agencies involved when Daphne was diagnosed with autism and related conditions, Helen recognised the need for sensitive and informed support for those touched by the condition.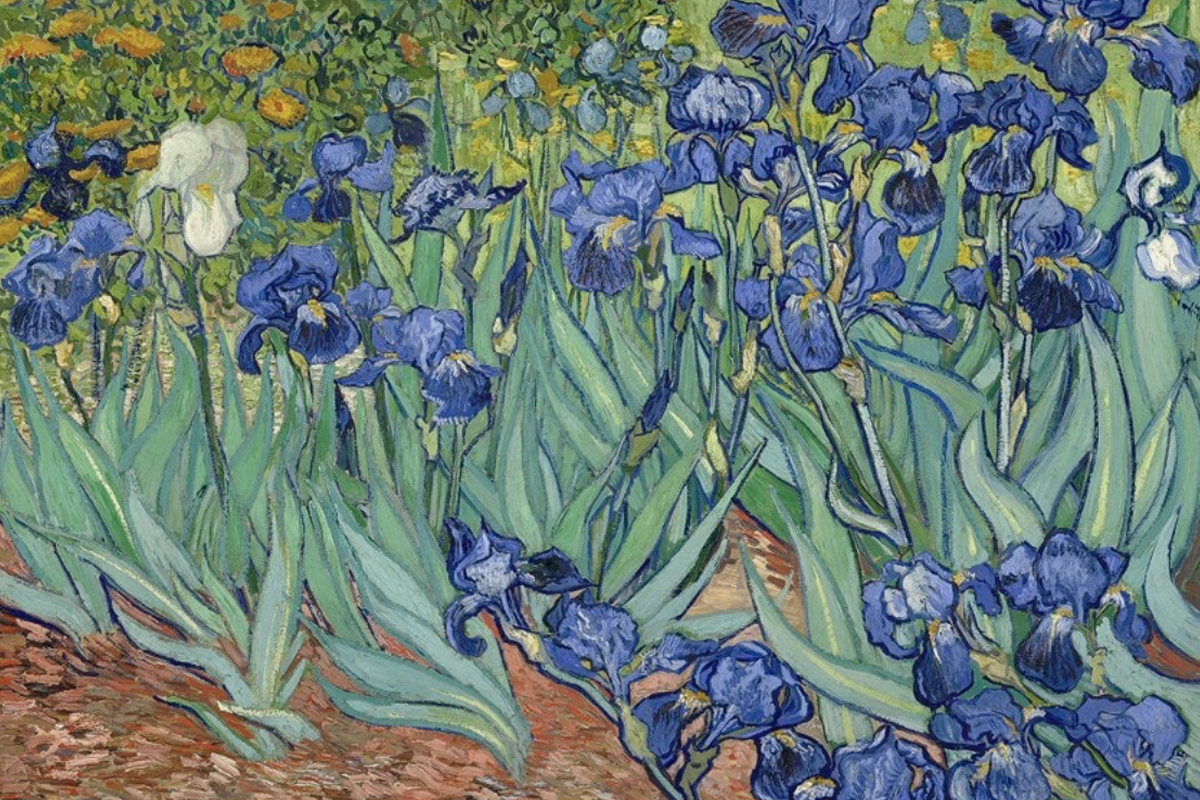 "Everybody is a genius. But if you judge a fish by its ability to climb a tree, it will live its whole life believing that it is stupid "- attributed to Albert Einstein, though the source is unknown.
We are all familiar with Vincent Van Gogh's work, which is characterised by now-familiar motifs such as the use of repetitive imagery and his mental health issues stemming from his then-unrecognised diagnosis of autism. Today, help and support are available for those touched by the condition, and one source of this is the NAS. For those unfamiliar with the organisation, "The purpose of the NAS is to improve the lives of people with autism in the United Kingdom".
To support this ambition, the local North Northumberland NAS branch offers its members regular support meetings with professional speakers alongside a wide range of sensory activities to help individuals affected by the condition. In order to maintain these support services, the branch actively fundraises. So, I wondered if Daphne's latest textural creation might be used to create a small contemporary headpiece that could be auctioned online to raise funds for the branch.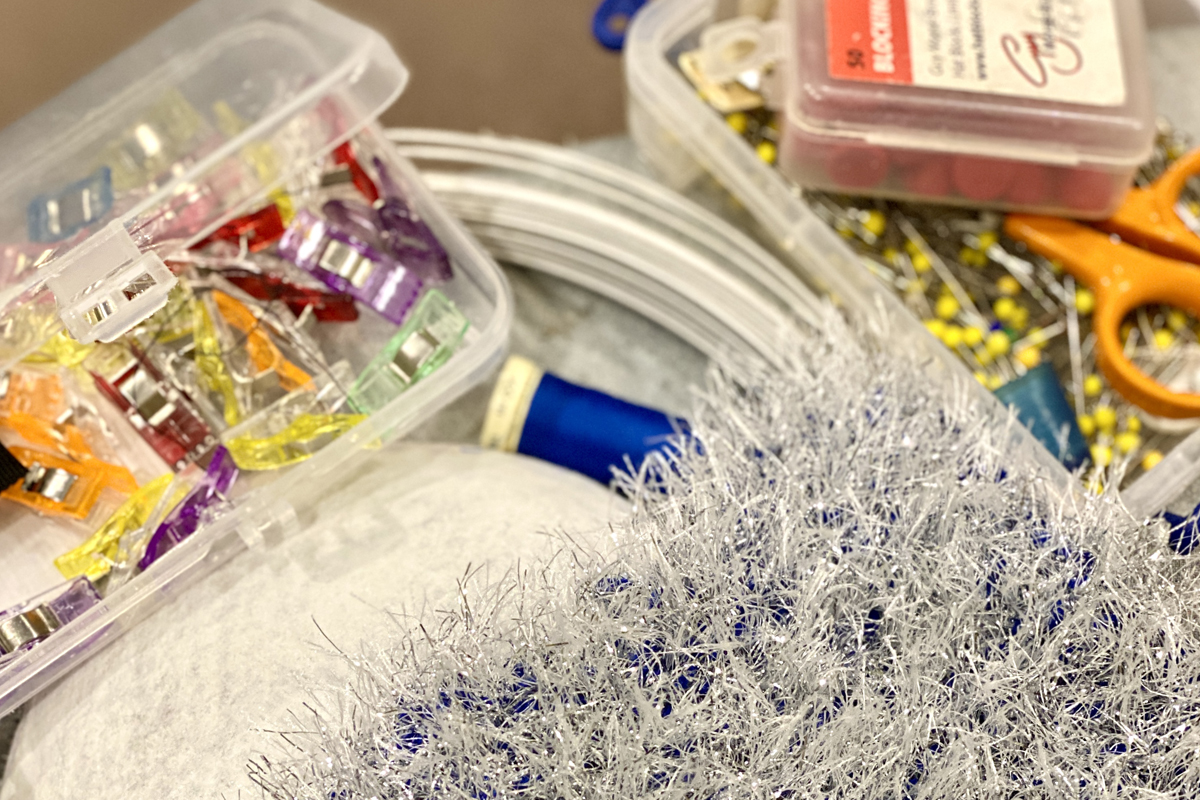 I was delighted to find that Daphne was using her newly acquired "double-stranded knitting" skill to make a stunning sample piece featuring a cocktail-style yarn. The resulting sample was textural and almost three-dimensional. I asked Daphne if she would consider knitting one for me too, which I thought could be adapted as a fundraising vehicle for the North Northumberland branch of the NAS.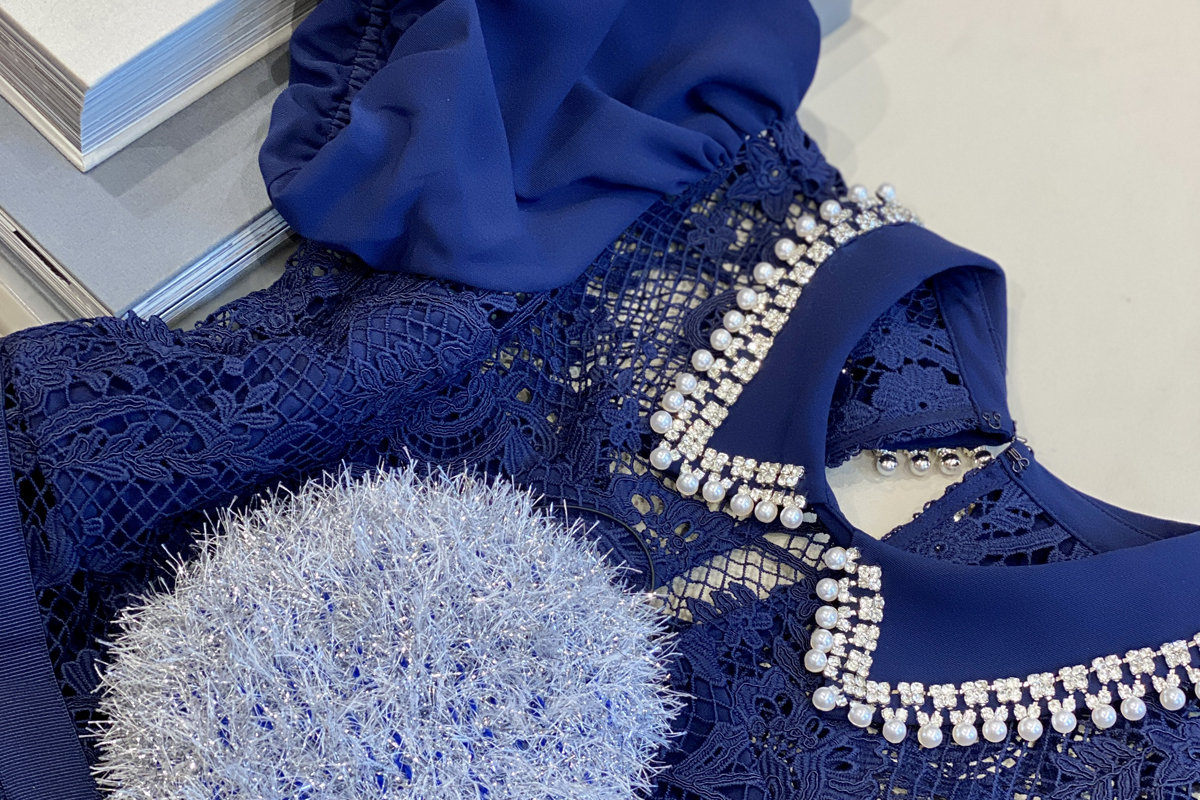 The finished sample piece, knitted by Daphne, has been used to cover a blocked smartie style base (diameter 7″/18cm). The headpiece has a wired edge and is lined in silk, finished with a contemporary tall "stalk" of blue silk, covered in sparkly sequins and seed beads.
The headpiece which I have branded "Miss Daphne" epitomises its namesake – gifted, sparky, and complexly diverse. Seen here with a navy lace diamanté collar stunning mini dress from the latest Self Portrait collection.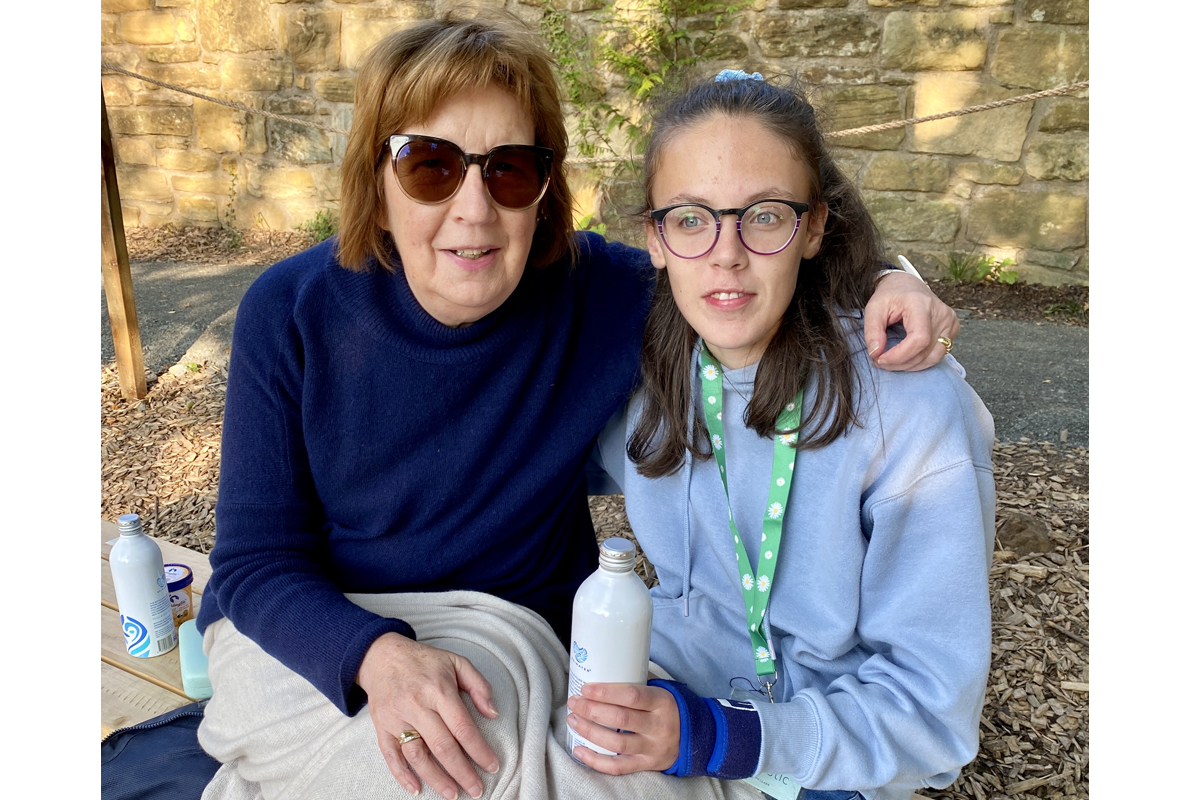 I hope you like the finished piece as much as Daphne and I do. I am delighted to announce that this piece has already been snapped and will shortly be worn to a memorable occasion. Its delighted buyer, who identifies hugely with the sentiments behind its creation, is helping by her purchase to raise funds to support the work of the North Northumberland NAS branch.
Daphne is also keen to continue with her creative adventures, so if you would like to enjoy a new headpiece made as a result of this collaboration between Daphne and I, please get in touch. The same headpiece can be designed and made for you in a choice of base colours finished in either gold or silver cocktail yarn.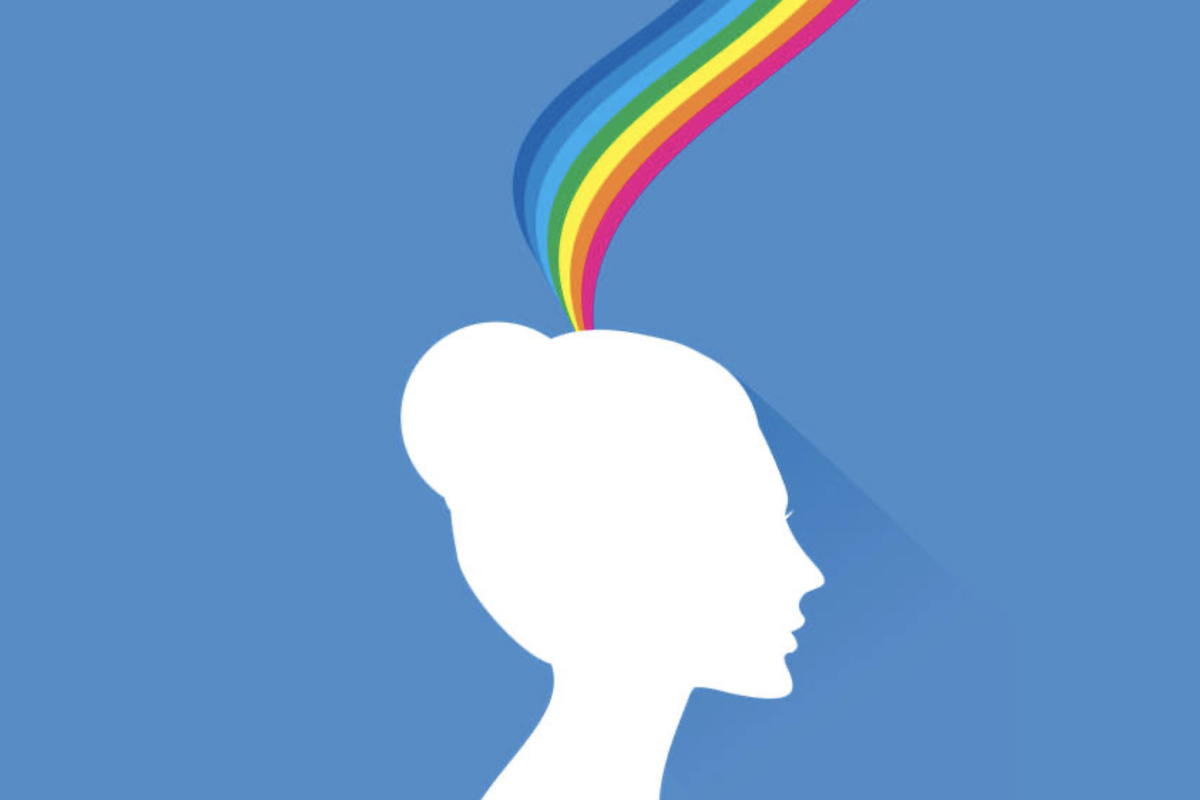 Postscript
And in case you are unfamiliar with "neurodiversity", – it's an umbrella term used to explain the unique ways some people's brains work. It includes a range of conditions, such as autism, ADHD and dyslexia. Being neurodivergent means that you have a brain that works differently from the average or "neurotypical" person. ND affects many individuals and, depending on your interpretation of statistics, one in one hundred of the population, though many more go undiagnosed. For some, being ND is a gift. For others, it can represent a very significant handicap both for the individual and their family.
Whilst for many years ND was seen as a male-dominated condition, more recently it has become obvious that this condition is not in fact exclusive to men, and well-known contemporary women with neurodiversity include Greta Thunberg (activist) Cara Delevingne and Keira Knightly (actors) Lady Gaga and Cher (musicians) Venus Williams (tennis player).