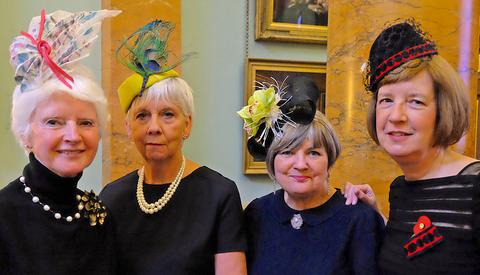 On behalf of HospiceCare Northumberland "The Mad about Hats" team would like to thank everyone who joined us Afternoon Tea at Paxton House on November 4th, for an excellent afternoon's fund raising event. The afternoon raised over £1000 in aid of HospiceCare.
If you would like to see more images from the afternoon, please take at look at my Pinterest board. (Pinterest is an online pin board site where you can group together creative images on themed notice boards). I have posted few more images on my Afternoon Tea at Paxton House Pinterest board so you will be able to soak up the atmosphere of the wonderful afternoon captured in Valerie Atkinson's lovely photographs, here's the link to copy & paste into your browser
https://www.pinterest.com/mhwoodliff/afternoon-tea-at-paxton-house/
I do hope to see you all soon again and please do get in touch if you would like to take a closer look at one of the headpieces I showed on Nov 4th, or commission your very own piece!
The next HospiceCare event that I will be showing at is The Joy of Christmas Fair on Sunday November 29th 10 – 4, at Linden Hall, where I will also be launching a range of hand made felt corsages.