My work as a milliner divides neatly into several spheres – creating couture commissions; the ready to wear collections – sold through the online store; accessories; as well as teaching and delivering talks and demonstrations.
Customer service is a very important element of the millinery business so I am always when my clients spare the time to write a review. Here is a selection of some recent ones I have received.
There are more reviews to browse on my FaceBook page Margaret Woodliff Wright Millinery, but I have been fortunate to receive some longer testimonials, I thought I would include them here, along with images of the headpiece or hat that my very special clients chose:
Erica – pictured below – has both commissioned headpieces from me for very special events and has now tried her hand at making too. I was delighted to hear from her sister Nina, who wrote:
"Erica has spoken to me of you quite often, and I was with her when we went to the London Hat Week earlier this year where we saw your hats on display – so beautiful. I am very happy to send you the photo of my lovely sister wearing the blue hat she made in one of your workshops – it was superb. She did ask me to take the photo for you in fact! How clever she was to find a dress to go so perfectly with it. What a shame I do not live closer or I would join in the fun too!"
With very best wishes, Nina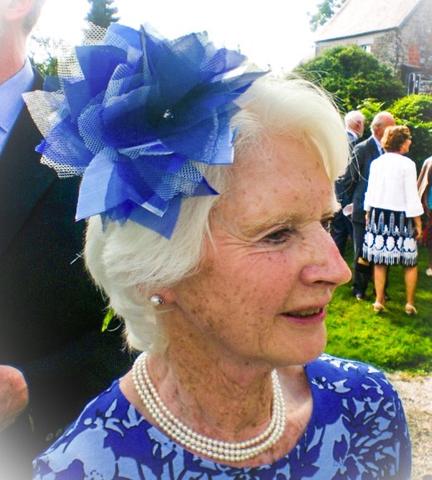 Sonia recently commissioned me to make an autumnal themed vintage beret. Sonia was so enthusiastic about her headpiece for her daughter's wedding, that she even sourced her own pheasant fathers. So I was very pleased to receive the images of Sonia wearing her copper coloured vintage straw beret, complete with oversized pheasant corsage.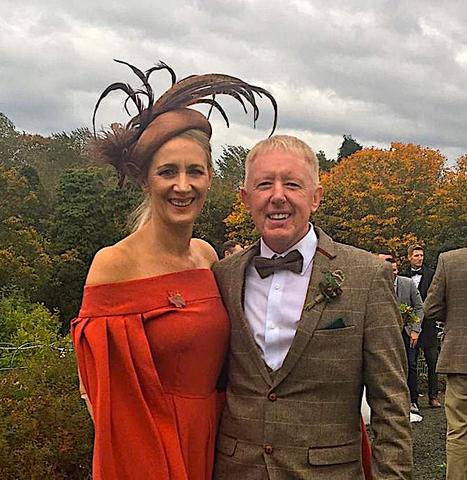 I was delighted to receive the image below from Barbara of her proudly wearing her couture headpiece on the morning of her daughter Helen's wedding!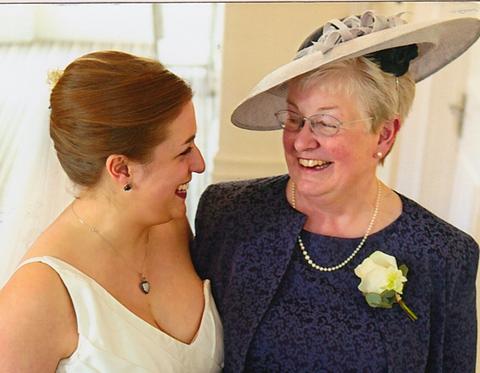 Barbara writes, "Margaret came highly recommended by Katherine Truman who has the beautiful Bridal & Occasions store in Morpeth, Northumberland, when we were searching for my daughter's wedding dress, and I was in the process of starting to look for a mother of the bride headpiece.
The first thing we did was have a chat on the phone and then Margaret came to my home. She arrived with a variety of designs to use as a starting point and it was not too long before we found a style that really suited me! We went from there to choose colours and materials and the final result a few weeks later was a stylish, comfortable to wear and much admired hat. Not only is Margaret an excellent milliner, but she also knows how to 'read' her customers and anticipate their requirements, which means that the final result is very personal and unique. She definitely deserves to win the NOEWA award."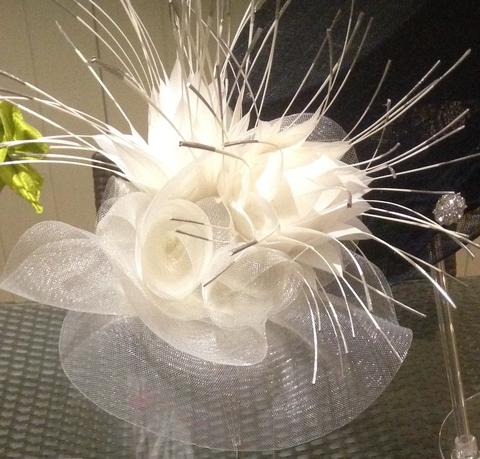 rances writes, Margaret's passion for hats is amazing. I am impressed by her tremendous interest and commitment to ensure each one of her beautiful hats is the correct one for her client and the occasion on which it is to be worn. She listens to what the client is seeking and gives a great deal of advice and support on what might be best for her client. The outcome of her drive to succeed is a very satisfied customer, a stunning headpiece and lots & lots of compliments. Thank you – I love it!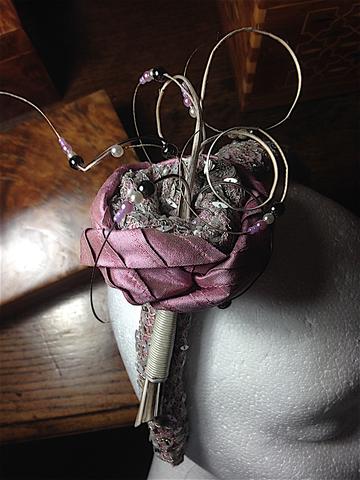 Chris writes, "We first met Margaret at a wedding fair and were immediately aware of her exquisite work and her exuberant and enthusiastic personality. The hats were so original with a complex use of fabrics, form and texture. Margaret collects fabric, trimmings and inspiration from round the world. Each piece is unique. Margaret sculpts, shapes, forms and paints with textiles, threads and yarns, a true artist.
I decided to ask Margaret for a design for my son's wedding. The preparation was a delight. Although she is brimming with ideas herself, Margaret listened to me carefully and made me completely comfortable with what we decided to make. I am not used to wearing hats so wanted something understated. We visited her in pleasant surroundings and accompanied by cups of tea, good conversation – which my husband enjoyed – Margaret created a most charming headpiece incorporating fabric from my outfit. During one of the fittings we tried the headpiece on with my outfit and Margaret helped with ideas for accessories, even buying me tights to blend in! Her service was excellent. The entire process was delivered with kindness and professionalism, along with emails and photos giving us progress updates.
Margaret has exhibited her work at many functions including wedding fairs, events & workshops. She has given talks about her work – using her personal millinery story as a focus she is dedicated to supporting the fund raising efforts of HospiceCare Northumberland. She has achieved so much since graduating, developing her skills and nurturing her fledgling business. Margaret continues to go on creating beautiful hats and headpieces with dedication and much hard work. We will watch her future with interest and wish her well in all she does. I now just need an occasion to give me an excuse to commission another hat!"
Please do get in touch if you would like to commission your very own couture headpiece.