I have realised that I enjoy the challenge of making head pieces and hats from recycled materials!
I think what's so lovely about recycled work is that due to the "constriction" that the material itself puts upon you, not only is the initial concept and design inspiration for the piece stretching, it all feels so much more purposeful because I am reusing a resource that would otherwise have been disposed of.
Immediately I look at the piece I can remember where, when and from whom I acquired the material I am using. So the hat I make comes with a ready made history of its own, already!
Taking this one step further what's so precious in the case of a commission – for instance making use of a loved one's sweater – is that of course I include details where possible such as the original labels, and in the legend I enclose in your hat box there will notes on the inspiration source along with making details. So all in all I feel that just by using recycled materials it can make the piece so much more meaningful.
To show you a few more of my recycled pieces in the context of my overall work I thought I would use the lovely editorial that has just popped up thanks to Highlights PR – this time across four pages in the February 2017 edition of Machine Knitting Monthly. The MKM piece profiles my millinery story, and touches upon my recycled work, the "MillinerXArtisan" XTerrace Platform & "The Cupola" International exhibitions along with the North of England Wedding Awards.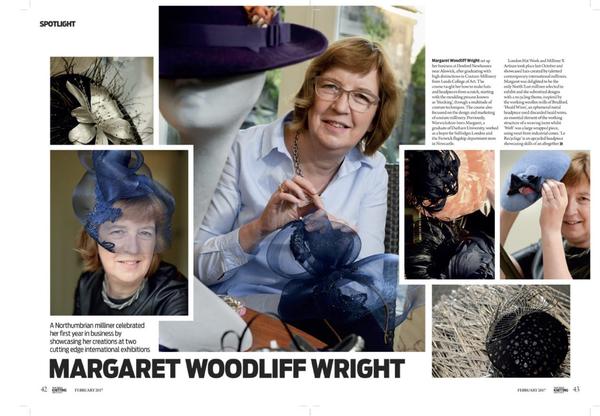 Please take a look and browse through the lovely photographs taken by Jim Gibson of GIS Photographic, and you will see there are numerous pieces featured on these pages including some of the recycled collection – le recyclage, Spring and Bow Ties. If you are interested in commissioning a couture hat or exploring the possibility of a recycled memory piece, just use the Contact form.