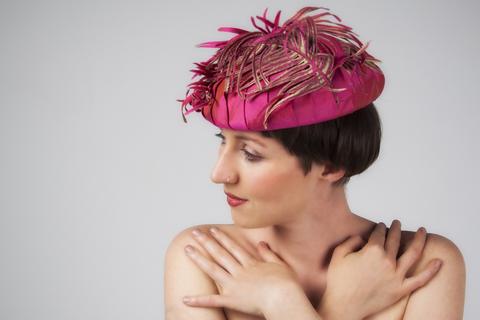 On November 28th Barbara Hodgson, the Culture Reporter of the Newcastle Journal and Evening Chronicle ran an online article in the Newcastle ChronicleLive. The article covered my millinery career to date, and the latest Making Headway collection, One Hundred Years. Barbara followed this up with an editorial feature on Saturday 29th November in the culture section of The Newcastle Journal. I felt very privileged to receive coverage in both papers. In both editions Barbara kindly included a number of images by Karen Rangley, Mark Winterbourne & Isobel Moore.
To view the article in the ChronicleLive – copy and paste the link, http://www.chroniclelive.co.uk/news/north-east-news/northumberland-hat-maker-gets-ahead-8193826
Pictured above is one of the gallery images Barbara posted showing Emily Ellwood – photographed by Mark, with make-up by Martina Peluso. Emily is shown in a cerise pink silk pleated couture vintage style beret with wired lime and cerise silk pink feathers.