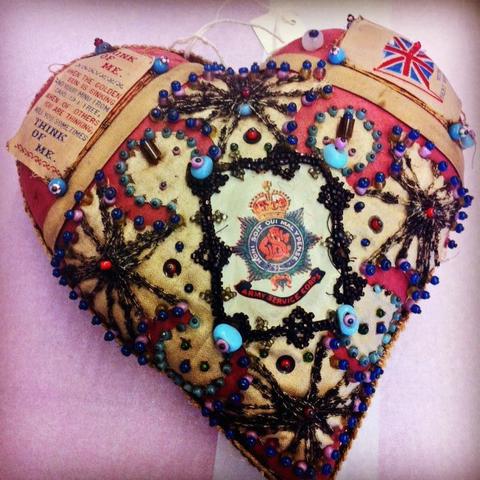 Sweetheart Pincushions
Tradition relates that Queen Victoria felt homesick infantry posted abroad should be kept busy. So starting in India in the early C20th, trunks filled lace, beads etc. were shipped out to them. They added regimental identification. The practice continued through WWI. Soldiers would scavenge for needles and thread to embellish feed sacks. Later pillows were manufactured and could be bought as souvenirs. The cushion above is one of two held by The Stockport Museums Collections.
History of Sweetheart Pincushions Extracted from The Vault – Slate's history blog
Pincushions made by British soldiers during WWI were sent home to wives, sweethearts, and mothers. Queen Victoria, a keen practitioner of textile arts, thought that soldiers might find quilting or needlepoint a great distraction whilst far from home.
Some British soldiers stationed in India made quilts, and sailors in the Navy often extended their sail-making efforts to recreational needlework In WWI. Soldiers often took up needlepoint as a way to pass the time while recuperating from war wounds, or used it as a form of occupational therapy. These cushions are decorated with beads, sequins, pieces of mirror, felt, and pre-printed panels memorialising soldiers' regiments.
Research by the Imperial War Museum says that some such pillows were made out of commercially sold kits, that other examples were sewn using feed sacks and rummaged thread. Examples in the UK can be found at various museums, including The Imperial War Museum, Beamish, Living Museum of the North, where there is a significant collection, Tyne & Wear, and within the Stockport Museums collections.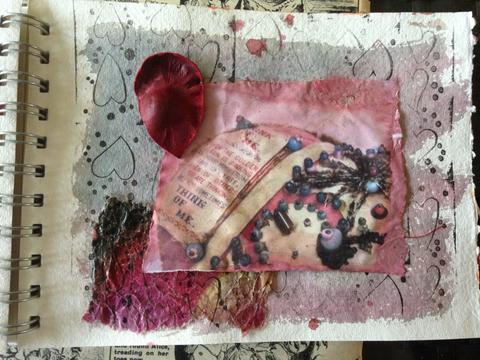 One Hundred Years – couture millinery collection
So this where my collection "One Hundred Years" started with WW1 memorabilia; including the inspiration of the sweetheart pincushions particularly the vintage colours of soft rose, blue & deep ivory characteristic of the pieces held at the Stockport Museums. Along with the awe inspiring and overwhelming installation at The Tower of London – Blood Swept Lands and Seas of Red; the musical production of Warhorse – where I have focused on two characters The Songman, the fedora wearing narrator, who using his sung commentary guides us through the unfolding events of WW1 and its affects on a small community mirroring that of the nation's experiences; and finally of one of Songman's characters – Dolly Gray. All these strands have all contributed to inspire my collection.
Above is a page from my sketchbook, with my design inspiration for the collection beginning to take shape. In my next post are images of my latest collection.