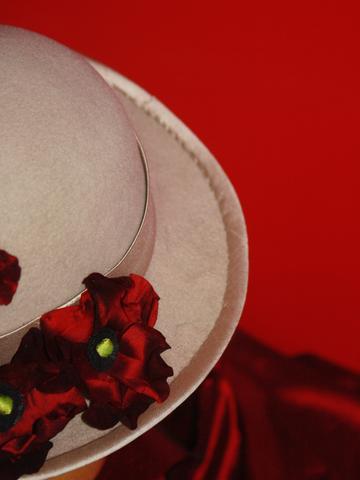 "One Hundred Years" is a collection of couture millinery and was inspired by WW1 memorabilia, including museum collections of WW1 Sweetheart Pincushions, the iconic images of the Tower of London installation Blood Swept Lands and Seas of Red, and the musical production of Warhorse. This is the second collection of couture millinery for Making Headway includes three peachbloom felt hats, and two silk and beaded headpieces.
The Collection
Sweetheart pincushion headpieces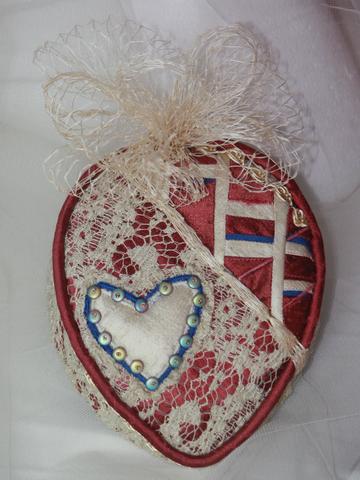 Style 1 – She loves me – is hand blocked heart with echoes of vintage sweetheart pincushions, is shown also below (L).
My interpretation is covered and piped with rose coloured silk, overlaid with vintage style lace, and finished with a honey coloured trim to the sides of the heart. The decoration is a montage of quilted pieced silk, two hearts (upper surface and to rear) are both "pinned with beads" and is finished with sinamay veiling trim to the back of piece. The interior is lined with rose coloured silk, and highlight quilted with another heart.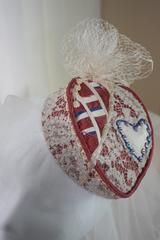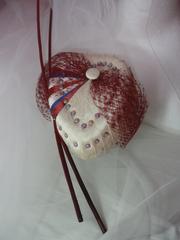 Style 2 – She loves me (not?) – with this design I have moved the concept of the sweetheart pincushion on to give it a modern twist, it is shown above (R).
This time the hand-blocked heart draped with fanned & pleated deep ivory silk, with a highlight detail of rose/blue, deep ivory, rose, and deep ivory rose/blue dupion silk. The decoration is formed by the heart shape being "pinned with beads" on upper surface and around the upper edge, deep ivory button. It's finished with maroon veiling trim across centre of piece & with two quills; the interior is lined with deep ivory bias, & rose coloured silk.
Style 3 – Towering Seas of Red
Taking inspiration from the iconic installation at the Tower of London and early 1900's riding hat styles, I have created the piece – Towering Seas of Red.
The grey stone of the Tower of London inspired the choice of an alabaster peach bloom felt, which I edged in alabaster silk with padded silk headband to match, and decorated with hand made oriental silk poppies, finished with suede and lime silk centres. The interior is lined with magenta shot silk.
And finally two pieces inspired by the musical production of Warhorse: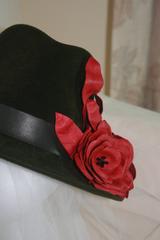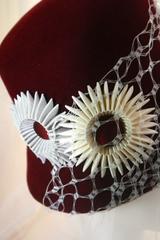 Style 4 – The Songman's Fedora. The Songman is the narrator of Warhorse and wears a loden green fedora; most recently the character has been brought alive in the musical by the Geordie singer Bob Cross.
This inspired me to create a loden green peach bloom felt fedora, (shown above L) decorated with hand tooled roses complete, slightly reminiscent, for me, of the WW1 iconic poppy images. These hand tooled soft nappa leather flowers are finished with Swarovski diamanté centres, and a loden green leather headband. The interior is lined with magenta shot silk.
Style 5 – Dolly Gray's cloche
Dolly Gray is one of the characters who feature in The Songman's lyrics, in Warhorse.
For my final piece I have created a classic headpiece of the times and using creative licence I have created a piece for Dolly Gray – a clean crisp cloche (shown above R). Finished with a modern interpretation of French military cockades complete with maroon button centres, & with a large mesh Parisien veiling wrap fastened with three further miniature cockades, and lined the interior with deep ivory silk.