After a few weeks of work and experimentation, I was pleased to launch my new Sinamay halo headband workshop in March. This contemporary halo with a choice of trims is an ideal headpiece to wear to a special event, wedding or the races. There is a choice of trims, and you can also make it dressier still with your purchased flowers.
It's always fun developing a new beginner's workshop – finding a balance between the skills to be taught and the technical difficulty that those skills will present for beginners is so important too.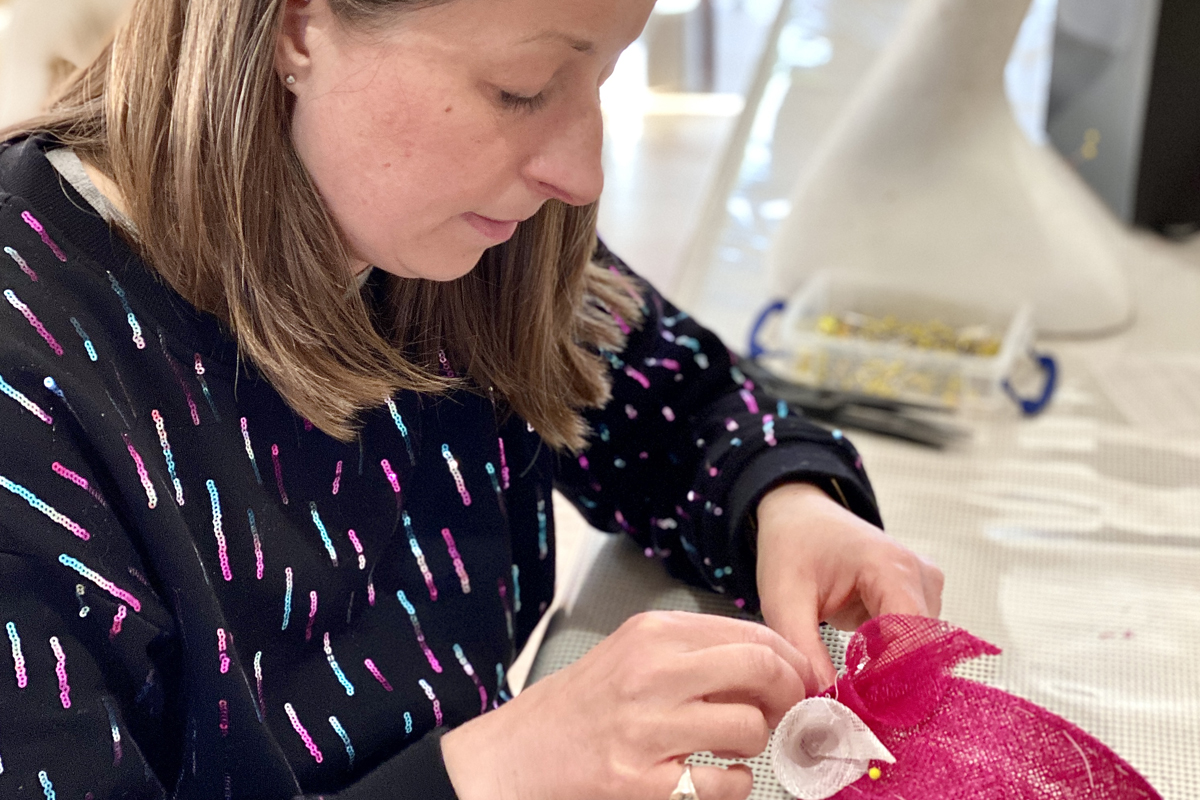 So I was delighted to welcome two students to try out a new workshop format which features an adaptable layered and wired contemporary styled halo and a choice of trims to complete the headpiece.
After a demonstration of the characteristics of "bias," it was straight down to pinning, cutting out, pressing and stitching. Aided by copious cups of tea, the morning sped by, and it was time for lunch! This gave us a welcome break from sewing and a change of scene, and we had a good chat about our future millinery plans!
After lunch, we had an in-depth discussion on the choice of trims and the techniques needed to finish the pieces (you can also make it dressier with your own purchased flowers, which I will show you how to attach). Then it was time for more pinning, cutting out, pressing and stitching, not forgetting more tea and biscuits, of course.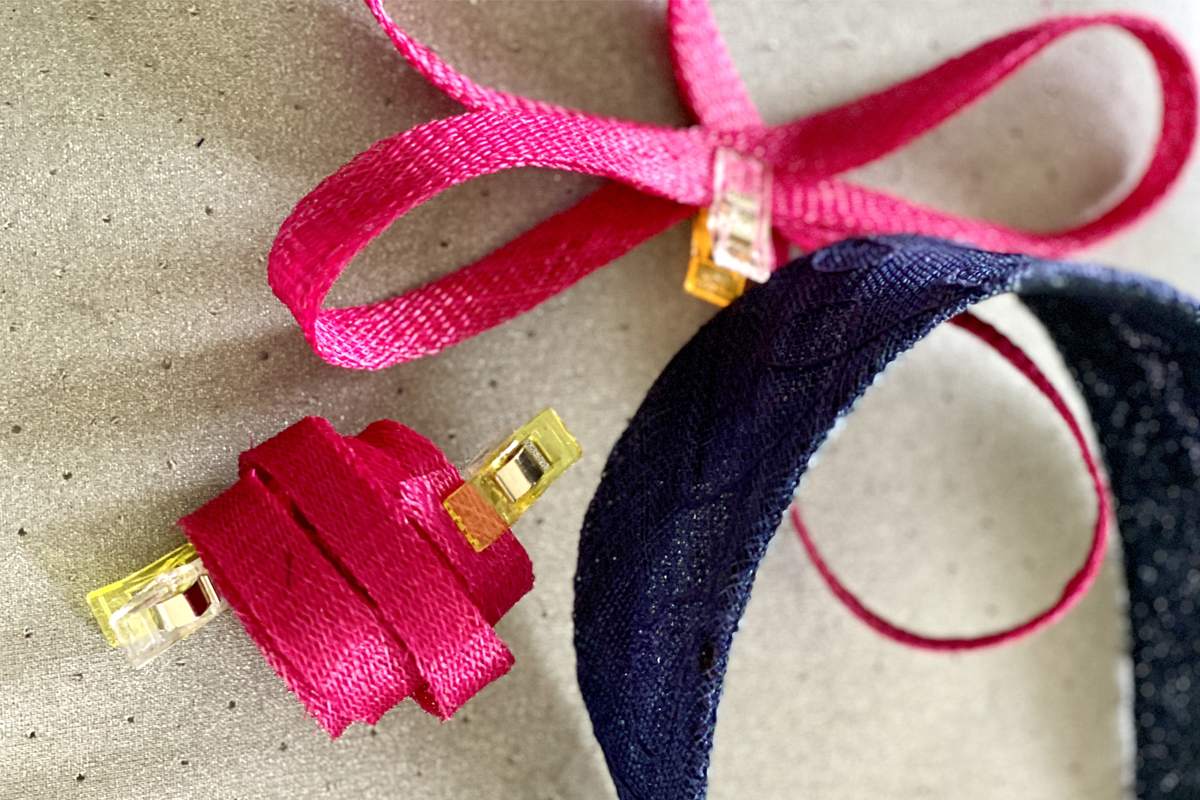 At the end of the afternoon, both students were delighted with their headpieces and left with their new headpieces in hat bags with plans for our next millinery meet-up already being formulated!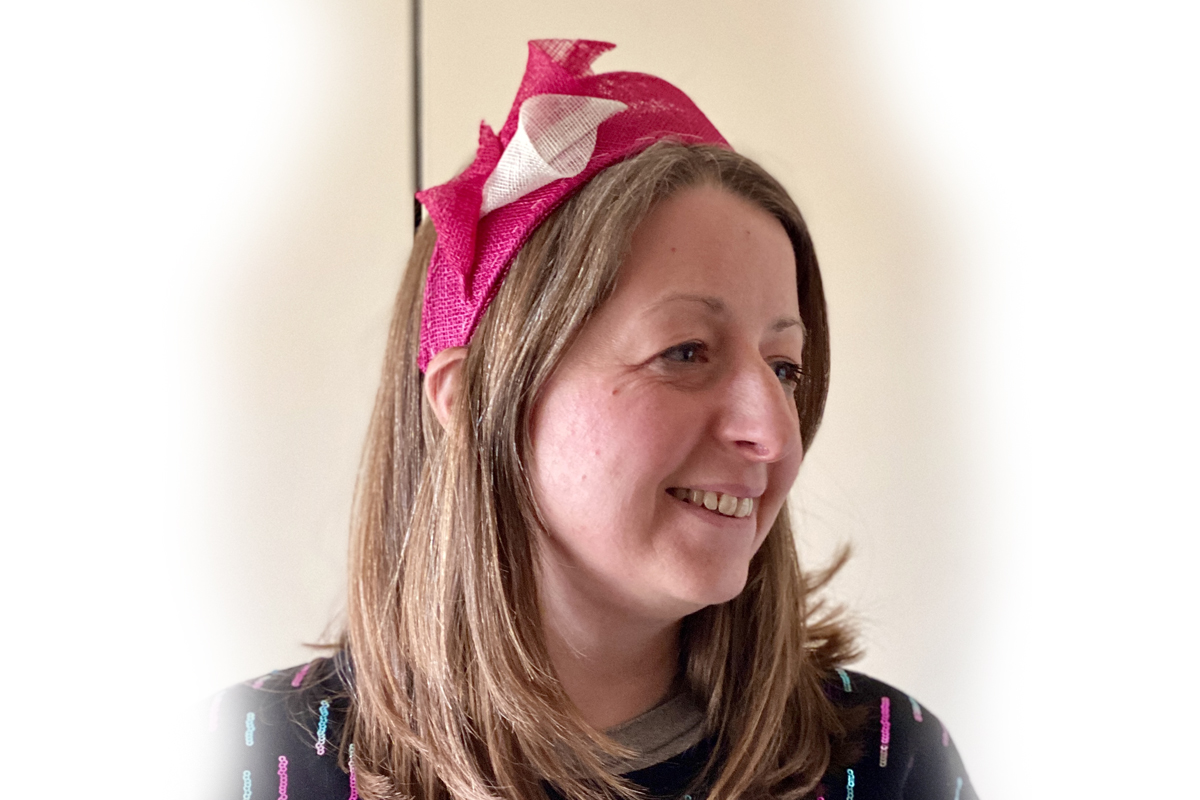 And this is an example of the same headpiece finished with purchased flowers.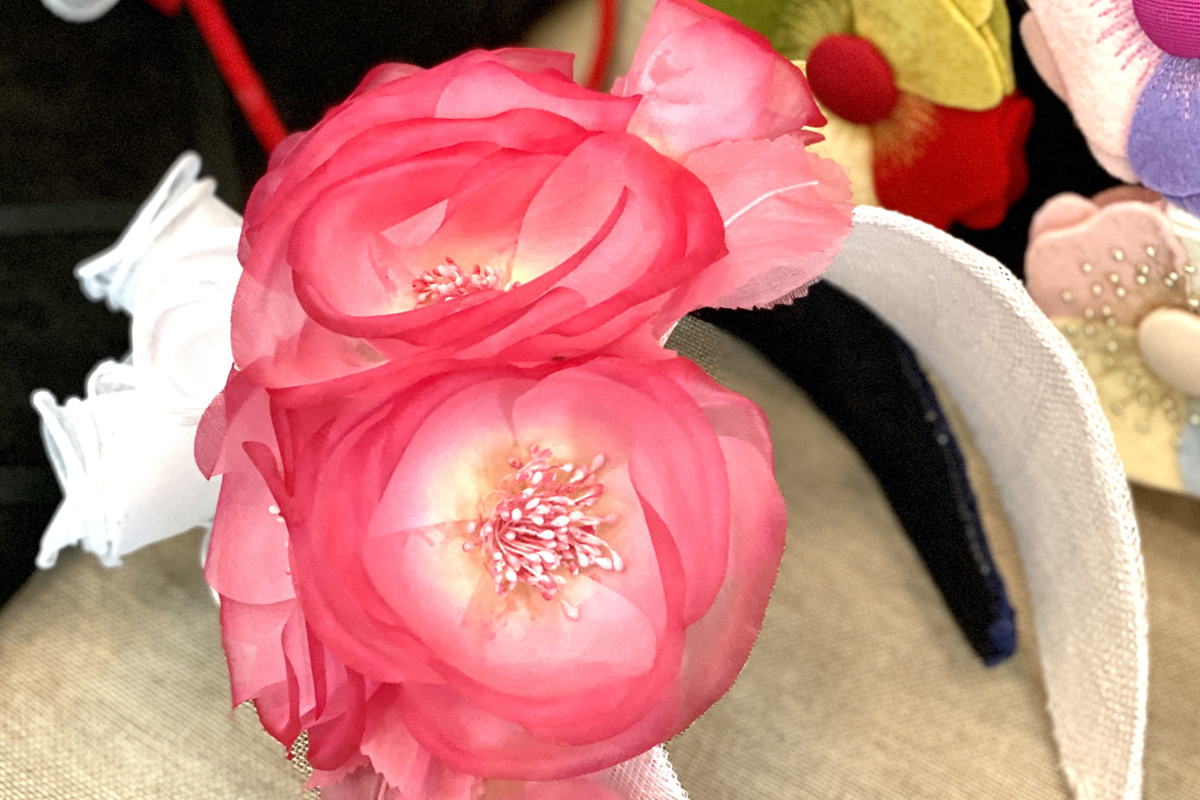 Here's an extract from a lovely review of the workshop just received from Helen C.
"During the workshop, Margaret clearly demonstrated the millinery techniques needed to complete this stunning halo headpiece. Throughout the day, she was on hand, guiding our progress, keeping us on track with helpful tips and techniques. Having enjoyed several of Margaret's workshops already, it was great to learn these particular skills, which were new to me.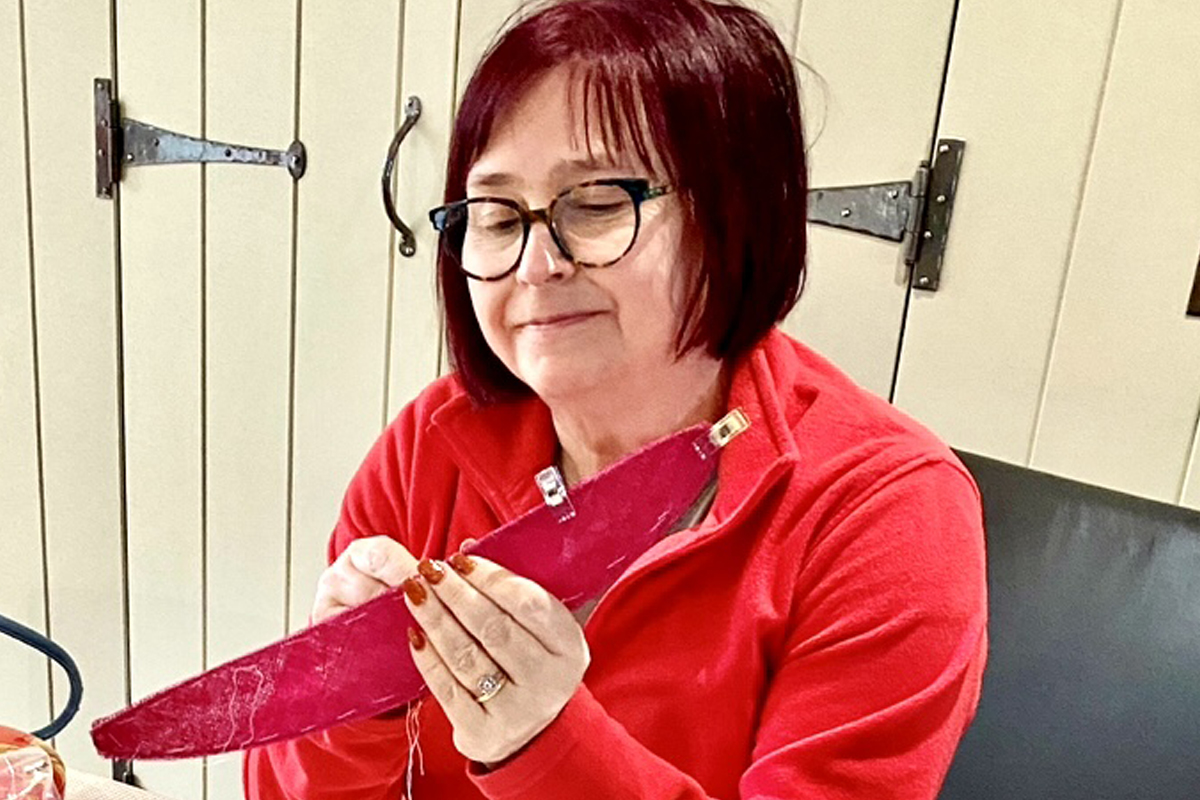 I love the opportunity that the workshop gave me to create something uniquely mine – as although all learners start with the same materials – encouraged by Margaret's teaching style, the workshop allows you to create your very own millinery look to suit your own taste, personality and occasion.
Photos taken on the day show me in my happy place. Now I just can't wait to wear my headpiece!"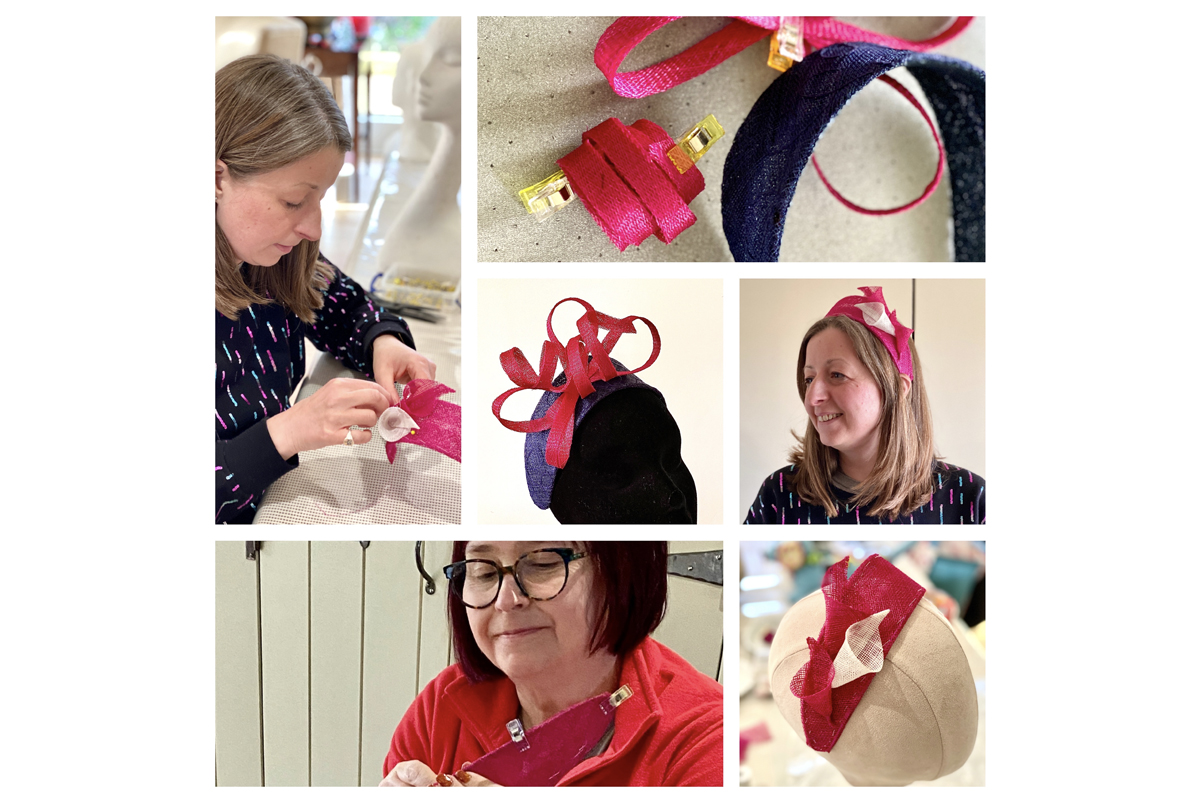 The workshops occur around my kitchen table – in either NE67 or NE1 by arrangement. The day includes a vegetarian-style light lunch and runs from 10.00-4.30 pm. with two students only, ensuring lots of personal tuition. Ideal for beginners, the class makes a perfect mother-and-daughter day and is a lovely hen party bonding opportunity too.
The next dates for the workshop are Sunday, May 14th, Sunday, June 11th, and Sunday, July 9th, in NE67. If these dates are not suitable, please me contact via the Contact Form, and we can make another diary date.
Here's the link to book your place on one of the summer workshops