Image Photography – Tim Walker, Vogue, August 2004
In these days of vintage recycling, there are many choices – we can take a trip to our local high street and browse the charity shops or shop online on sites like Depop and Vinted. Both charity shops and online sites specialise in selling those pieces we have fallen out of love with, enabling us to ethically source new items for our wardrobe at affordable prices. If your budget is bigger and you fancy moving upmarket, visit Vogue's review from earlier this year of upmarket vintage sites.
As the Great British Sewing Bee has impacted our lives with its varied challenges, I thought it might be fun to look at one of its regular features – the transformation challenge. It's also possible to apply this to millinery. As every milliner knows, millinery is responsible for transforming your life. It's also addictive and, of course, incredibly creative.
So, I thought it might be interesting to look at a few millinery transformations I have been involved in, which included creatively tweaking and manipulating pre-existing hats and headpieces. Sometimes a client has a hat they have worn before. They come for their appointment and say, "I can't wear the same hat to the next occasion as it will be the same set of people etc." Or they have been browsing their local charity shop for a vintage bargain and have found a hat they like, in the right basic shape or colour and snapped it up, hoping to adapt it later on. Alternatively, they have inherited a hat collection. They would like to be able to reuse, update and appreciate the gift they have received!
As I am always happy to take on a challenge, it can be great fun to update the styling or even undertake a complete remake, just reusing the original material. Here are some examples of recent transformations.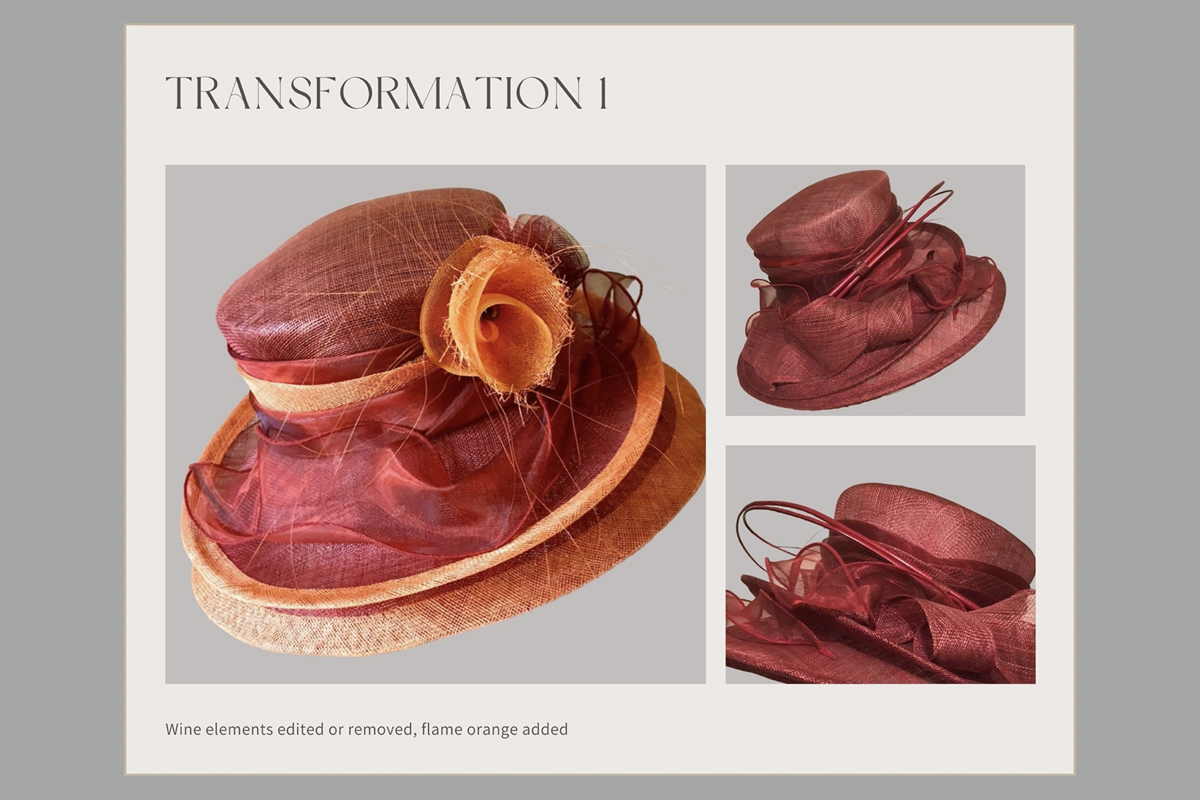 In this image, for instance – Transformation 1 – whilst the customer liked the basic shape, I was asked to incorporate aspects of the outfit that she intended to wear, including a lot of orange highlights. The styling of the original hat was quite heavy, with a double layered brim, a tall crown trimmed with hat band wraps of sinamay, wired organza and two quills.
Stripping it back to basics took time. The double brim was edged in contrasting orange sinamay, the quills and the wine-coloured hatband removed, and a contrasting sash added. Rolled sinamay roses and the ruffled organza finished the look.
In Transformation 2, the client arrived with a dinner plate-sized headpiece that she had already worn several times. She had a new silk dress with a stunning passion flower design. She felt that the colour of her existing headpiece was a good match and gave me free rein to make whatever alterations I felt fit.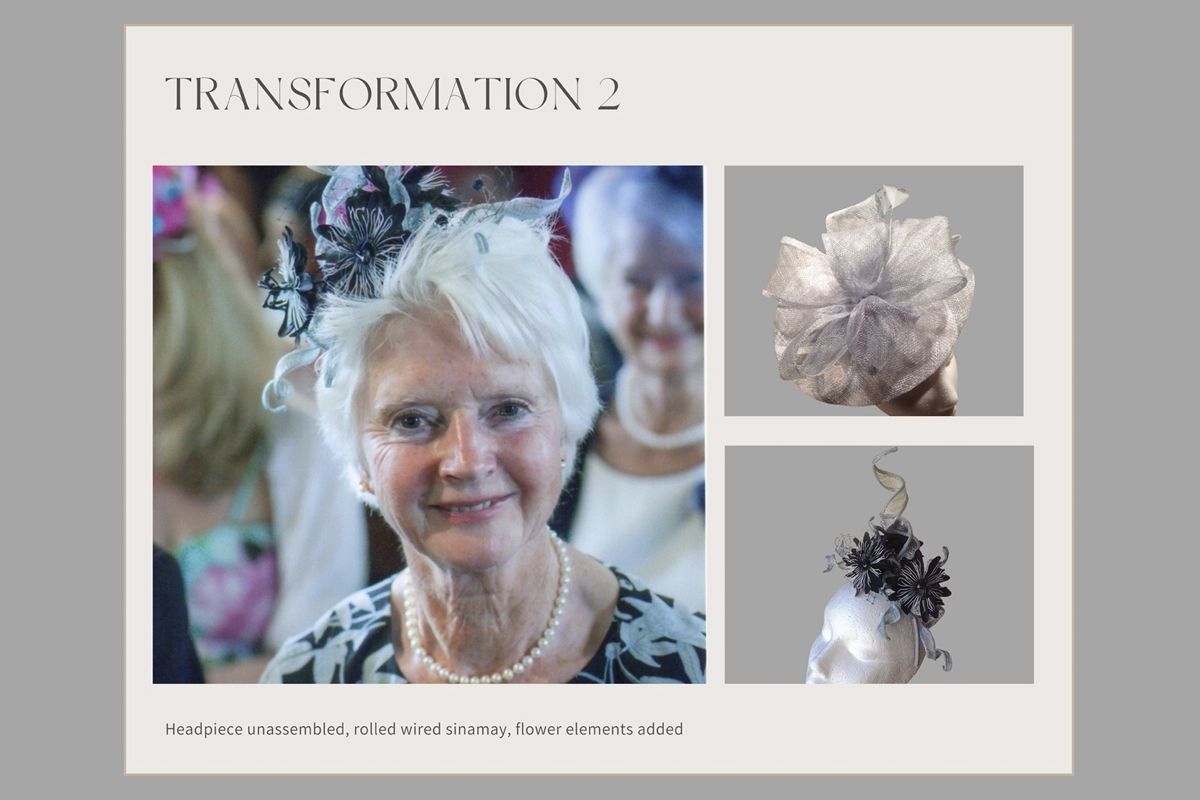 On taking the headpiece apart, I found a lot of relatively narrow strips. Reusing the original headband, I created a headpiece featuring wired sinamay curls, which I finished with hand-painted passion flower blossoms.
Transformation 3 was a charity shop purchase. Here the client liked the shape, but the decoration was quite dull. With a brief to incorporate wine into the decoration, I removed the existing grey brim edge, trimming the edge and a marching piece of sinamay (recycled from another hat) with wine-coloured satin. The wine sinamay sash was wired, enabling me to create a striking 'twister' effect around the knot in the original hat band.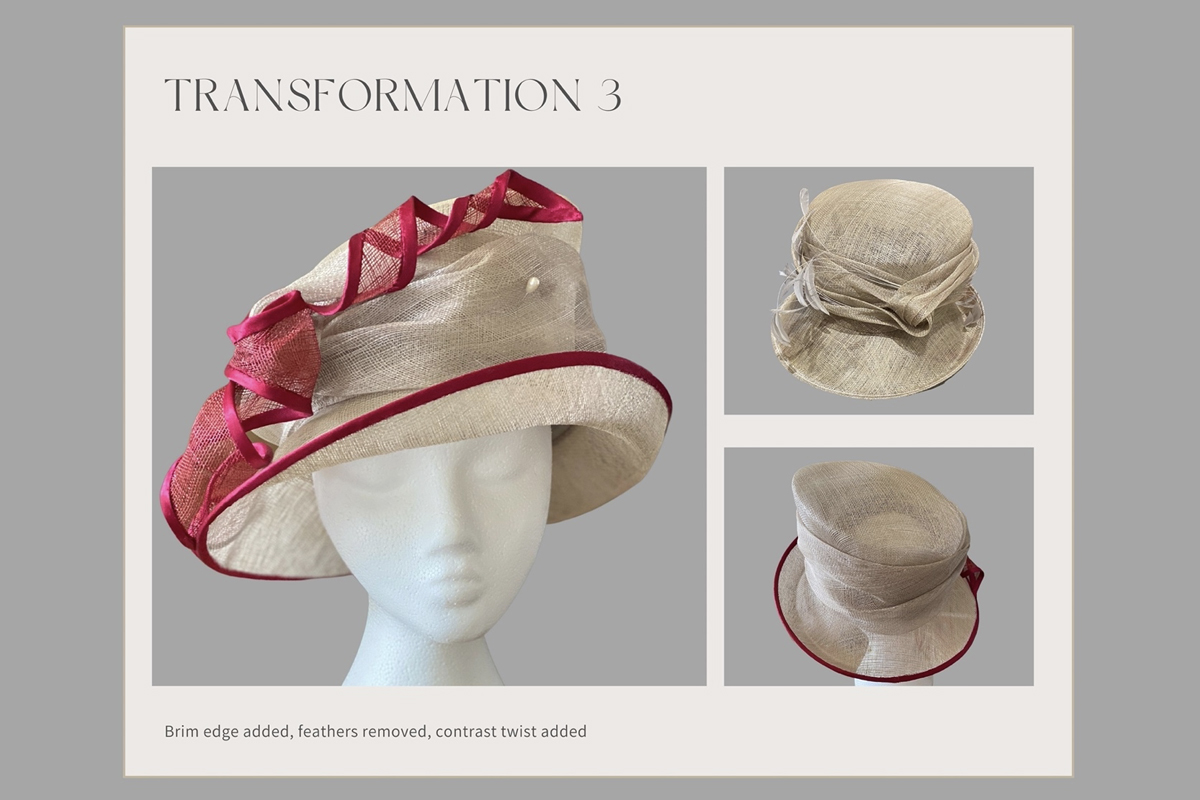 These three examples illustrate how editing an existing hat or headpiece can be quite transformational. However, it is essential to remember that though remakes/alterations may not involve making a new hat, they can often be as much if not more work. They usually involved a considerable time spent taking the original hat to pieces and then working on how to design the remake!
So, if recycling/upcycling is your thing, you first need to search for the hat or headpiece you wish to transform. If you match it to a particular outfit, it should be the right colour or a shape you like that suits you. Next, search your wardrobe or take a trip to one of your local charity shops – you are looking for a hat you are bored with, have worn several times, or one to buy that you would like to remodel. Then you have two choices – get your scissors out, remove the elements you do not like and remodel the hat yourself; or get in touch via the Contact Me form to arrange an appointment to discuss your ideas for me to redesign your hat!