Sharing and pooling knowledge with other milliners is key to one's creative development as a milliner. Learning from milliners who are at the "top of their game" and are willing to impart to those less experienced some of their techniques and expertise, is terribly important as it can really lift your level of creative practice, giving it a real impetus and new direction.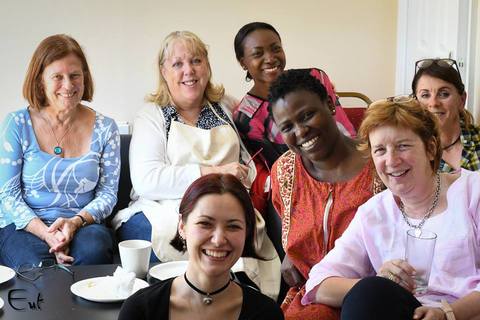 So far this summer I have been really fortunate to participate in classes lead by the Australian milliners Carole Maher – at Tracy Chaplin's lovely French workshops in Alan, Toulouse – and Jane Stoddart in London.
It was wonderful last week to meet Eugenie at one of The Creative Workshop's London masterclasses, back again courtesy of the effervescent Peculiar Treasure! Eugenie generously shared her expertise in repetition & straw braid work along with pandering graciously to the all important but temperamental sewing machines.
I really feel that my millinery practice has developed hugely as a result of these intensive learning sessions.
Of course Eugenie's not in this image – as she took it! There's lots more on Facebook – Margaret Woodliff Wright Millinery Page – you will see her & the pieces I made, there. Please take a look.