In the aftermath of the death of HM The Queen, it was announced that London Fashion Week would go ahead, and whilst royal protocol would be observed, that this year LFW would be dedicated to Her Majesty Queen Elizabeth II, with moments of respect. As a result, the fashion industry decided to unite as a creative and business community to celebrate Her Majesty's legacy and her well-known commitment to creativity and design. 
At Paul & Joe, for instance (image from Hello Magazine), models showing the SS23 collection sported vibrant printed headscarves, knotted in the fashion of the late Queen, who often wore her headscarves tied in this style when at home in the country.
As we know, at LFW, many shows, designers, and design houses are featured – including London Represents. London Represents seeks to present sustainable, inclusive, and ethical fashion shows and to represent the broad diversity of London society on the catwalk.
This year's show took place at the glamorous National Liberal Club, London SW1, on Saturday 17th September. The event featured innovative catwalk shows revealing the latest collections from London's emerging adaptive designers, the opportunity to browse cutting-edge designer collections at pop-up stalls, and live panel discussions on important topics within the fashion industry.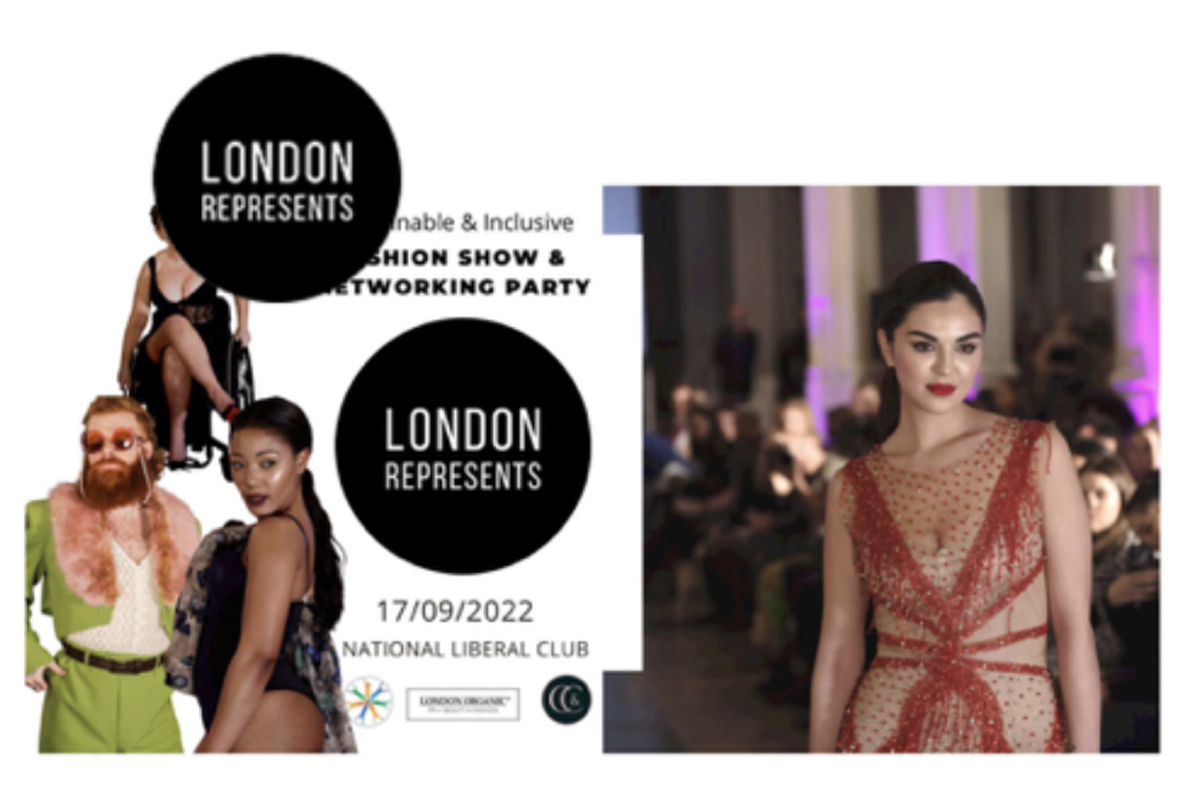 Earlier in the summer, I was delighted when one of our local disability warriors, Kat Paylor-Bent, contacted me as she needed a headpiece to wear to a special event.
Since starting her company, Seated Sewing, making fabric-based disability lifestyle aids, Kat has carved out a career as an adaptive fashion designer, disability speaker and advocate despite her complex medical issues. Kat loves colour, so when designing her headpiece, we decided upon a face-hugging base shape finished in bright colours that would make a contemporary statement. Slightly quirky, Kat's headpiece is a fun, easy-to-wear "button" style sinamay pillbox.
Kat's couture headpiece features a beret base made from layers of turquoise sinamay, overlaid with ivory to soften the look, giving it a slightly translucent look. The pillbox base is topped with a hand-formed Dior-inspired bow in cerise pink sinamay, finished with a bright orange knot to create a pop of colour. A real bonus for Kat is that as the pillbox is made from natural fibres, it's truly sustainable. With its contrasting colours, all her favourites, she will be able to wear it again with various outfits.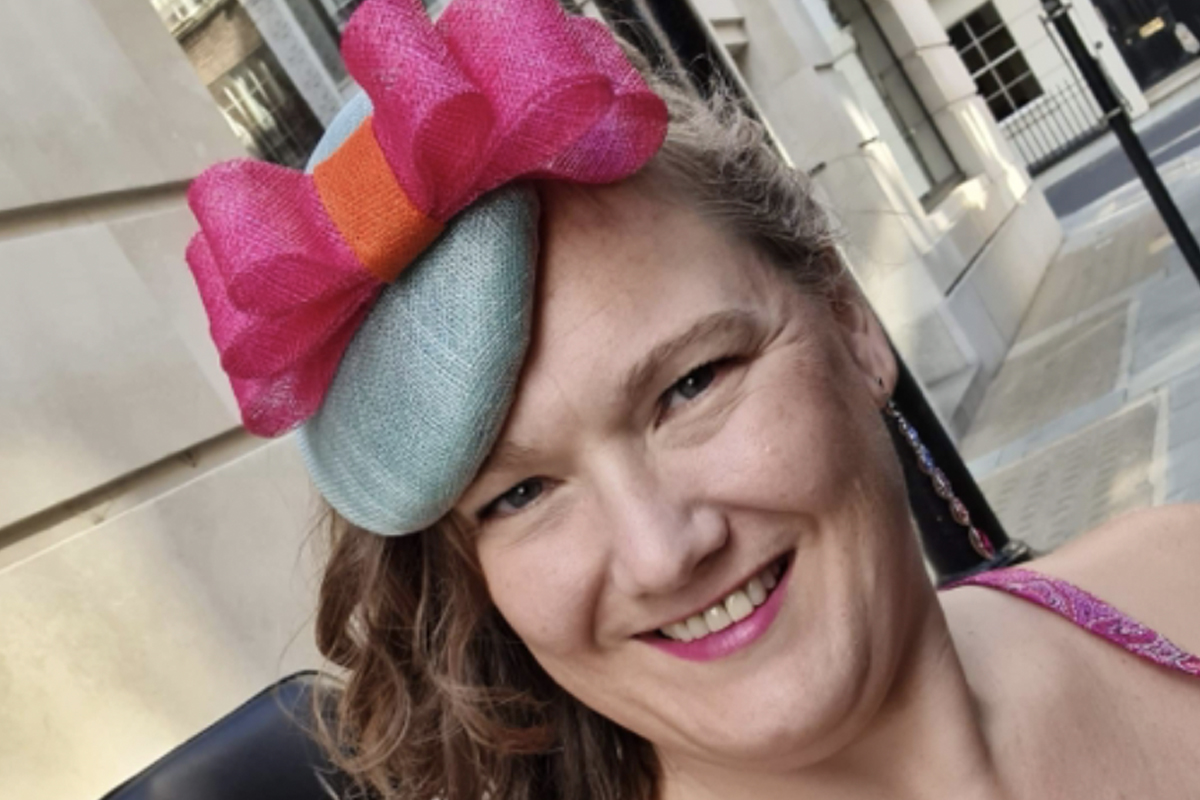 So it was that last Saturday Kat found just the right occasion for her new headpiece! Accompanied by Nathan Bent and Isaac Harvey, she attended the evening runway show of Differently Enabled at London Represents at London Fashion Week. Kat, Nathan and Issac supported their colleague Chamiah, who was showing the first adaptive fashion runway show of Chamiah Dewey Fashion.
Kat and Issac (also a disability champion) wore made-to-measure outfits that Kat's company had created especially for the event. As you can see from the images, Kat's outfit included a bespoke hot pink Chinese silk cami top. She finished the look with her face hugging Dior-inspired pillbox.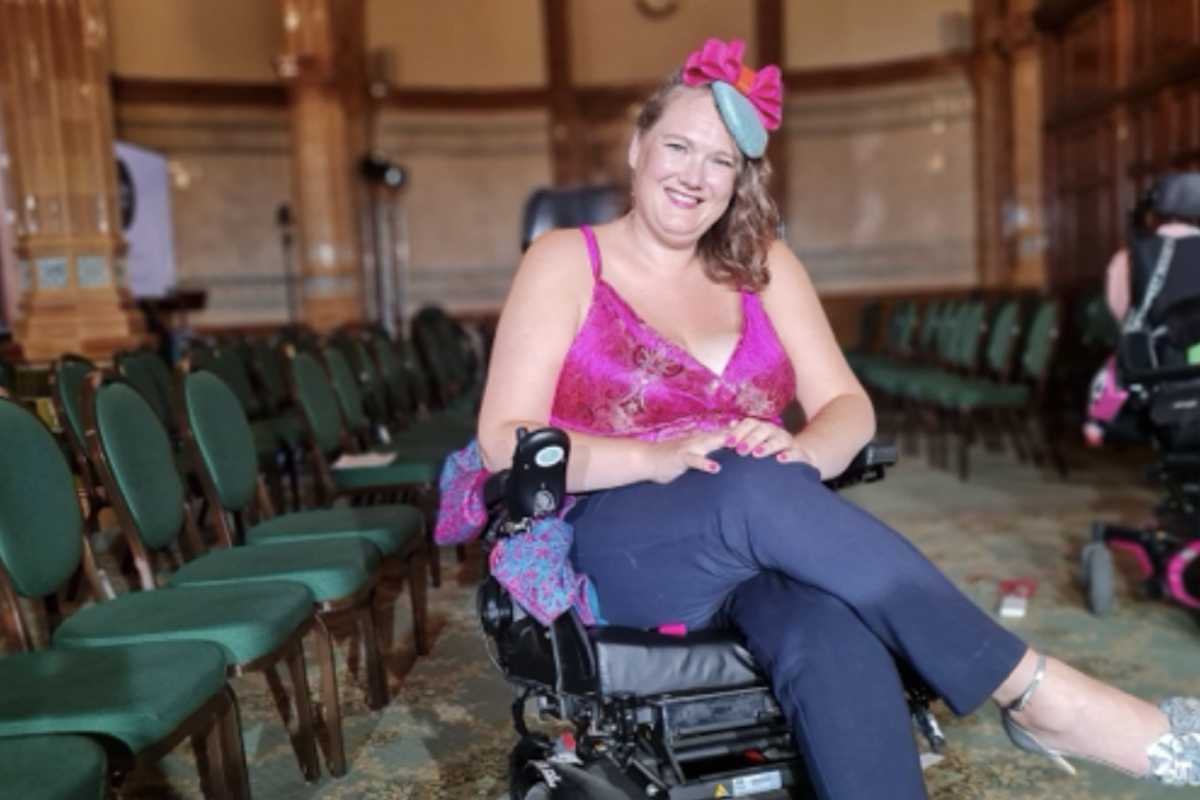 At next year's London Fashion Show, Kat Paylor-Bent will have her own collection, under her label Seated Sewing, featured on the London Represents catwalk. I can't wait to make another headpiece for her!