January 15th is National HatDay!
To coincide with National Hat Day I thought I might focus on the headpiece I am wearing in my profile pic and talk a little about the concept, product and how it was made. This free form headpiece has been made in a shimmery fabric called crin.
Crin or crinoline is a versatile classic millinery material and is available in a myriad of colours, textures, and widths. Originally made from horsehair, crin is now a synthetic product. For this headpiece, I wanted to explore the versatility of the fabric and used lace appliques to further accentuate the form.
Frankly working with crin is like working with an untamed snake – until you have worked out how to put it into the snake charmers' bag you will be unable to get it out again without it slithering away! And crin definitely does slither! As you can see from this sample crin also has volume, which is one of the joys of the material.
The headpiece consists of a length of wide crin which I manipulated to create the rolling shape, incorporating an integral veil. Finished with navy blue lace appliques cut to shape it also features Swavaroski diamantes to further enhance the shape of the headpiece. Fortunately, once you are brave enough crin is also easy to manipulate with an iron, the headpiece sits on a crin circular base and is attached with millinery elastic.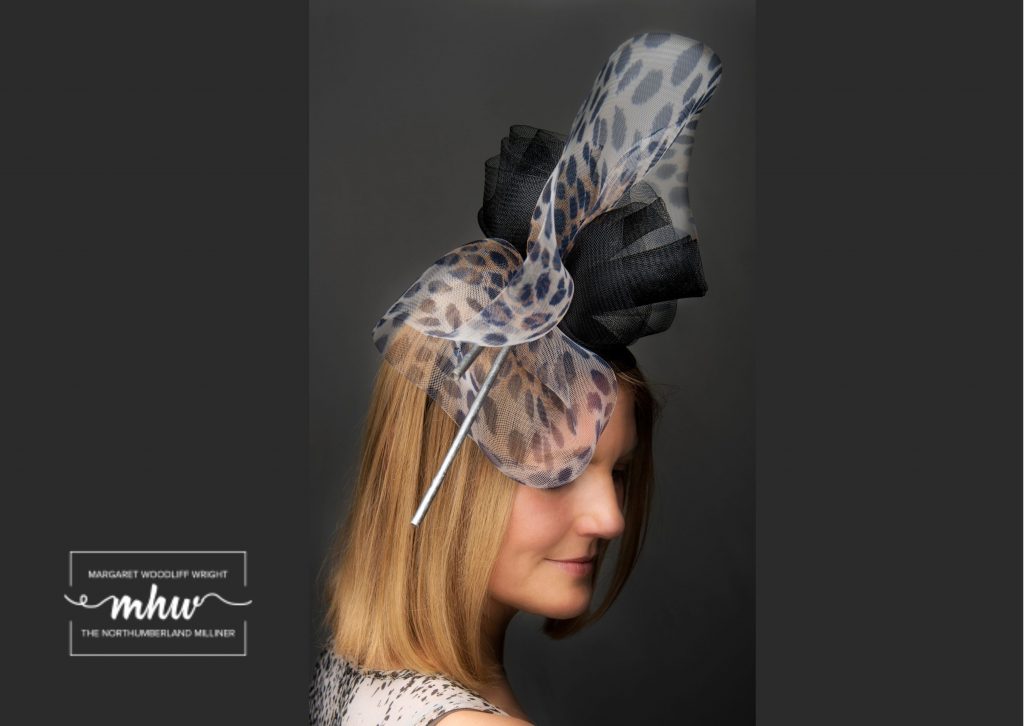 This crin headpiece is great for the races or a more casual MOB occasion.
As you can see from this image, crin can be rolled successfully to create a loosely formed rosebud shape, seen here intertwined into an exciting leopard print crin with a contrasting silver curled quill. The headpiece is set on a circular crin base and is worn with a millinery wired headband
The bridal headpiece pictured has been finished dramatic crin trim. Crin is available in a huge range of colours, can also be sprayed, the cream version is a versatile product for bridal headpieces.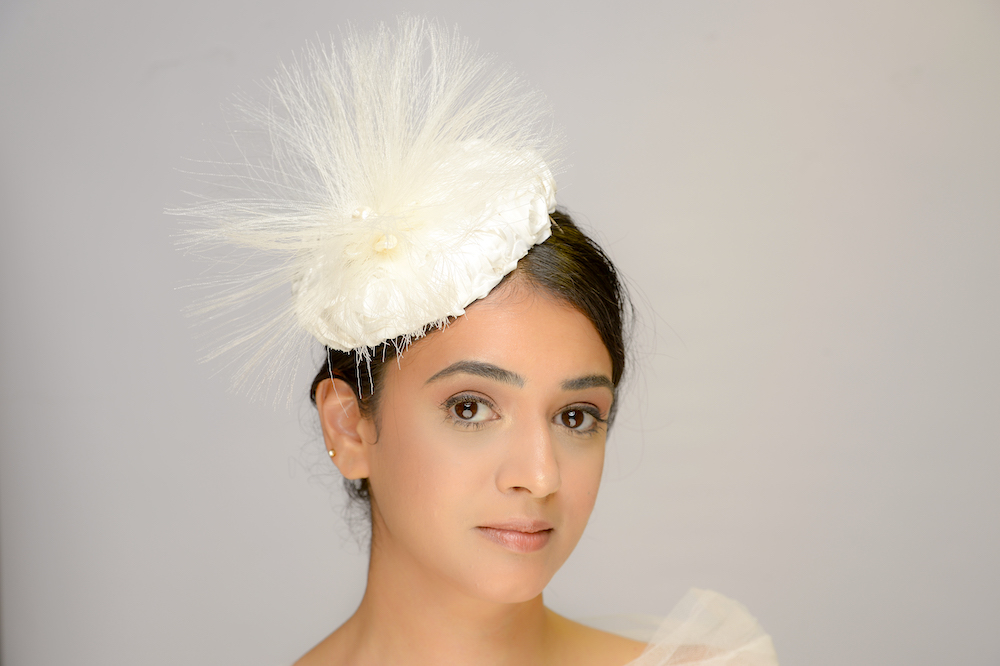 For this contemporary bridal piece, I have applied a shredded ivory crin flute to a medium size hand blocked beret button which has been covered with ivory satin ribbon embroidery. The crin fronds feature oversized pearl beads. The beret is attached with millinery elastic. An optional birdcage veil can also be specified.
So whatever style you are after crin can provide a variety of options having both traditional and contemporary millinery applications. Please do browse the couture pages of my website or the_northumberland_milliner Instagram feed and get in touch if any of these styles interest you.