Last Autumn Tony Wellington, Creative Director and force behind The Bite, the London based online fashion and lifestyle magazine, was a guest at the preview night for the MillinerXArtisan exhibition.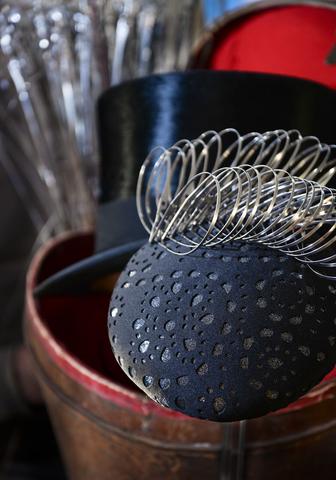 Staged in October, the exhibition featured over 130 specially selected millinery headpieces and was the brain child of Professor Monique Lee Hylands-White. Monique a hugely respected milliner, curated the cutting edge exhibition staging it at Coventry University's London Campus. As I had two pieces selected for the exhibition – Heald wire & Weft – I was there too!
Tony's creative team wrote about the concept behind the exhibition and his impressions of the opening night in issue 17 of the magazine, bit.ly/2oPCVSy.
Everyone who attended the opening night or visited on one of the successive days was aware that the exhibition created a melting pot of creativity, there was a real buzz of excitement, and headwear, headwear, headwear was everywhere! This week Tony published issue 18, bit.ly/2oPqZjV
In this edition he has included a further article inspired by the exhibition, this time he has focussed on my work as a milliner – including my millinery journey from retail buyer to couture milliner with a keen interest in recycling. The piece also covers the sources of inspiration for the two pieces Monique selected for the exhibition, Heald Wire & Weft. You can also read the review on my press page
Spring – seen above was made for the opening night of MillinerXArtisan – is another example of my recycled work, a cocktail piece made from recycled heald wires from a woollen and scuba fabric from clothing purchased at Oxfam!
Image GIS Photographic