Working from my home studio at Doxford Newhouses in February '20 I was still leading my popular millinery beginners' workshops, based around my kitchen table, as the impact of Covid '19 began to felt. Millinery classes are only one aspect of my one-woman business, which includes making couture hats and headpieces to commission; a ready-to-wear range; accessories; as well as enthusing about my love of millinery – especially when delivering talks to special interest groups.
So, it was in March '20 with the closure of most face-to-face businesses,  and the instruction to work from home where possible and the cancellation of all social events such as weddings etc, that the sources of work for most creative people, including milliners dried up overnight. As life began to close in, and the instruction to stay at home was given out, we bid farewell to our son who had elected to stay in Newcastle and hunkered down in the relative safety of rural Northumberland.
Whilst the roller coaster of the pandemic continued through the late spring and early summer months of 2020 my husband Simon and I spent lots of time in our garden and to our delight discovered new local walks in the vicinity. Weekly grocery visits to the "Ship Shop" at The Ship Inn, Low Newton became a regular highlight for us – this was quite a contrast this with my varied creative life pre-pandemic life which tended to be characterised by my passion for couture millinery. Like everyone, we found our lives were pared back to basics and confined to home, thank heavens the weather was so kind.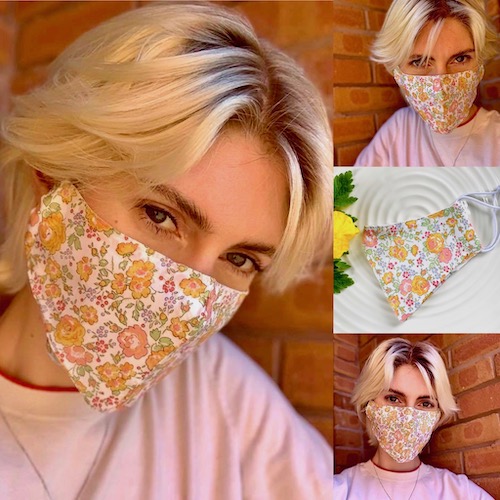 Gradually the need to wear face masks accelerated and I realised I was ideally placed these to make these to my exalting couture standards. I have for most of my adult life been fascinated by the design qualities of Liberty of London fabrics and so turned to Liberty as a source of classic English and William Morris style prints. Researching the various design options available, testing and making adaptions to suit my requirements is an important aspect of making couture hats, so I applied these techniques to face-masks too, typically I was n't interested in vloume, mine had to be a little bit special.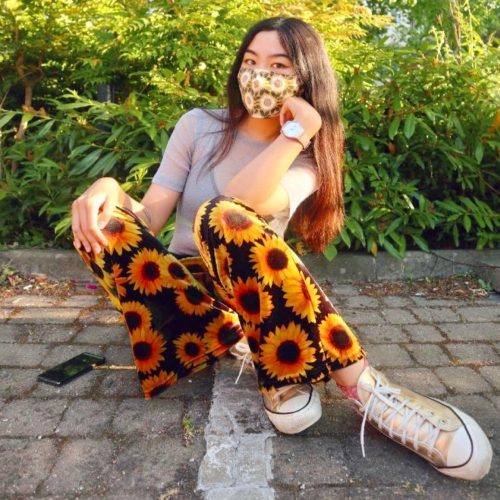 I was taken by surprise at the level of interest and our dining room rapidly became a production line. Finding I was left with beautiful Tana Lawn off-cuts after making the masks I created miniature crazy patchwork squares. Once cut they became appliqués for drawstring storage pouches. Instantly the mask package (masks, filters, nose wires and the storage pouch) became a gift line – proving it was still possible to be elegant in the face of adversity. This led to a discovery that there was a commercial appetite for "his and hers" face mask sets and so the orders rolled in. The female partner always got the storage pouch, I fear!
The next problem was how and where to post them out. I had already discovered the very useful Royal Mail "Click and Drop" service however as orders started to pour in from all over the world, I found rather disconcertingly that the size of letter slots on our local vintage post boxes varies hugely! Soon I had a regular afternoon walking route to the only local post box that had a big enough opening to take the gusset envelopes I used for my despatches
To be continued…
In case you are interested in the links I have written about (no affiliations)
http://www.shipinnnewton.co.uk/
https://www.libertylondon.com/uk/department/fabric/cotton/cotton-tana-lawn/