I'm never quite sure how to react when something delightful and unexpected happens on the PR front, similar to what occurred earlier this week. Should I keep quiet or let you know?
Well when I opened the post earlier this week and leafed through the prestigious Durham University Alumni Magazine that had just been delivered, I found as normal an interesting selection of articles including the ones on alumni and where their careers and lives had taken them, post their time at Hild Bede, which I have to tell you is one of the most fantastic Colleges, at Durham Uni. Never for one moment did I think I would be included, however as I leafed through I came across a page where I recognised images of my work. As I read the article my sense of wonderment increased. I've absorbed it all now, and have to confess that I can't really don't think I can keep quiet about the editorial! So thank you, Editor!
Here's one of the pieces featured – Spring.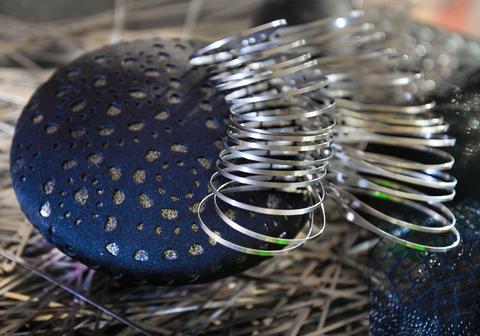 As the magazine is only available to Alumni of the College – I'm including a copy here so everyone can have an opportunity to read it!
If you have the time I hope you will enjoy reading the article which covers my study period at the Durham College of Hild Bede; my subsequent commercial experience, and then explores how my earlier creative period at Durham influenced my later decision to continue my creative professional development by retraining as a couture milliner.