Christmas 2021 – looking forward to 2022. By anyone's reckoning, 2021 has been a momentous year and even as it draws to an end, it's still keeping us guessing about what's next in store for us all. So as I write this latest Studio News to wish you a Very Merry Christmas 2021 – looking forward to 2022 – and a Happy New Year, I thought I would dwell on some of my positives of 2021, and look forward to the colour initiatives of 2022.
For me, 2021 offered the opportunity to work on the development of a new website. Guided by my Business Northumberland mentor, Rachel Williamson, and Clare Tucker of Sacred State Wellness I created a blueprint for the new website. Coincidentally with my blueprint for an ideal website ready to go, I mentioned to my good friend Helen Sutherland of Lindisfarne Oysters that I was thinking of replacing my website. The Lindisfarne Oysters website features some compelling images including atmospheric shots of Christopher tending his oyster beds, in the lee of Holy Island. As I was keen to keep everything local Helen encouraged me to look at their web designer Perro Designs.
With Andy Ditchburn of Perro Designs – who really became another mentor – through the summer the new website gradually took shape. An important aspect was the new photography that features on all the pages of the site. Michelle Mcfadyen hosted a photoshoot at USalon Gosforth and Phil Punton – whose images can be seen through the site – styled the shoot.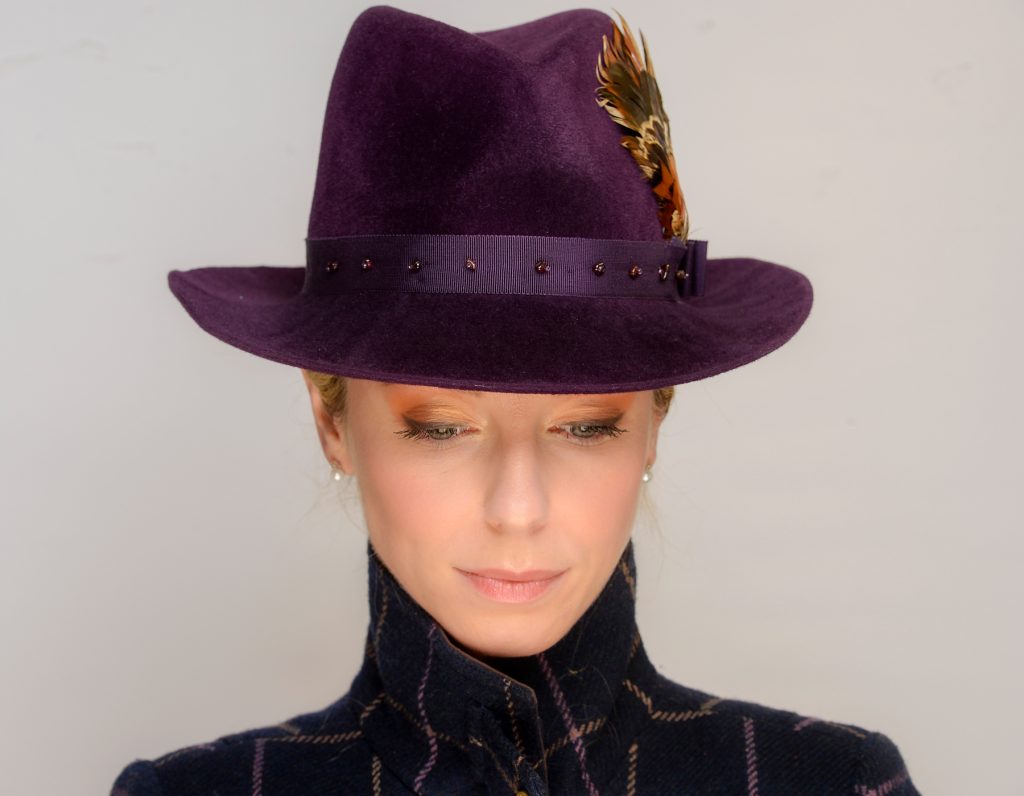 Looking forward to 2022 and Pantone the global colour authority has introduced the "new Pantone Color of the Year – a dynamic periwinkle blue hue with a vivifying violet-red undertone" called Very Peri, or PANTONE 17-3938.
To launch my 2022 season I bring you my very own take on the new colour Very Peri – modelled by Julianne Johnson, photographed by Phil Punton. Part of the couture collection this peach bloom felt-lined fedora has been hand fashioned, it features an amethyst studded hatband, and is finished with a Northumberland pheasant boutonniere.
Let's hope amongst all the other good things that we long to return, that for 2022 all those special events we have missed so much will be re-instated and it becomes a hat-wearing year!
Happy Christmas! I send you my Very Best Wishes for 2022!