Well, despite all the current doom, gloom and depressing news, one thing is certain, as the nights draw in, we are despite everything approaching the most magical time of year. 
This year more than ever, it's going to be essential to seek out special small and beautifully made gifts to consider adding to your gift list. So I am delighted to be showing at three autumn events where I will be featuring winter hats, cocktail and evening headpieces, and exquisitely made affordable accessories.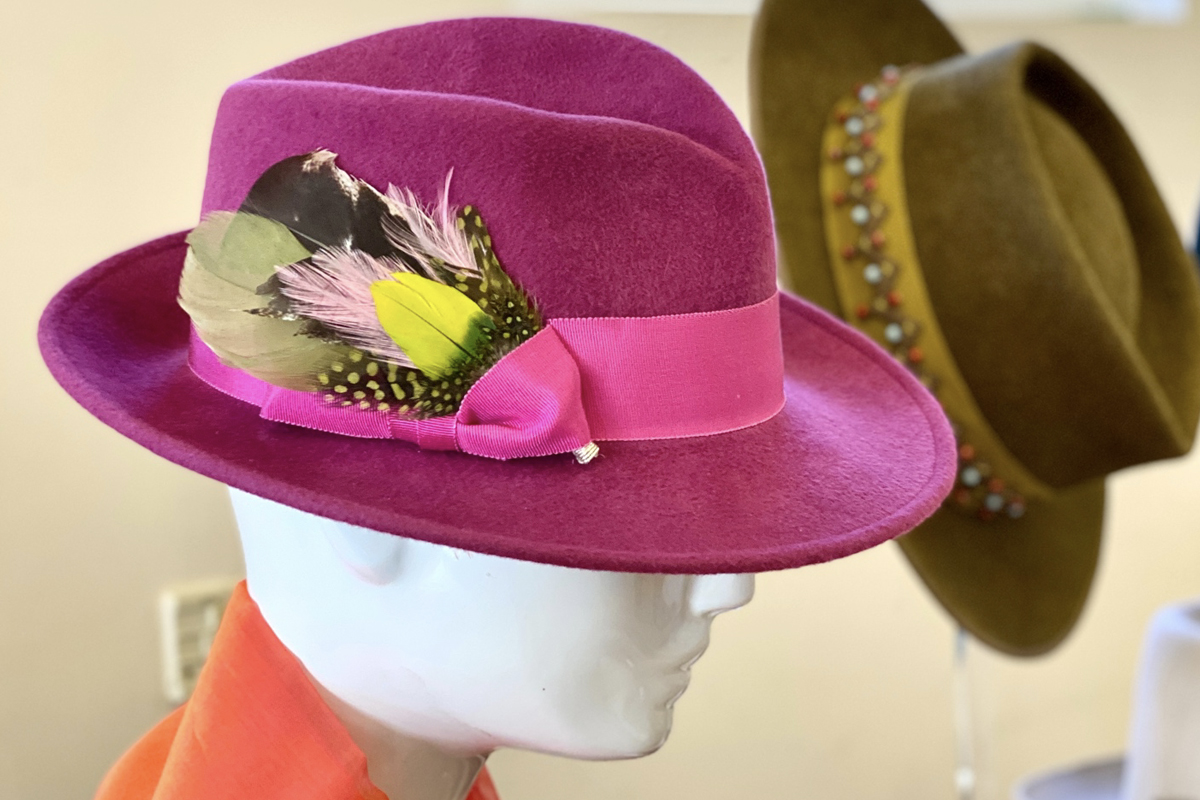 Winter hats allow you to stride out confidently wearing a cosy felt hat – a new winter fedora, for instance! In my new winter collection, you can choose from a selection of handmade fedoras in peach bloom felt with colour-coordinated feather trims or trimmed with painstakingly handmade Petersham beaded braids or felt trims.
There's also a great selection of casual wool-felt winter hats and headpieces, including wool-felt berets trimmed with natural (sustainably sourced) alpaca pompoms.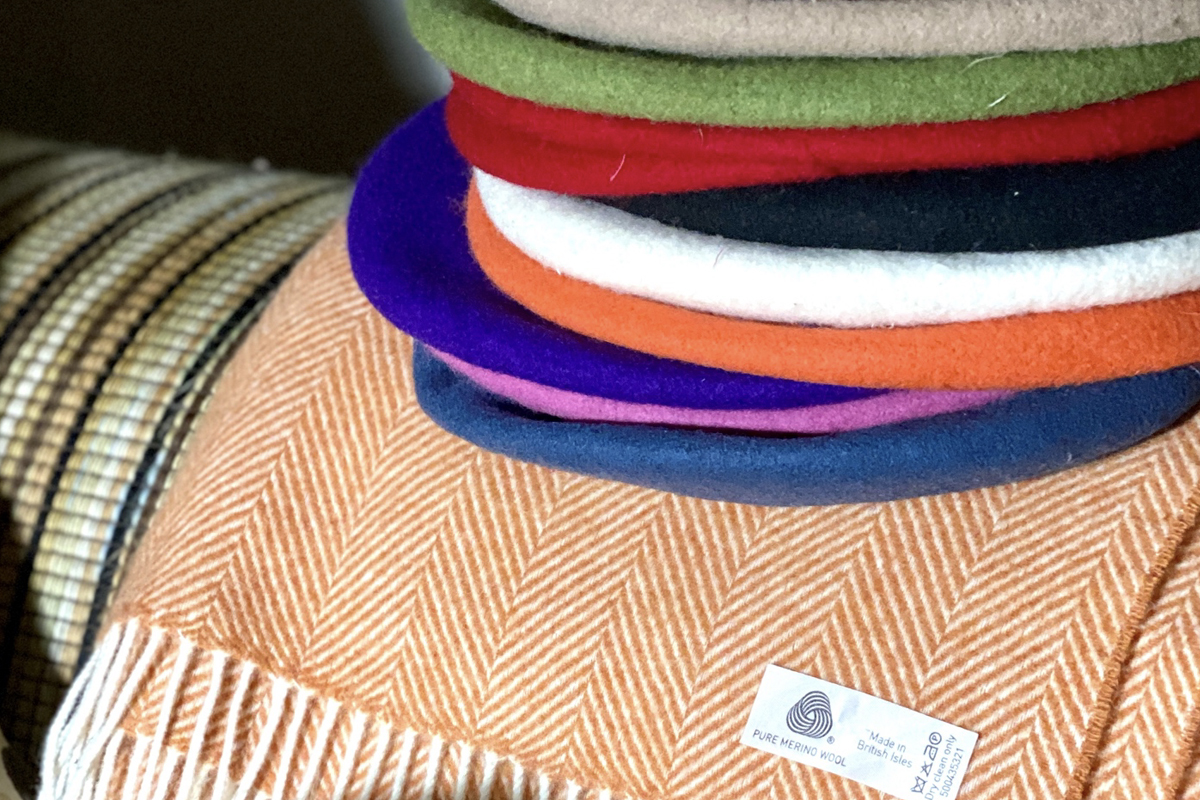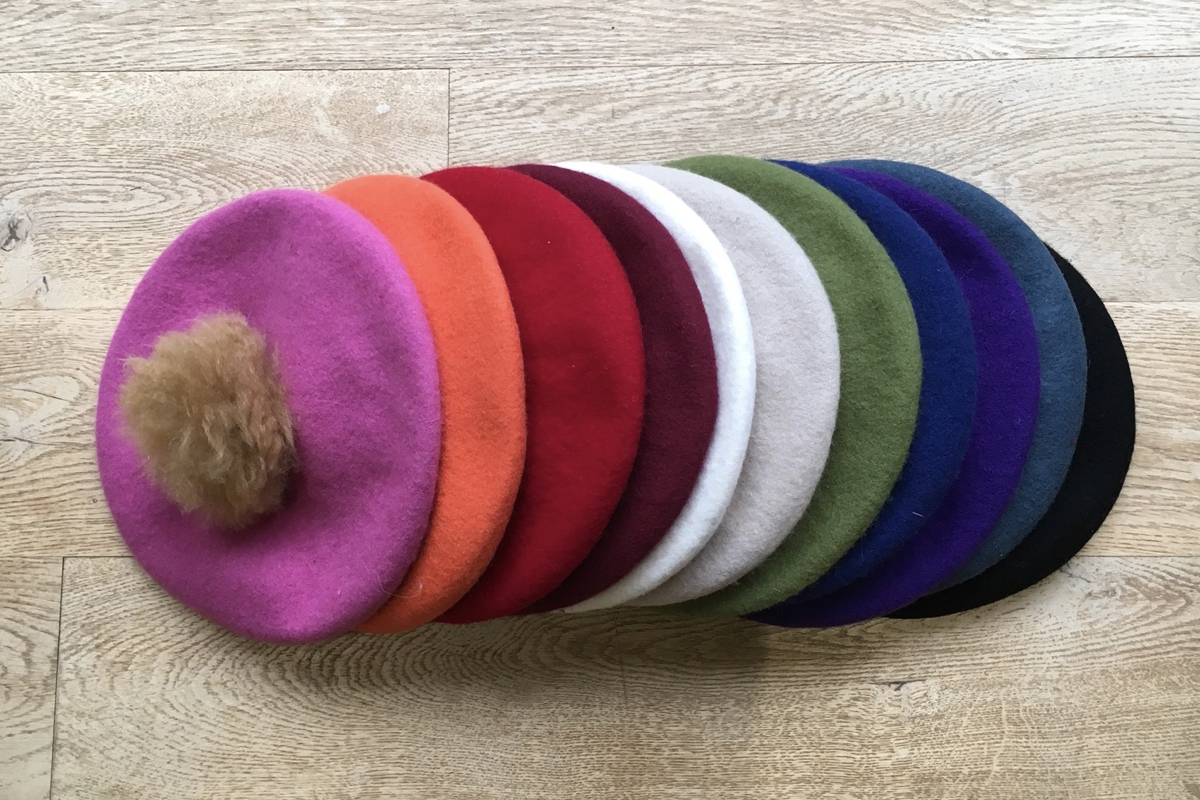 There's a selection of cocktail pieces for those special occasions or dressy parties. These can be purchased 'off the shelf' at one of the upcoming events. Alternatively, we can arrange an appointment to look at headpiece options in my studio and discuss creating a couture piece especially for you.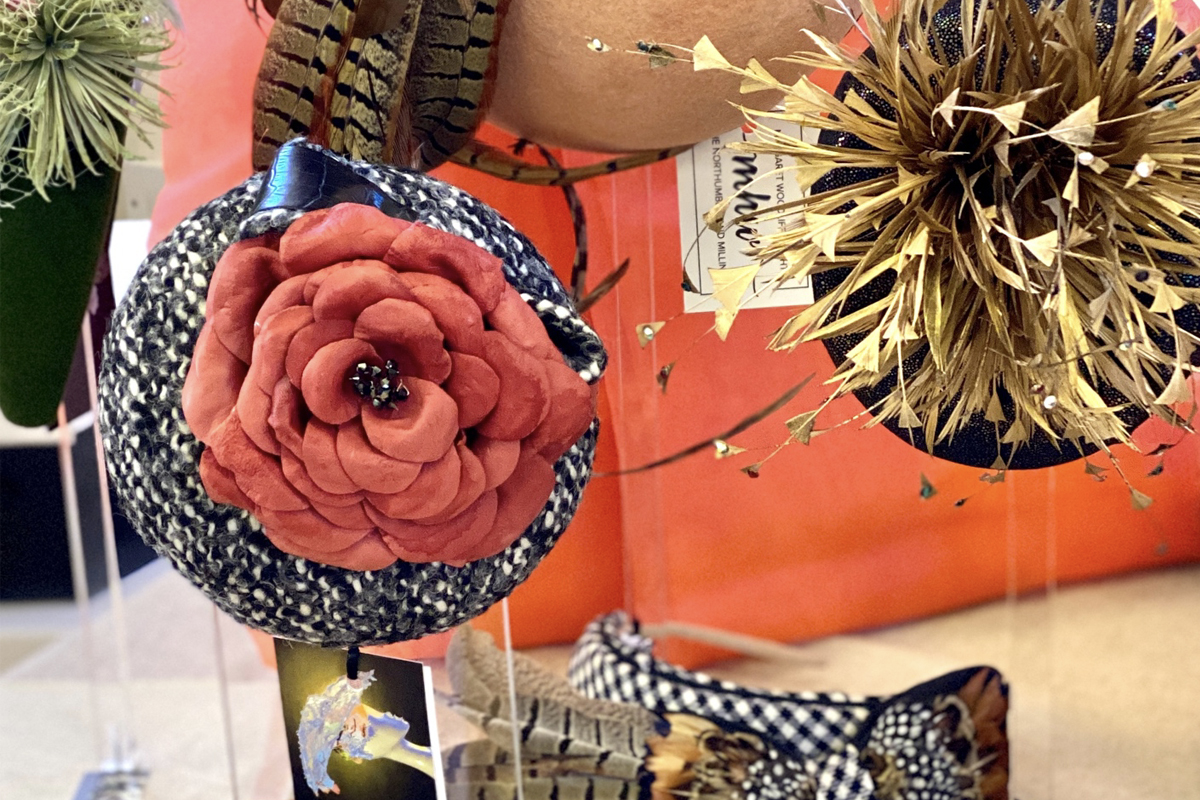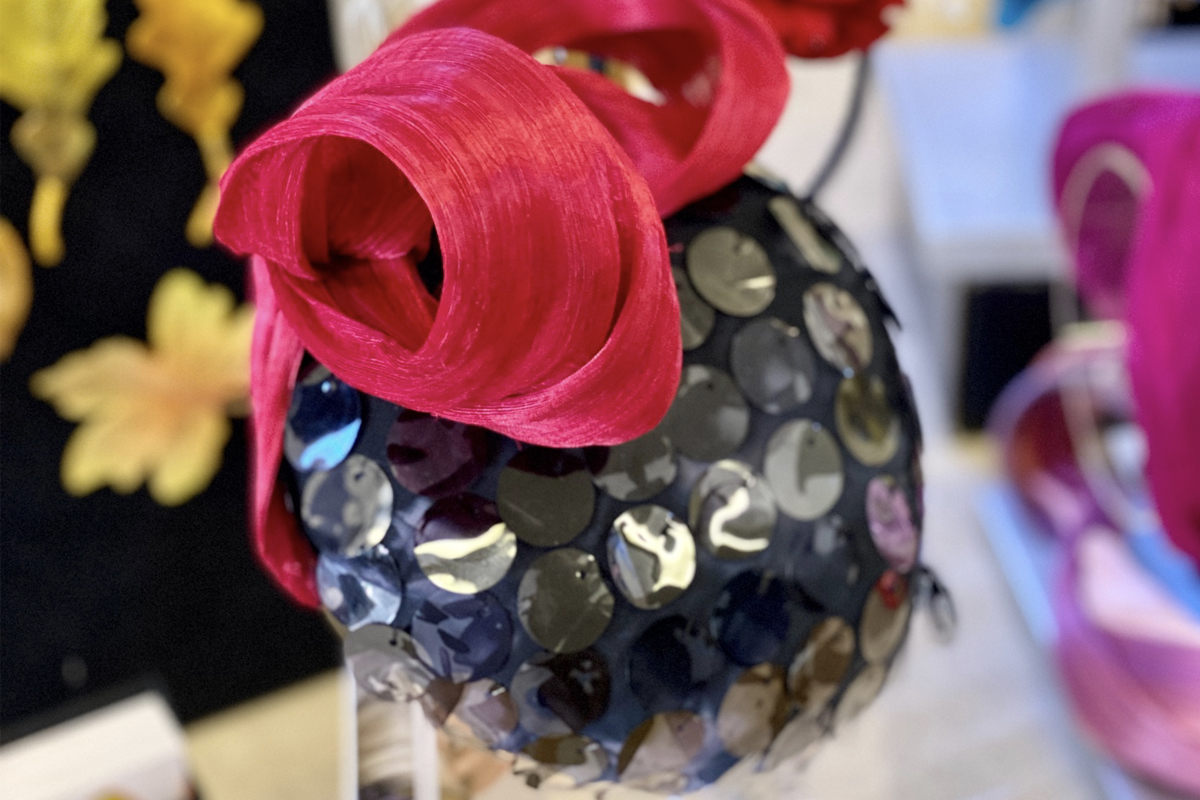 I love colour, so I have created a collection of easy-to-wear headband options, including turban-style headbands, which continue to be very popular. 
There's a selection of headpieces finished in such fabrics as luxury silk abaca or peach bloom felt with trimming options including ribbon, tartan, feathers or beaded felt.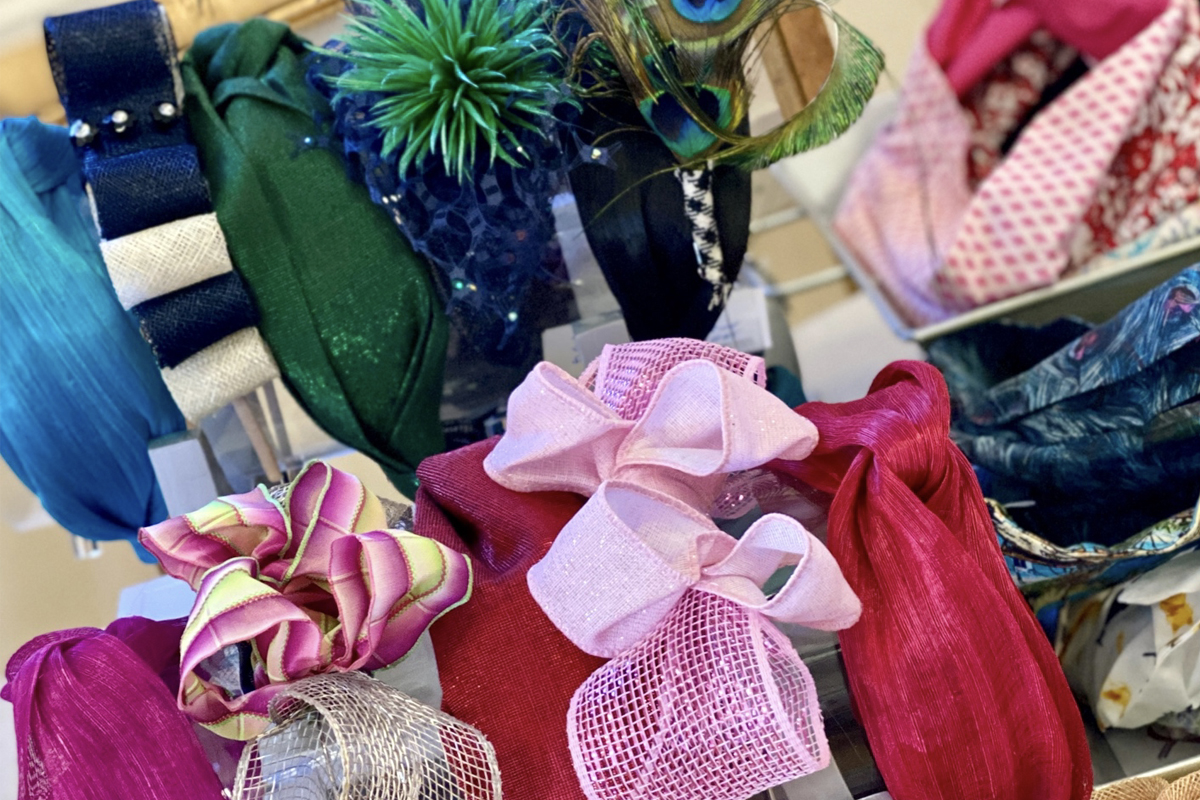 The headband options Include silk abaca turban styles, several with hand appliqué and embroidered details or sparkly diamanté, as well as sinamay bows and felt beaded feathers, plump velvety headbands, and dramatic retro style turban styles.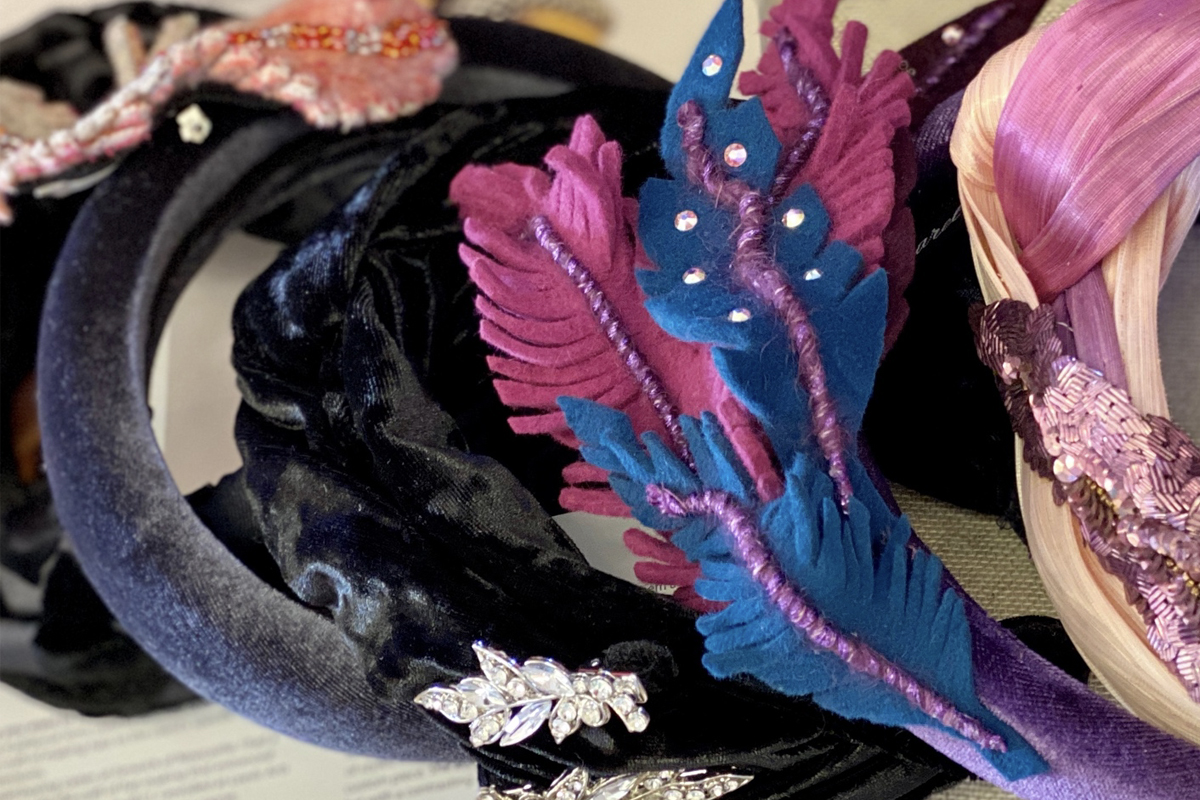 For any regular readers of my Studio News, you'll know that recycling is one of my interests. I love it when clients bring me one of their old hats, headpieces or even scarves and ask me to use them in up-cycling projects for them. Using this turban-inspired design as an example, this headband style is easy to customise and offers great recycling opportunities.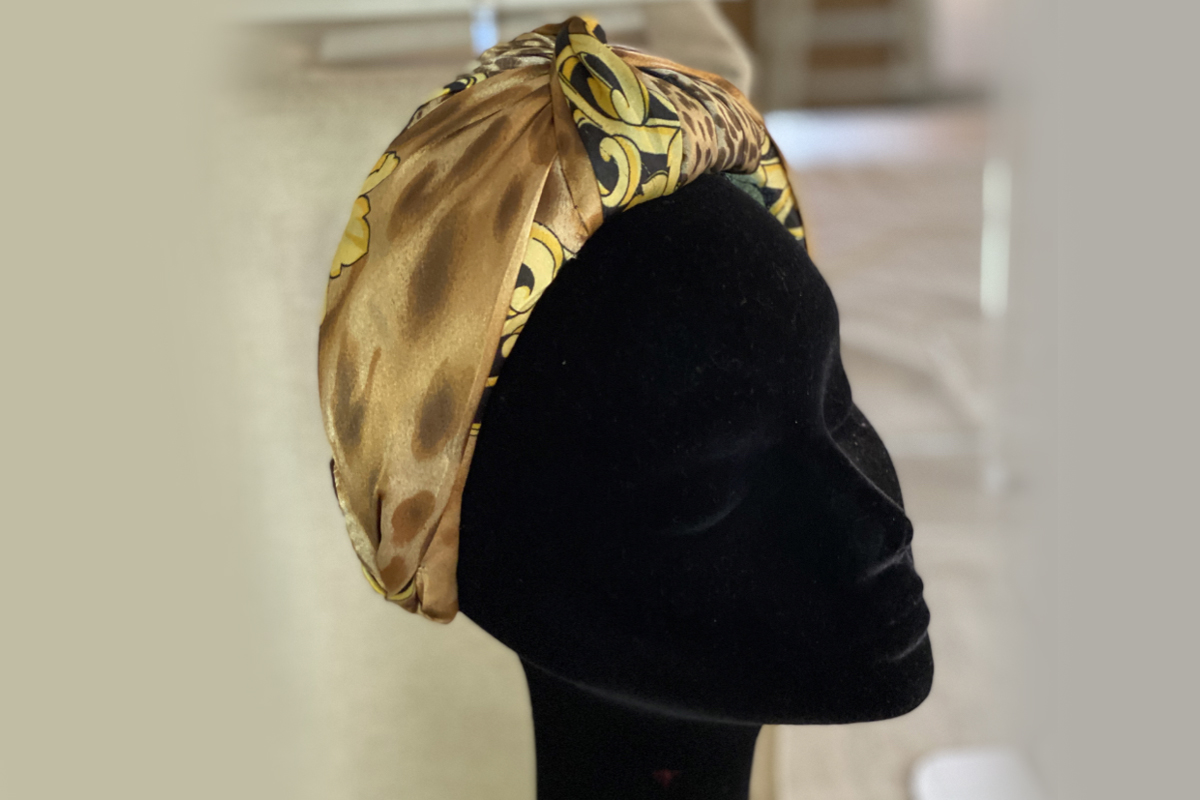 I have also enlarged the selection of accessories and effortless headwraps, which have been very popular over the summer, with a new selection of fabrics, including Christmas prints. Effortless headwraps make very affordable gifts, and the gift wrap includes a 'how to card' just in case you forget how to style your headwrap.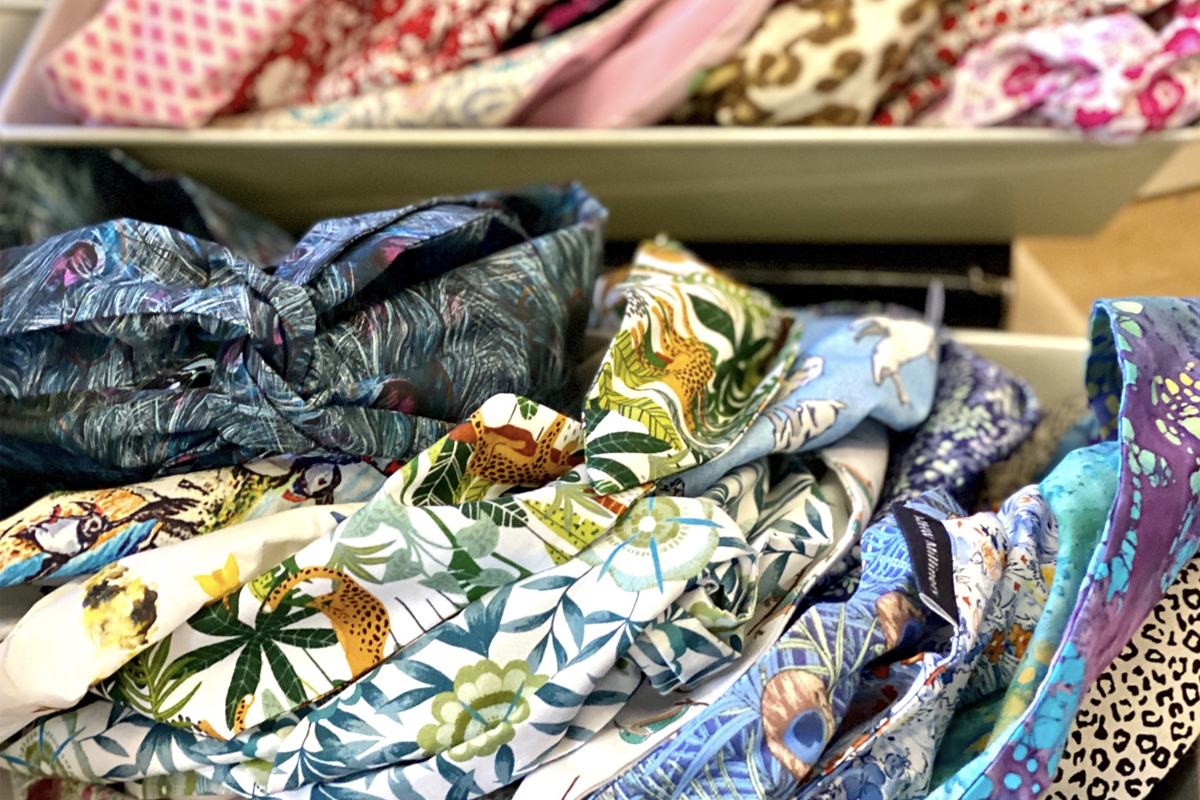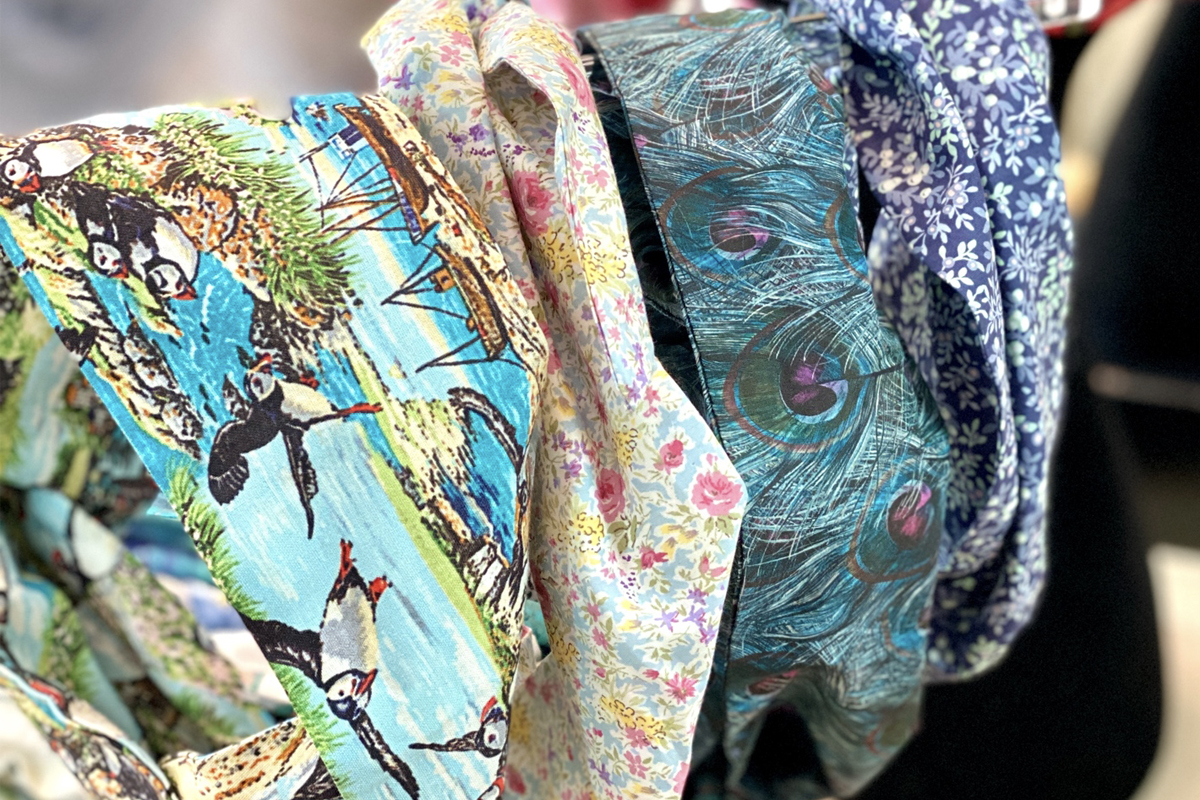 I also have a selection of handmade merino wool felt flowers, and Loch Carron of Scotland tartan brooches, featured here on a peach bloom felt fedora (the hat is available to commission).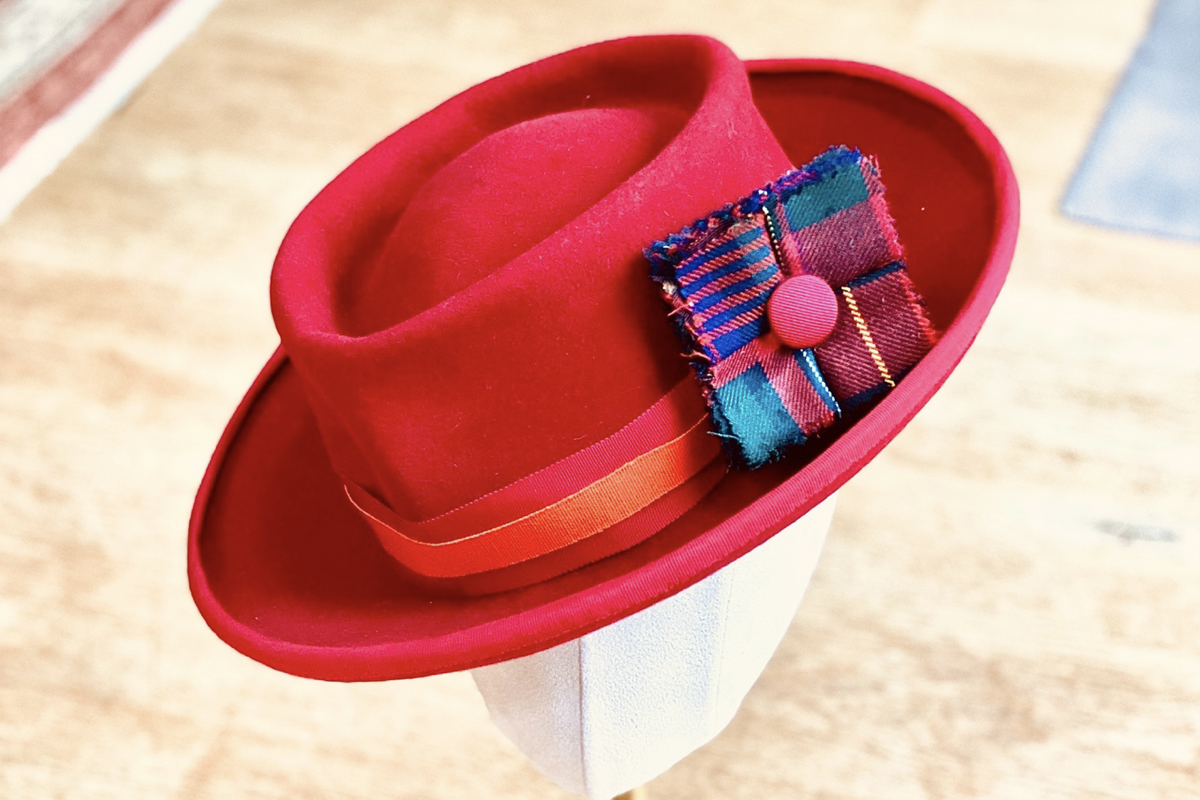 The merino wool brooches are themed on the flowers we associate with a particular time of year, including Holly and Ivy, Fuchsia, Hellebore, Michaelmas, Petunia, and Sweet Pea. You can find them available on the website Ready to Wear shop too.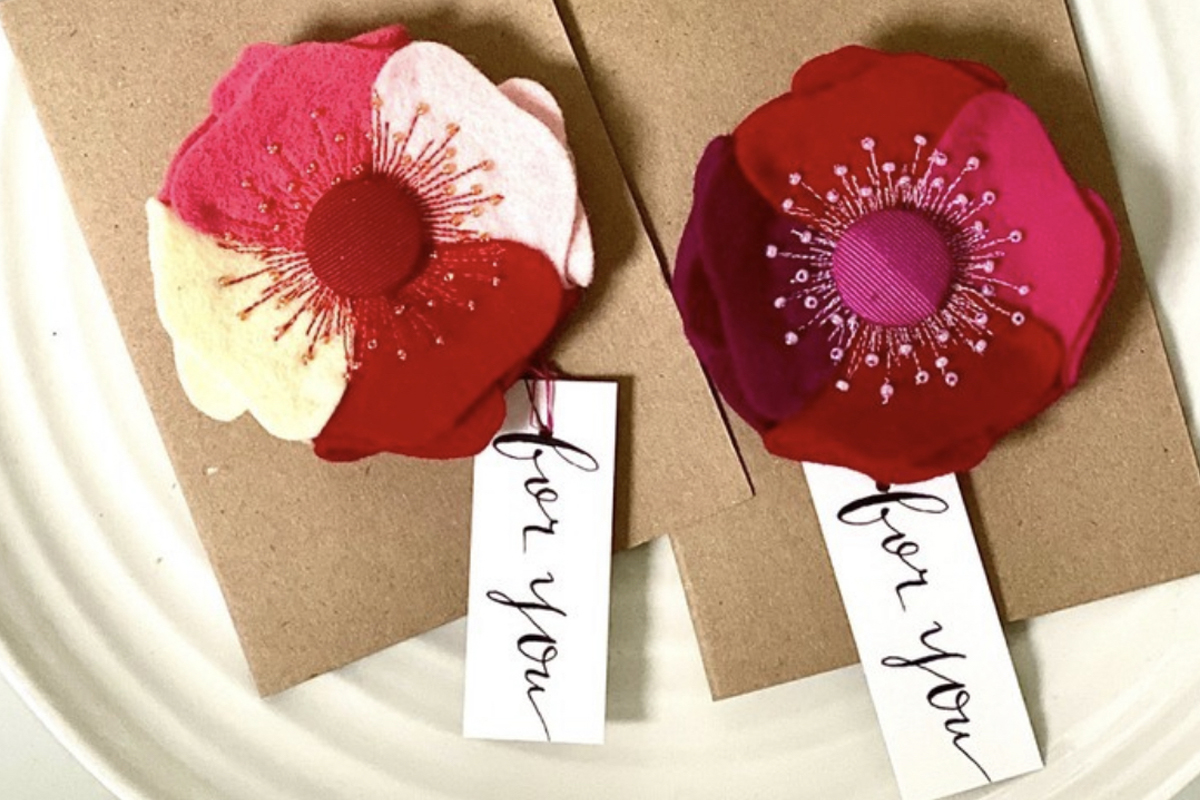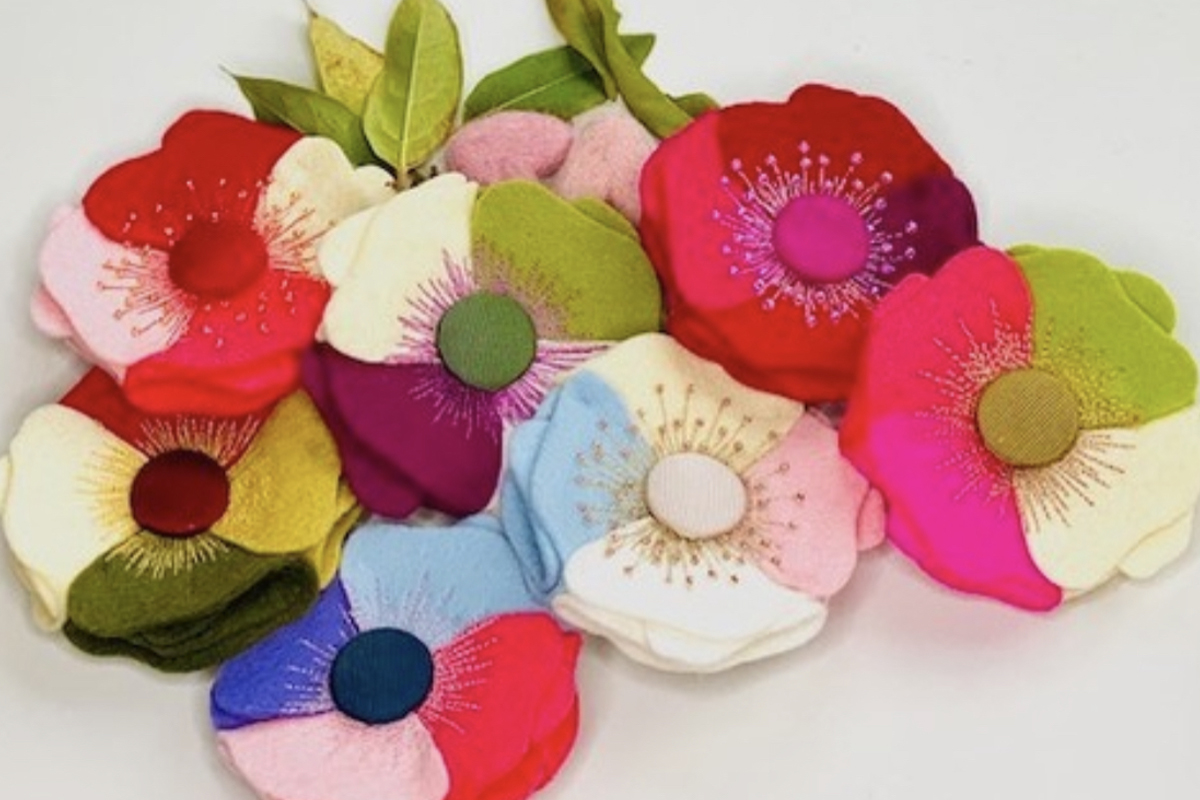 And finally, it's that time of year when we remember those who gave up their 'today' so that we might have a 'tomorrow'. Remembering the fallen is terribly poignant this year, particularly in the context of the conflict in Ukraine. 
So as our thoughts turn to Remembrance Day, I've made a selection of merino wool felt poppies – there are three options – medium with a hand-embroidered leaf, plain large with a black satin button, or embroidered large with a black satin button, both the larger poppies have a dual style pin. Here's a quick shot of WIP. 
From the sales of the poppies, I will be making a donation to the Royal British Legion Poppy Appeal.
You can see a selection of the designs and styles featured in this post at several creative events in Northumberland, Yorkshire and Scotland that I will be attending over the next few weeks. 
If you cannot get to an in-person event, however, please get in touch for more details about any of the products featured in this post using the "contact us" page.