This year unlike so may in living memory has been shaped dramatically by the events that have proceeded it, and of course, there is no getting away from the effects of the pandemic upon our social activities. So it is with a huge sigh of relief that the Royal Ascot authorities heard it confirmed a few weeks ago that RA was to go ahead, albeit in slightly different circumstances this year. This of course fired the starters gun for the millinery community, too. So just in case you are planning a trip to Ascot this summer here's the salient paragraph from RA's website that covers the issues surrounding dress codes for attending Ascot.
"Royal Ascot has long been associated with sartorial excellence and elegance. The Royal Ascot dress code is firmly tied into this belief and invites guests inside the wide range of enclosures, restaurants and facilities to contribute to an occasion which is considered one of the highlights of fashion calendar.
The Ascot dress code reflects the tradition and history of Royal Ascot. At the turn of the 19th century, the dress code for men inside the Royal Enclosure was dictated by Beau Brummell, one of Britain's first fashion icons. That sense of style still survives at Royal Ascot to this day and continues to make this unique meeting so popular with both racing fans and fashion lovers.
So whether you are enjoying Ladies Day, the Royal Enclosure or the Queen Anne Enclosure; fashion and style are an essential part of your day at Royal Ascot 2021".
More info here:
https://royalascot.eventmasters.co.uk/royal-ascot-dress-code
When choosing your headpiece please remember though that the various events have different dress codes, and Royal Ascot for instance, even has different codes for each of the various terraces and enclosures.
If you are planning an exciting trip to Ascot or somewhere similar you maybe interested to learn that I have just finished a new collection of couture hats and headpieces all ready to wear for Ascot; for the summer racing season nearer to home; and many of these pieces are also suitable for summer weddings or family celebrations too. So please take a look at my hats and headpieces including the very epitome of Englishness, one of my new headpieces – Magnolia Silk Rose – an oversized silk multi petalled headpiece, set on a wide wired flat silk headband and finished with crin pleats.
Here's a collage featuring my new piece – Magnolia Silk Rose – remember you will need to refer to the dress code regulations to check the styling for the enclosure you have booked, at Royal Ascot (eg the regulations stipulates a 4" diameter for your hat base in the Royal Enclosure).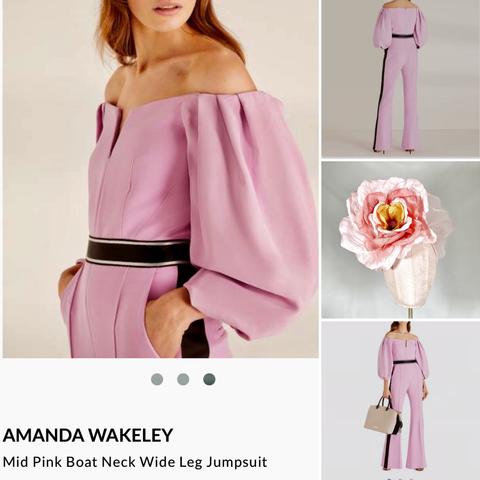 A pashmina, in the case of off-the-shoulder styles, is always a useful piece to have tucked away in your bag, and don't forget to pop a pair of comfortable shoes into your handbag too.
So please get in touch for more details of my latest collection, have a great summer and I hope you choose some winners!
Margaret
Credit – jumpsuit imagery: Amanda Wakeley image BrandAlley