At this time for gifting I have been developing a group of beautifully made merino wool brooches – a gift for someone you love – to wear on a lapel, coat, to finish a hatband or even to be framed. These handmade four colour merino wool felt flowers make ideal gifts for someone you love, especially on Valentine's Day and Mother's Day.
With Valentines Day and Mothers Day fast approaching I have created several new beaded designs and have updated the presentation to include a lovely recycled card, just ready for your gift message to send to someone you love!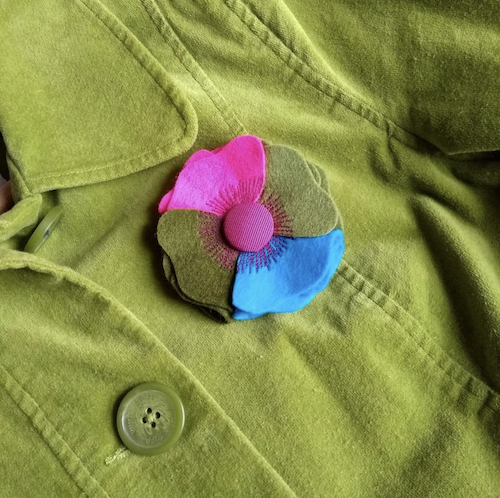 Each brooch consists of 4 different colours of merino wool felt. Each petal has been individually shaped, embroidered, and layered into a ruffle. The brooch is finished with a handmade button, attached at the back with a long jewellery pin.
Selected colour-ways have also been beaded, including Rose, Peony Rose (both are shown below and in the first image, Rose is on the left) and Blossom (seen below centre), whilst Holly and Ivy is available with gold beadwork too.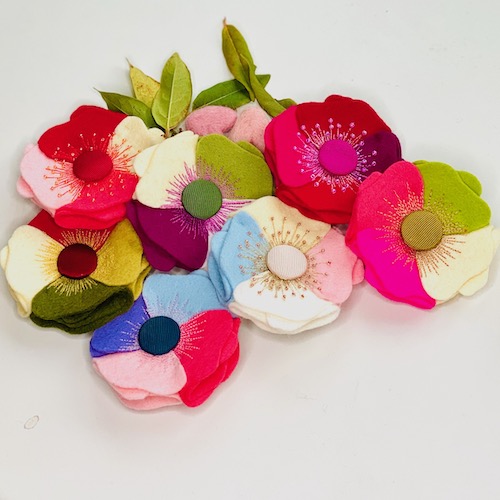 This range of garden flower brooches – which has been very popular – includes Hellebore, Sweet Pea, Petunia, Fuchsia and Michaelmas Daisy, and all the designs are now available via my @britishcrafthouse accessories store.