Since 1750 Marchmont House – set in the calm and beautiful Scottish Borders – has been a haven for artistic creativity. In 2012 Hugo Burge, a dot.com entrepreneur and owner of Marchmont, and his father Oliver commenced a major renovation programme. Hugo aimed to transform Marchmont into a sanctuary for the arts, poetry and music. His broader vision included the management of the grounds of the Marchmont estate, too, using sustainable and environmental principles.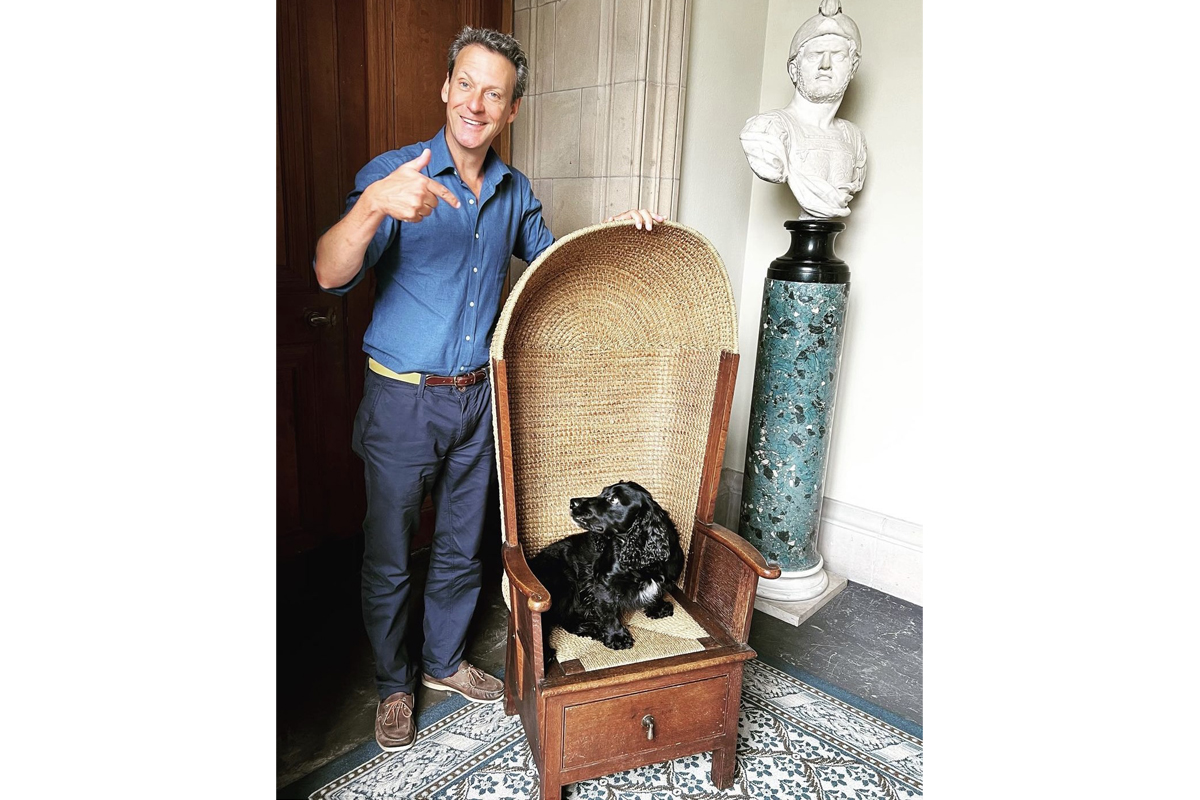 Through his reincarnation of Marchmont, Hugo, seen here with his beloved dog Finn, became an enormous force amongst the national and international artistic community.
Orkney and Fair Isle chairs have wooden frames and straw backs, and both types of chairs appear on the Heritage Crafts Association's 'red list' of endangered crafts. Hugo, pictured here with one of his own Orkney chairs, was a passionate collector of these distinctive artisan chairs and was committed to keeping the craft alive. During the recent Orkney Chair symposium held at Marchmont, I had the privilege of meeting Hugo again and chatting with him on this occasion about this shared interest. Image credit: https://www.marchmonthouse.com/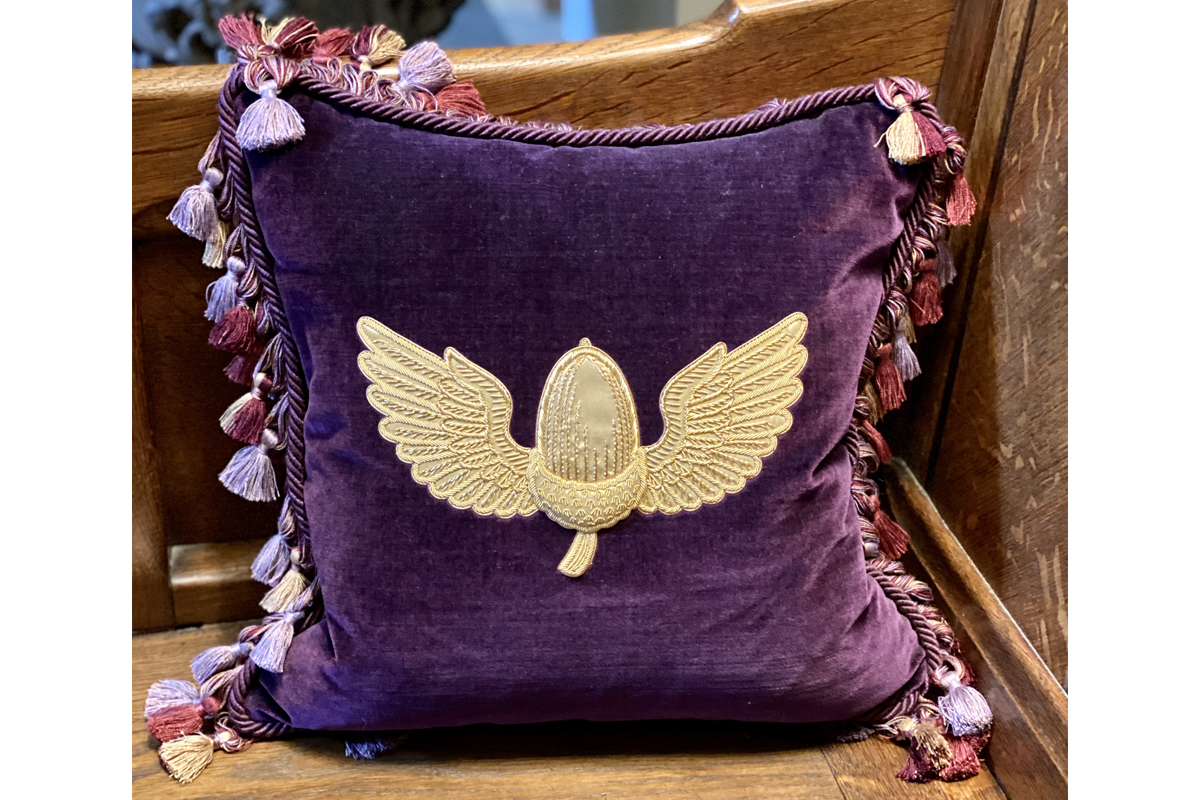 In May however, the Marchmont family, together with the folk of the Scottish Borders and the much wider artistic community, were devastated by Hugo's untimely passing, aged only 51. Hugo's death came as his dream of creating a home for makers and creators at Marchmont had come to fruition and as Marchmont's significant creative contribution was recognised nationally and internationally.
One of Hugo's dreams was to nurture Marchmont's stories – and those of the Scottish Borders. This is encapsulated by the symbol of Marchmont House – the winged acorn. Inspired by the myth of Balanis, the nymph of the oak tree who holds aloft an acorn with wings, the Marchmont winged golden acorn symbolises that from small creative acorns…
On our visit to Marchmont to attend the first event since Hugo's passing, we experienced first-hand that the desire to continue his visionary passion for both Marchmont, and its role as a sanctuary for creativity, continues unabated under the guidance of his father, Oliver, and the Marchmont board of trustees.
From the moment you approach the front of the house – an imposing 'Grade A' listed 'Palladian' mansion built in 1750 by the 3rd Earl of Marchmont – you cannot fail but to be visibly impressed by another of one of Hugo's many passions – sculpture.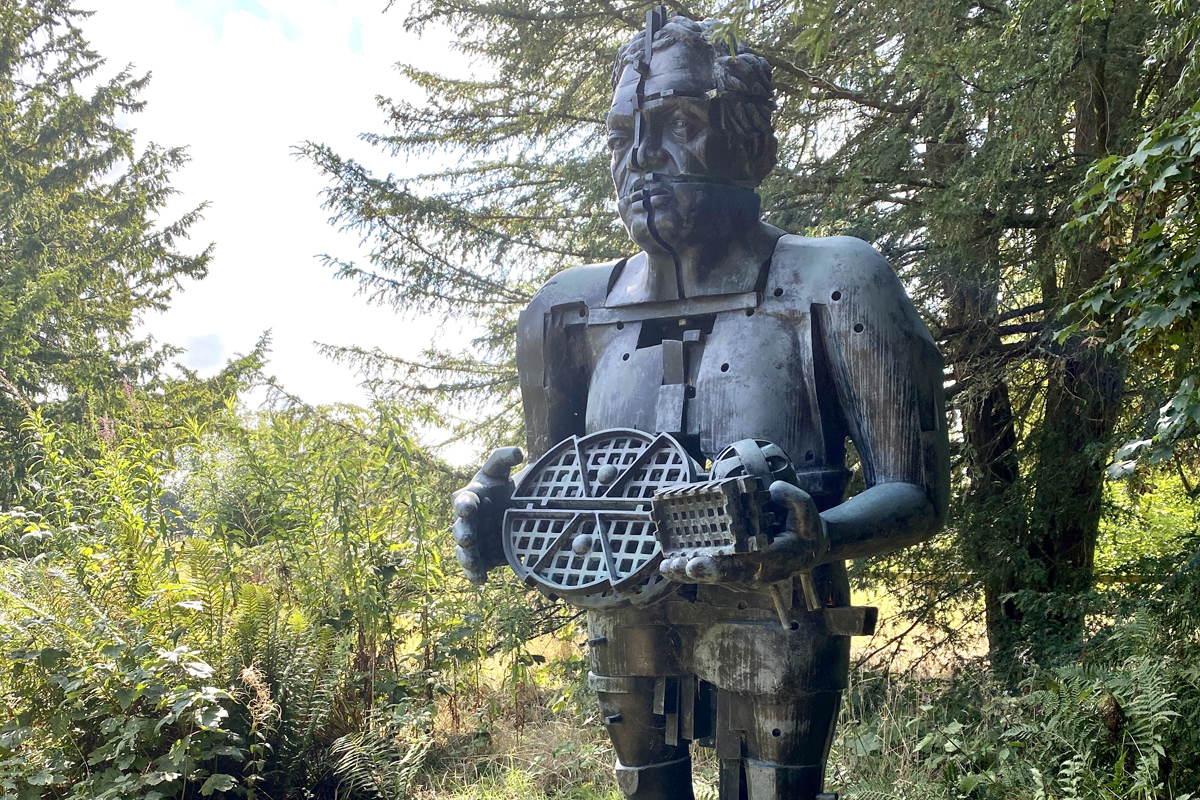 Under Hugo's direction, the house, which has among the finest Georgian and Arts & Crafts interiors in Scotland, and the grounds have become a showcase for an amazingly eclectic collection of sculptures. They include a unique collection of UK sculptures with pieces by artists including Anthony Gormley, David Nash, Bernard Meadows, Alexander MacDonald Buchanan, Henry Moore and Keith McCarter.
On our garden tour last summer, I was delighted to view this wonderful sculpture by Eduardo Paolozzi. Paolozzi, considered one of Scotland's most significant 20th-century sculptors, was commissioned in the 1970s to make the bronze sculpture, which is over two metres tall.
Originally commissioned to decorate the façade of a High Holborn office building in London, the sculpture is a self-portrait and shows Eduardo depicted as Hephaestus, the Greek god of blacksmiths, metalworking, craftsmen, artisans, and sculptors. This stunning sculpture is one of nineteen separate works by Paolozzi held in the Marchmont collection.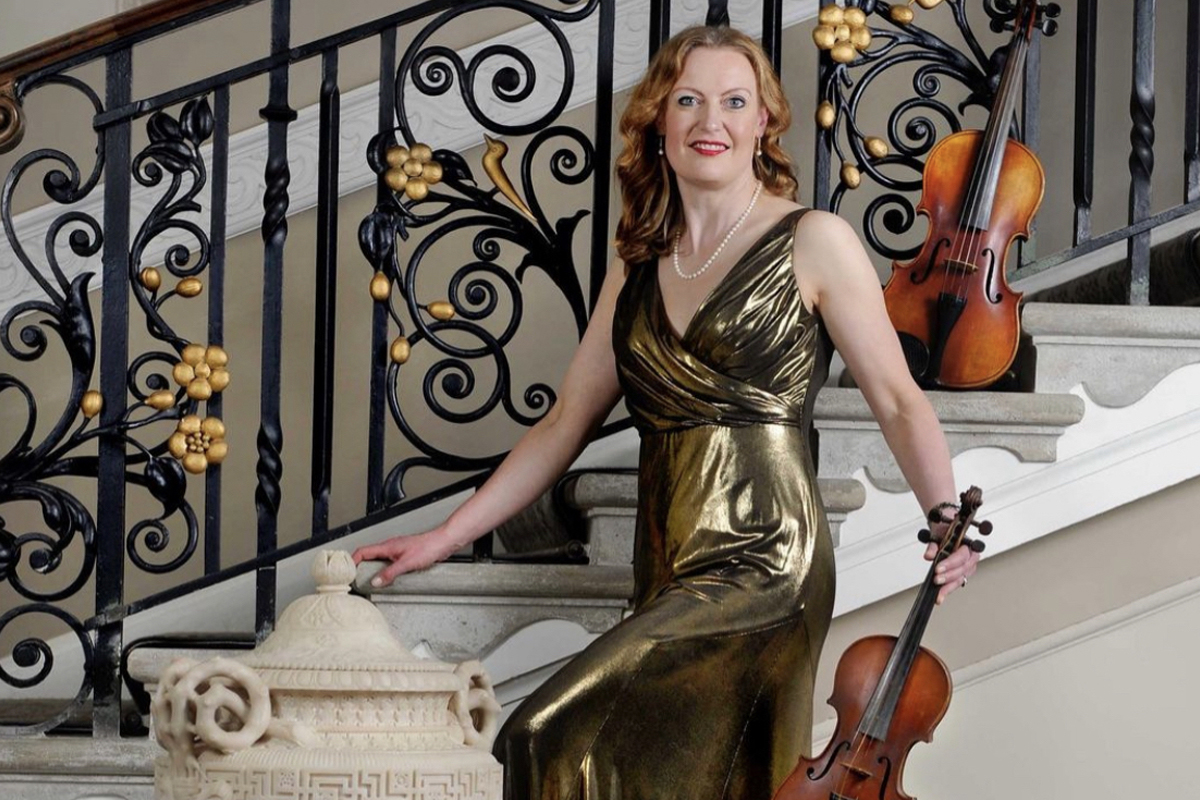 Having enjoyed many visits to Marchmont, which are always sources of inspiration and enthusiasm, providing new directions for my millinery work, it was natural for us to return for the Summer Serenade Concert. This was the first event to be held at Marchmont since Hugo passed in May, and his spirit was pervasive.
The concert included works by Telemann and Delius performed by Professor Ben Holland on his rare Rogeri violin. Ben was accompanied by Simon Leach, the Marchmont House Organist, on the Lorimer music room's Steinway Piano. The concert also included the first performance of a piece written especially by Helen Leach, the Marchmont Composer in Residence.                  Image credit: https://www.marchmonthouse.com/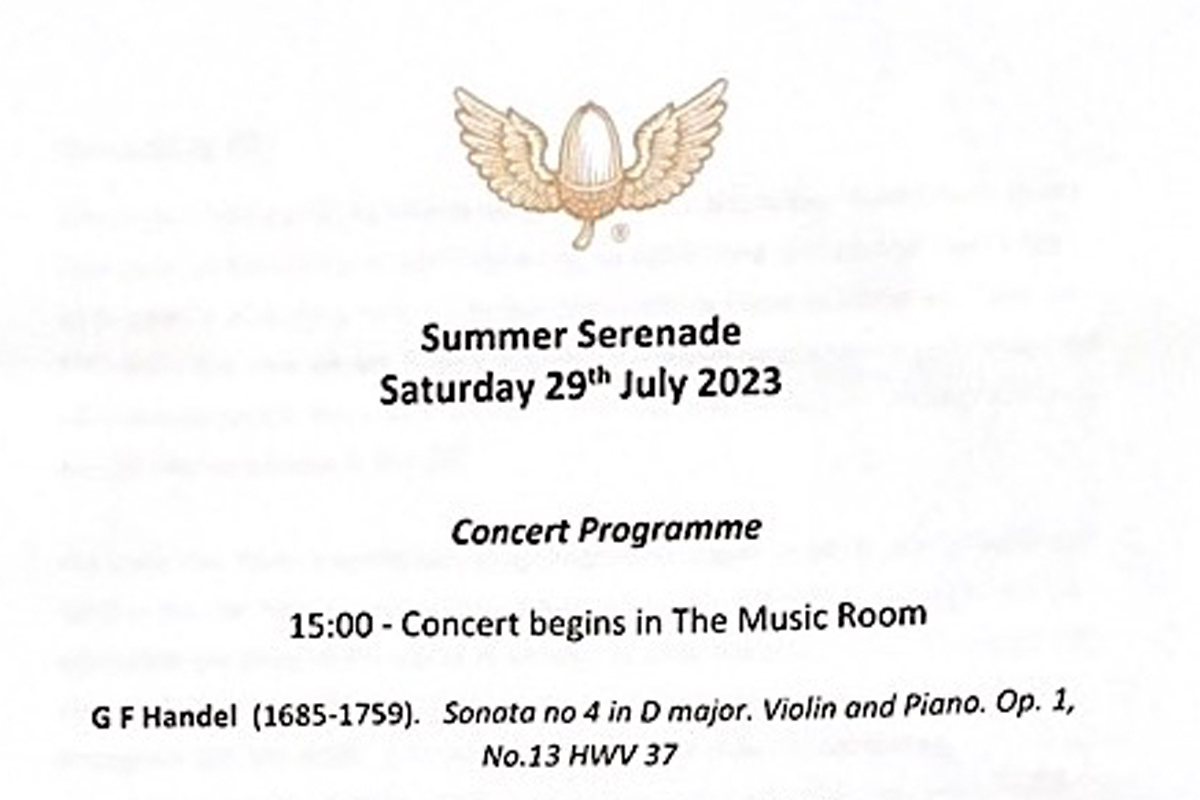 The final piece played at the Summer Serenade concert was a new composition written for the occasion by Helen Leach, Marchmont's Composer in Residence. Written in the aftermath of Hugo's untimely death, for piano and violin by Helen, her composition – Song without Words – was hauntingly beautiful.
As Helen's music filled the Lorimer music room, it touchingly encapsulated Hugo. As the music drew to an end, the audience sat in quiet reflection. We were left feeling that we had almost been present at his requiem.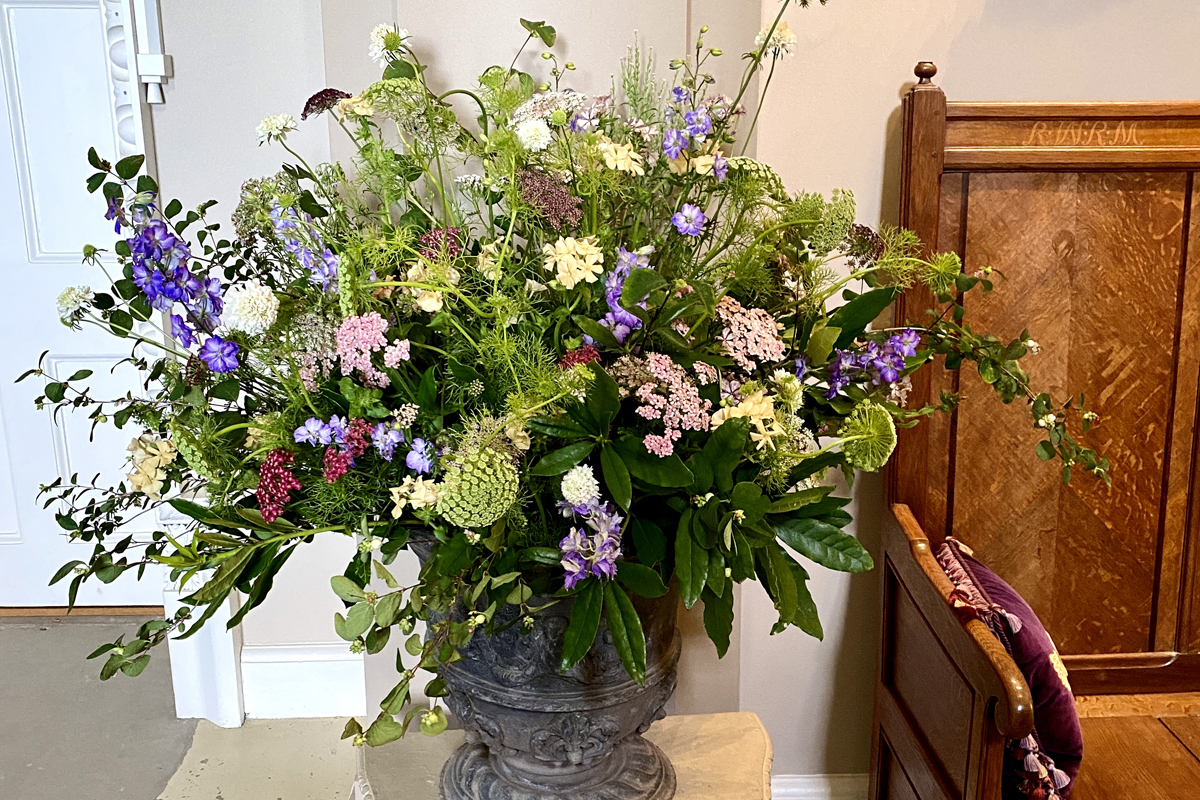 As always, the house looked fabulous, yet there were constant reminders of Hugo's indomitable creative spirit and inspirational vision throughout the house, via the artefacts on every wall, corridor, surface, and niche. There was a vast and palpable void – only one person was missing from the scene – Hugo himself.
Leaving Marchmont, however, we felt confident that Hugo's vision of building a home for makers and creators and welcoming the movers and shakers from across the worlds of the arts, crafts, and social enterprise will continue, albeit now under the guidance of Oliver Burge, together with the Marchmont trustees, and the wider Marchmont family of committed staff and resident makers.