In August, milliners from far wide will be converging on the UK for the 2022 London Hat Week (LHW). Staged across various venues in the Capital, London Hat Week encompasses millinery classes, talks and various social events. This year LHW will also feature an exciting new millinery exhibition – Milliners of the World Unite! Staged at Morley College, London SE1, the exhibition will celebrate the breadth of talent in the worldwide community of hat makers.
Milliners of the World Unite will feature a curated selection of work from established milliners and emerging talent. The exhibition will include contributions from industry associations worldwide, including the British Hat Guild and British Millinery Association, alumni from UAL Kensington and Chelsea and Morley College millinery courses, and hats from the archives of museums and heritage brands.
As a member of the British Millinery Association, I was pleased to accept the challenge the BMA gave their members earlier in the year – to create an original millinery design based on the themes of Platinum and or Jubilee. Inspired by HM Queen's lifelong military connections and responsibilities, I chose to make a contemporary version of the military cap. Worn daily, the humble cap is integral to military life, and it's true to say that the Queen has inspected many thousands of caps during her lifetime!
My headpiece – In the Clouds, a blocked 'perching' style cap, offers a contemporary streetwear interpretation of a military cap. Covered with smooth platinum-coloured nappa leather, it's classically made. The cap base is millinery buckram overlaid with domet and tarlatan, and also features a separate blocked peak. The separate peak allowed for the introduction of suede piping. The cap also features a blocked lining in matching raspberry silk, emphasising the military links.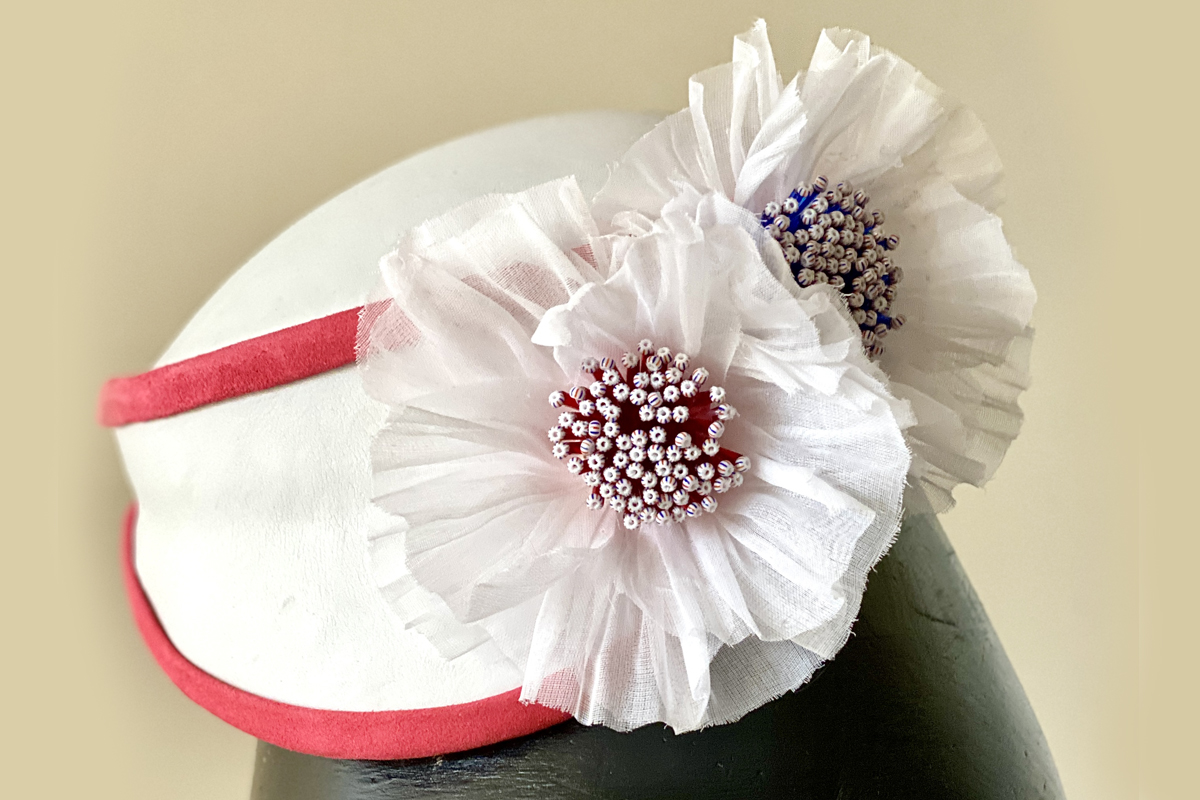 Meanwhile, the white pleated organdie flowers introduce a more feminine note reflecting the Queen's lifelong interest in millinery. Reminiscent of parachute silk and the vintage Royal Flying Corps embroidery panels, the organdie flower centres are finished in a patriotic millefiori effect. Red and blue iridescent bugle beads are topped with tiny red, white and blue striped white seed beads.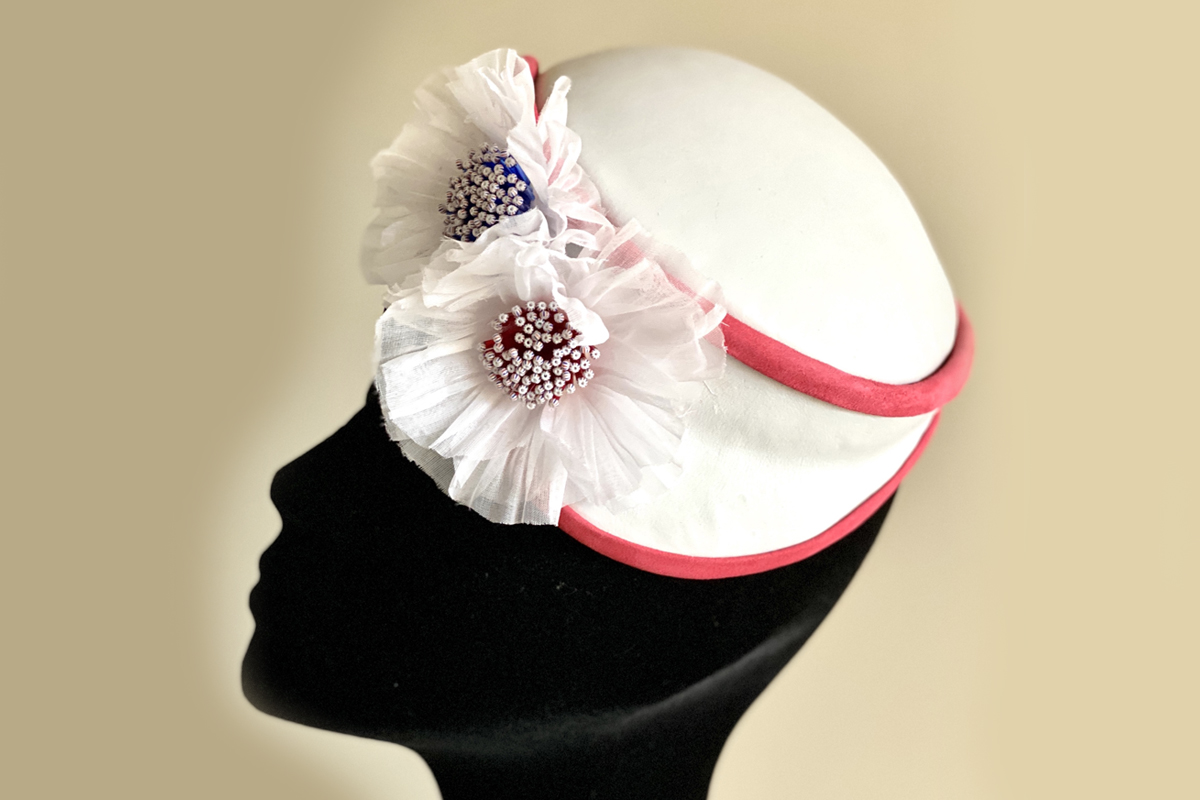 This piece is dedicated to my cousin Tim Roche of Rye, Sussex, now 'In the Clouds'. Tim, who served his country as an interpreter for the RAF, passed away on 8 January 2022.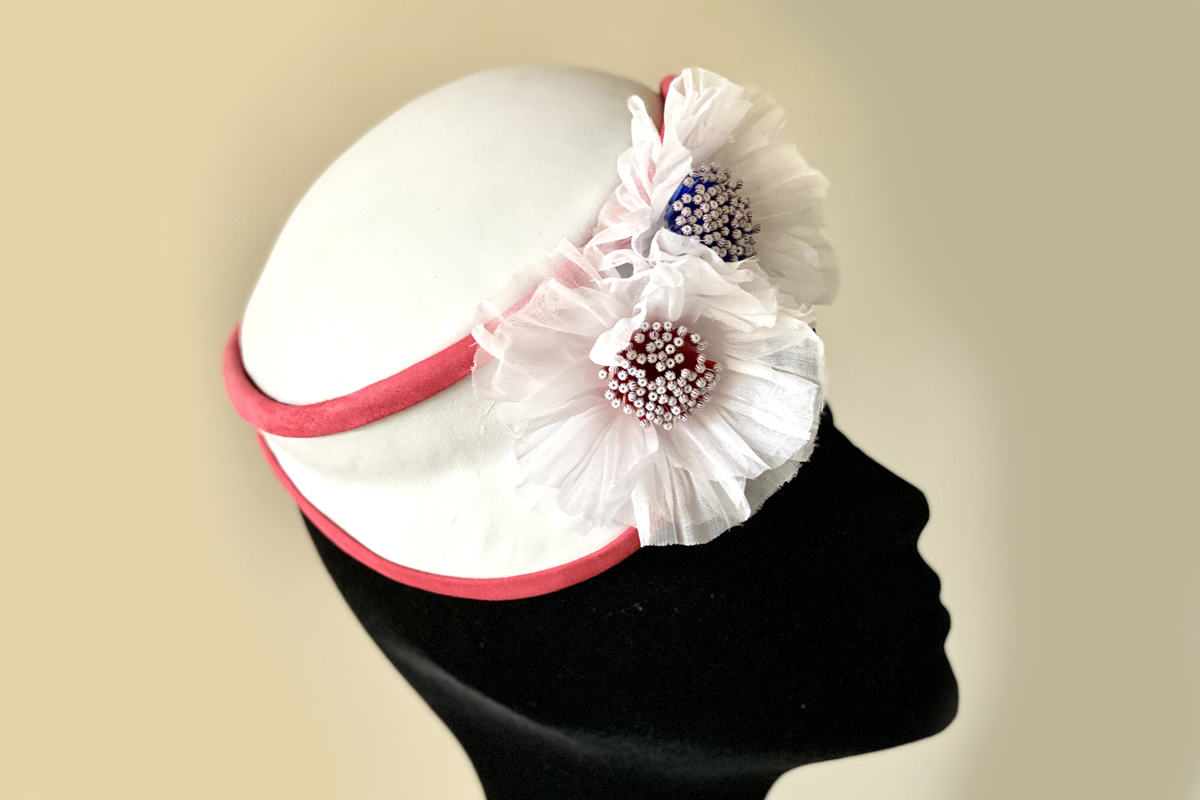 Exhibition details:
Date: Tuesday, August 2 – Sunday August 7th, 11 am – 5 pm
Free entry, no need to book
Location: Morley Gallery, 61 Westminster Bridge Road, London, SE1 7HT